It is nothing new that the most recognized eSports teams worldwide sell publicly the professional jerseys worn by their players during competitions, as it is something highly sought after by fans of these teams.
This is the case of FPX, a famous Chinese esports team that has recently launched for sale its new original jersey for this 2022. If you are interested in knowing more about this jersey, such as its features, details, design or even where to get it, keep reading this post. But first, let's see what exactly FPX is.
What is FPX?
FPX, by its acronym FunPlus Phoenix, is an eSports organization of Chinese origin with a great international renown and worldwide fame, since it is part of the infrastructure of the video game developer FunPlus.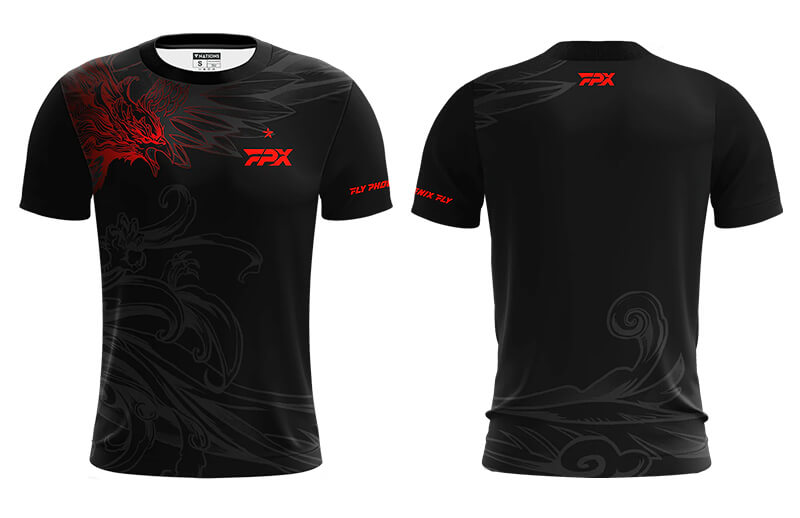 It was founded in 2017 and is currently one of the most recognized teams in Asia, with participation in competitions of various eSports, such as CS:GO, Valorant, League Of Legends, Fortnite or PUBG. In fact, much of their fame is due to League Of Legends, since in 2019 they won the world championship, beating none other than G2.
In addition to being a team recognized for their achievements, they are also recognized for their interaction with fans, releasing products like the one we are going to see below.
FunPlus Phoenix Pro 2022 Jersey features
On June 10 of this 2022, the official Twitter account of We Are Nations, the eSports clothing store in charge of selling this new garment, announced the global launch of the new FPX pro jersey, which is used by players of various teams.
This new jersey is very eye-catching, but at the same time discreet, you will see why. For starters, you should know that it is made of 100% polyester and is available in sizes from XS to 3XL. As for its design, it is an all-black jersey, with simple and not overloaded parts, without so many sponsors filling spaces.
On the front, the jersey features a drawing on the background, abstract and dark gray, but without going unnoticed in the dark color of the player kit itself. On this background we see a drawing of a phoenix, which characterizes the team, in red. Next to this, on the left side of the chest, the FPX logo in red.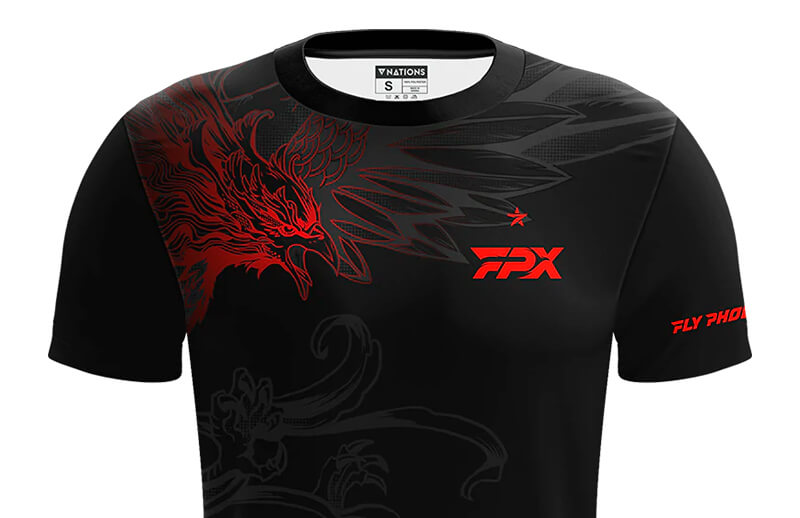 On the sleeves there is no design other than the phrase "Fly Phoenix Fly" on the left side. On the back we will see only the dark gray design on the front, along with the FPX logo on the collar. All of the designs and patterns on this jersey are density sublimated, meaning they will not crack in the wash.
Where to get the new FPX 2022 pro Uniform?
If you liked this new FPX 2022 eSports team jersey, you should know that, in order to get it, you will have to use the We Are Nations website. If you don't know this store yet, it is a global website that deals with the sale of fashion apparel, mainly focused on eSports teams.
With that said, if you are interested go to the We Are Nations section where you will find the new FPX pro jersey. Before making any purchase, remember to choose the right size, make sure you have a payment method enabled by the website and that you live in a country that has the permissions to receive international shipments of this type.