Founded more than 20 years ago, in 2000, Team Liquid is one of the largest eSports organizations in history, with a huge importance in the most important competitive sports of all. Because of its importance, by domino effect, Team Liquid also has a huge fan base all over the world.
To please their fans, Team Liquid has an online store, through which they sell their official merchandising, which consists of different clothing, fashion collections, accessories, PC components and much, much more.
It is precisely in this store where they have recently launched a legendary limited edition collection that you can not miss under any circumstances, called "Race To World First", consisting of clothing and accessories that you should know, in case you are a loyal follower of Team Liquid.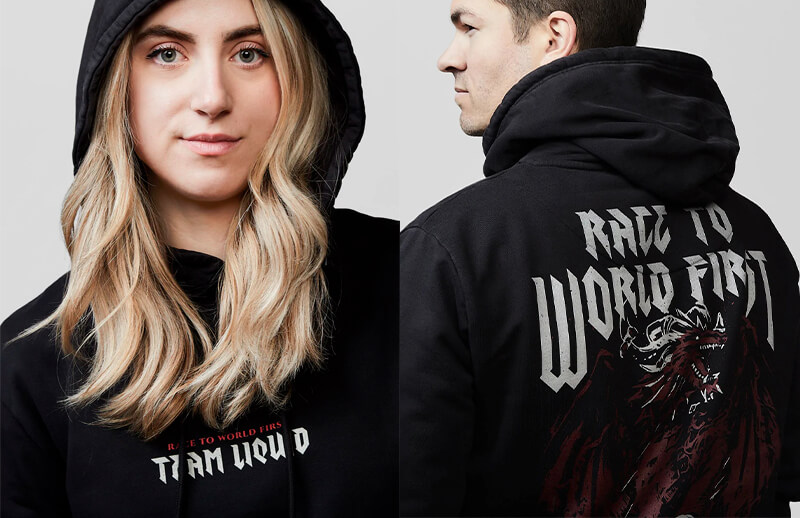 Do you want to know in depth what this collection is all about? Then this post is perfect for you, not only because we will explain what it is composed of, but also because, at the end of it, we will tell you where to find it and how to buy any item of the collection from your country of origin. If you like this team's collections, don't miss their latest Team Liquid x MARVEL Black Panther Merch either.
Race To World First, the new 2022 collection from Team Liquid
On December 16, Team Liquid announced through its social networks that the new Race To World First collection was now available for purchase through the team's online store. This collection is composed of a sweatshirt, a regular t-shirt, a sports jersey and a mousepad for your computer.
Below, we are going to take a detailed look at each of these garments, so stay right here and don't miss a thing.
"Race To World First" hoodie by Team Liquid
The first thing we'll find in this new collection from Team Liquid is an adjustable hoodie with drawstrings and kangaroo pockets, made entirely of cotton and available in sizes from XS to 2XL.
Its design is quite simple, with a sober black color, a front print of great quality that includes the name of Team Liquid in white and, above it, the name of the collection in red, in smaller size. On the back is where we will see the most complex design, with the name Race To World First in white and, below, a large drawing of a dragon in red and white.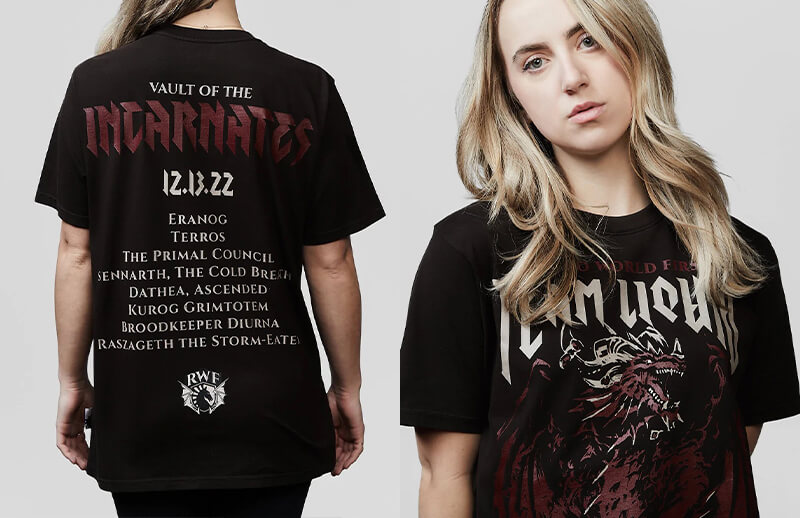 Race To World First short sleeve T-shirt by Team Liquid
Cotton t-shirt with short sleeves and round neck, available in sizes from XS to 2XL. Black design, like the previous sweatshirt, with the design we saw before on the back, now located on the front, with the team name, the collection and the red dragon.
On the back, in this case, we see a top print that says "Vault of the Incarnates", in white and red, and, below it, the date 12.13.22 in white, along with various names, including Eranog, Terros, The Primal Council, among others, also in white.
Team Liquid "Race To World First" Pro Jersey
We can find here the new official Team Liquid pro jersey, made entirely of sports-quality polyester, a fabric that is often used in these garments, as it is not only cool and light, but also easily absorbs the moisture caused by the sweat of the tension and nerves of competition at the highest level of demand. It has short sleeves and a V-neck, and you can get it in a wide range of sizes, from XXS to 4XL! In addition, you have the opportunity to include a personalized gamertag.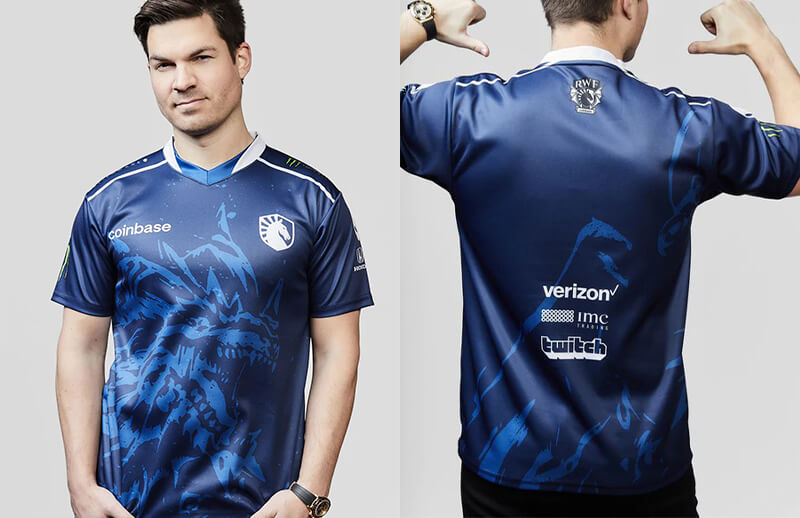 We see that, in terms of design, it is a dark blue T-shirt, with a white collar, as well as the two stripes that go along the collarbones. It has various sponsors, such as Coinbase, Monster Energy, Honda, Alienware and others, in addition to having the Team Liquid logo on the left side of the chest.
On the front you will be able to see a design of a dragon in a lighter blue color, which gives a great unique detail to this shirt, which can also be seen on the back, although only a part of it. Speaking of the back, there you will also see other sponsorships, such as Verizon, BMI and Twitch.
Race To World First Mousepad by Team Liquid
To finish with this collection, we find a mousepad with a soft non-slip fabric surface, which will ensure excellent performance in all your video games that require the use of a mouse, such as League of Legends or CS:GO. It is 3 millimeters thick and has a size of 35 "x16".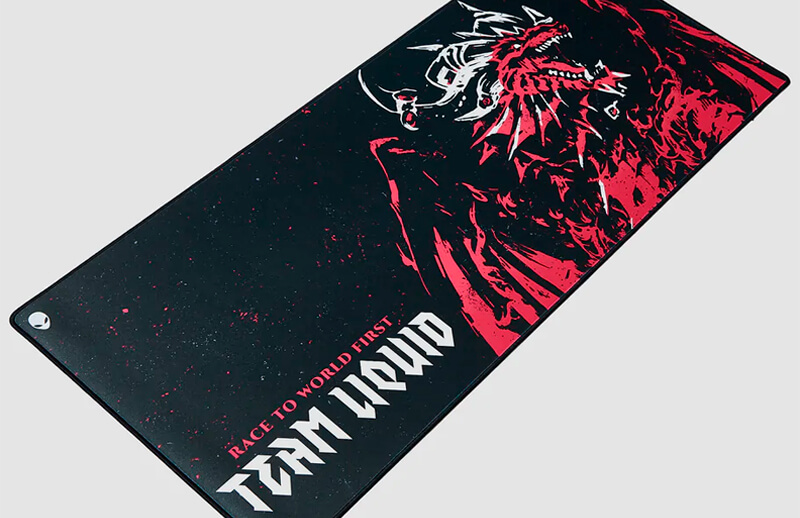 Its design is black, with the name of Team Liquid in white on the lower left side, next to the name of the collection in red. On the black color we will see a design of red particles, in addition to the dragon already seen above, occupying the center and the right side of the mousepad.
Where to buy the Race To World First collection by Team Liquid?
Did you like this new Team Liquid collection and want to buy some of its garments? The only way to do it is by accessing Liquid's online store. There you can get a lot of different collections, clothing and gaming accessories, so if you want to enter directly to this collaborative collection, you can click on this link and access in just seconds.
Once you are in the store, choose the clothes you like, take your exact body measurements and compare them with those of each size available, using the guide table that you can see in the store. Then, select your payment method and add all the billing and shipping information required to receive your order from the comfort of your home.