Team Vitality had a match on March 28, 2022, which took place in the Pinnacle Cup, where they lost against the Skade team in the quarterfinals, it was a very close game these playoffs and quite close for Vitality, leaving them behind with a defeat. There were two rounds in which the Skade team won both, the first one had a score of 16 to 13 points unfavorable to Vitality, and the second one had a score of 16 to 10 points in favor of Skade. However, this does not mean that Team Vitality can improve in the future, as this is part of the game to have to sometimes win and sometimes lose.
Here's the new CS:GO Jersey
To continue the proud legacy of the bees Team Vitality has managed to release their new CS: GO jersey which was designed by Nairone Defives, who is very happy to show off the new Team Vitality Jersey to the public by releasing a limited edition 500 of these spectacular jerseys.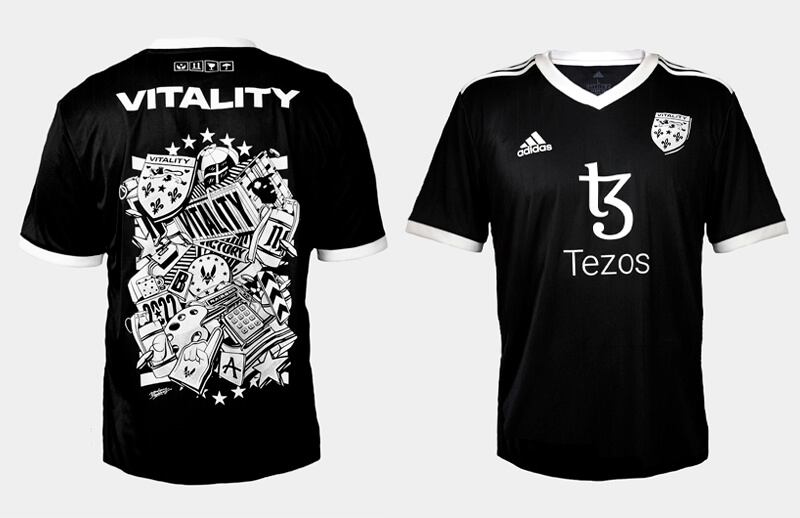 Team Vitality legends x Nairone Defives Jersey
This limited edition jersey is in celebration of Team Vitality getting their CS: GO 2022 roster; it's a black jersey with white collar edges and sleeves. You can see that it is a comfortable or sporty jersey for both your team and your fanbase. On it you will find on the front side of the jersey the Adidas logo located on the upper right side; then you will see the Vitality logo with hearts shield which combines the lion, this symbolizes Denmark and the fleur-de-lis, here a handful of a symbol of France that pays tribute to the international character of the squad for the first time in the history of this team.
On the back of the jersey, you'll notice the word Vitality in large white letters, giving a striking touch along with a somewhat abstract collage of things that identify the team itself. That design on the back is made in collaboration with Nairone Studios, which helps remind you of the game universe that their iconic grenade bombs and containers have left behind. This exclusive jersey is fully customizable and you can get one of these 500 units. It is made of 100% polyester, it is highly recommended to wash it at less than 30 degrees, for a good durability of the product.
This garment is from Team Vitality, is in charge of distributing all their merchandise, their products are completely original, they have all kinds of sizes, which are XS, S, M, L, XL, XXL. This specific garment is currently available, has a delivery time of approximately 7 days, your shipping may be free if your order is over 50 €. If you want to get any of these products you can go to the official Team Vitality shop.