In the month of LGBT pride, many eSports teams are betting on inclusion and rejection of discrimination, either by customizing their social networks with the colors of the famous rainbow flag or by launching personal products with these colors.
This is the case of Cloud9, an American eSports organization founded in 2013 with a long history in the world of eSports. This organization has professional teams competing in League Of Legends, Overwatch, CS:GO, World Of Warcraft, PUBG, Rainbow Six Siege, Fortnite tournaments, among many others.
Cloud9 is one of the teams that decided to go for custom apparel this month, combining the team's logos with the LGBT rainbow colors. In this post we are going to discuss what Cloud9's new Pride collection includes in this 2022, along with a guide on how to purchase any of these items. Read on to make sure you don't miss a thing. A couple of months ago we had the opportunity to see the great collaboration that Cloud9 had with IWillDominate.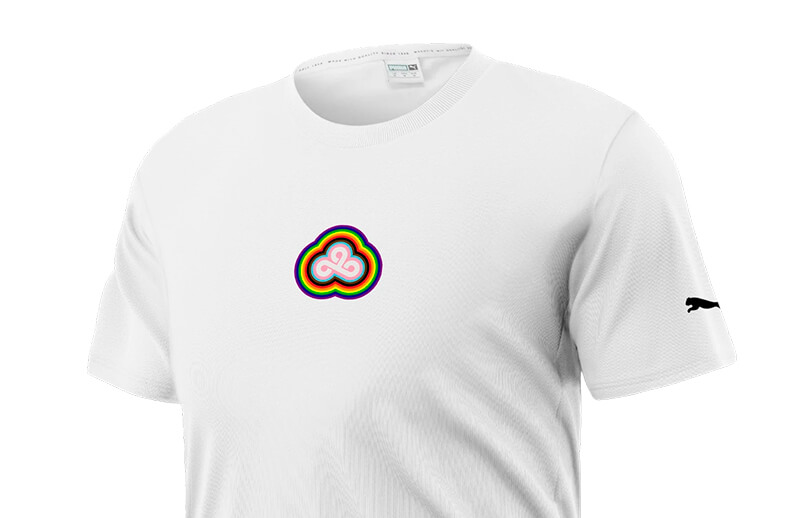 Pride 2022 Collection by Cloud9 features
On June 1, 2022, at the beginning of LGBT Pride month, Cloud9 announced through its official Twitter account the launch of a new fashion collection, focused precisely on this important month for society. Said collection is made up of clothing and accessories, which you will see below, as we will detail what each one is, what it is made of, its price, features, design and more.
Pride 2022 T-shirt by Cloud9 x PUMA
The first thing we find is a white t-shirt, designed in collaboration with the famous German brand PUMA. It is made of 100% cotton, features a normal fit, without being tight to the body or going to "oversize". It is available in sizes from S to 3XL. It is priced at $28 dollars.
As for the design, it is a pretty basic t-shirt, being totally white, only with the Cloud9 logo with the colors of the LGBT flag and the PUMA logo on the left sleeve.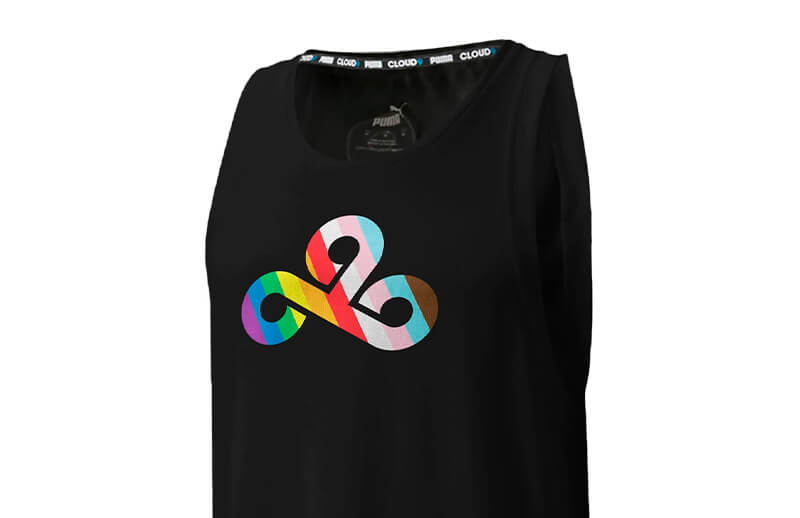 Pride 2022 Tank Top by Cloud9 x PUMA
We now move on to another t-shirt, in this case, sleeveless, defined by the store itself as a "tank top" t-shirt. Also made of 100% cotton, this t-shirt is another collaboration between Cloud9 and PUMA. It is priced at $25 dollars.
This tank top is black in color, with an extremely simple design, only featuring the Cloud9 logo with the LGBT rainbow colors inside, in a large size on the chest. The PUMA  logo is located on the inside back of the collar.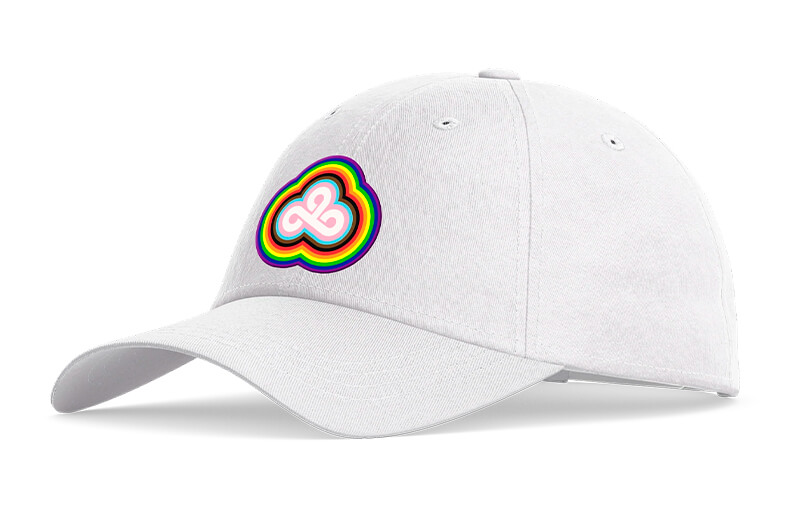 Cloud9 Pride 2022 Cap
This cap from Cloud9 is pretty basic; it features the Cloud9 logo with the LGBT colors on the front, and the rest is all-white. Perfect for those who want to wear a simple and combinable accessory. It is made in 6 panels, has a curved visor and a basic closure method, like the caps of years ago. It is priced at $25.
Cloud9 Pride 2022 Socks
We also found a pair of cotton and polyester socks, mid-rise, somewhat below the knees and in white. Its design includes the Cloud9 logo between stripes of various colors, emulating what is the pride flag.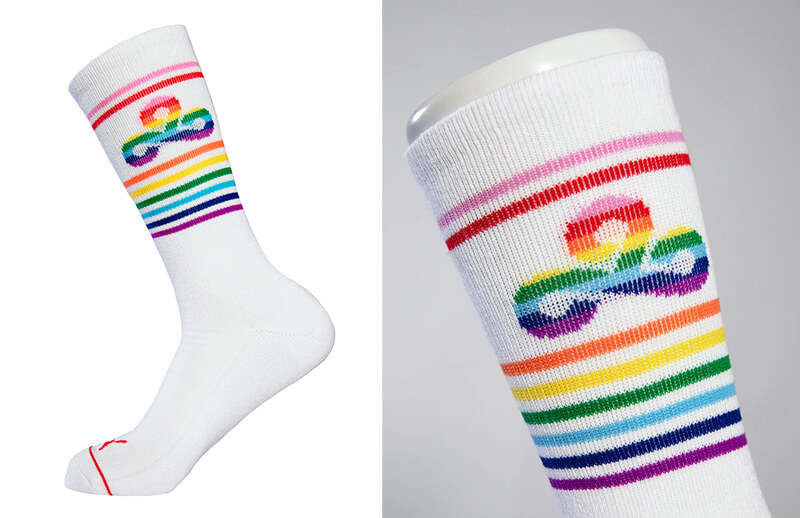 Cloud9 Pride 2022 Flag
The collection also includes a polyester flag measuring almost 1 meter by 1.5 meters. This flag is white in color, and features the LGBT colors on the edges, plus the Cloud9 logo in the center of the flag, along with an abstract design surrounding it. It also has holes on the edges to be used on different surfaces. It is priced at $30.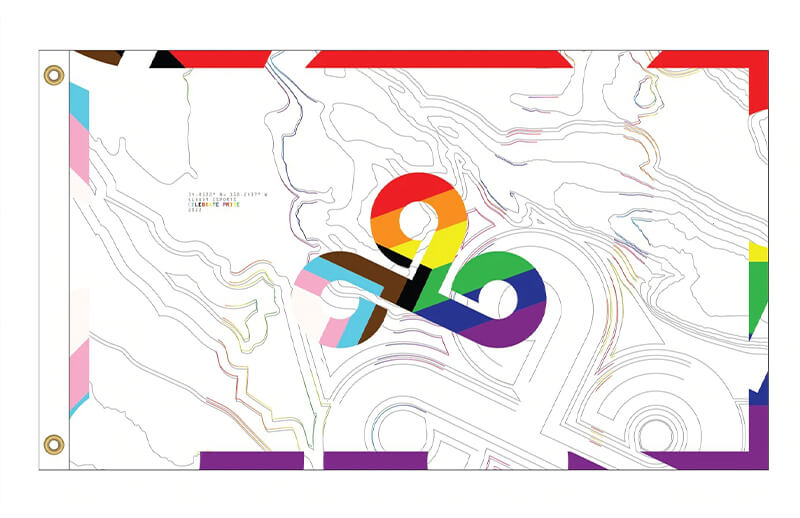 Cloud9 Pride 2022 Pin
Finally, we find two pins; the first one is the one with two crossed flags, one being the LGBT and the other Cloud9, in white and light blue with the team's logo in black; the second pin is just the Cloud9 logo, as we have seen previously, with the LGBT colors inside. These pins are $7 each and can be placed on clothing or wherever you like.
Where to get Cloud9's new Pride 2022 collection with PUMA?
If you were interested in this new Pride collection from Cloud9 and want to buy some of the items in it, we recommend you to do it through the team's official store by clicking on this link to get there faster.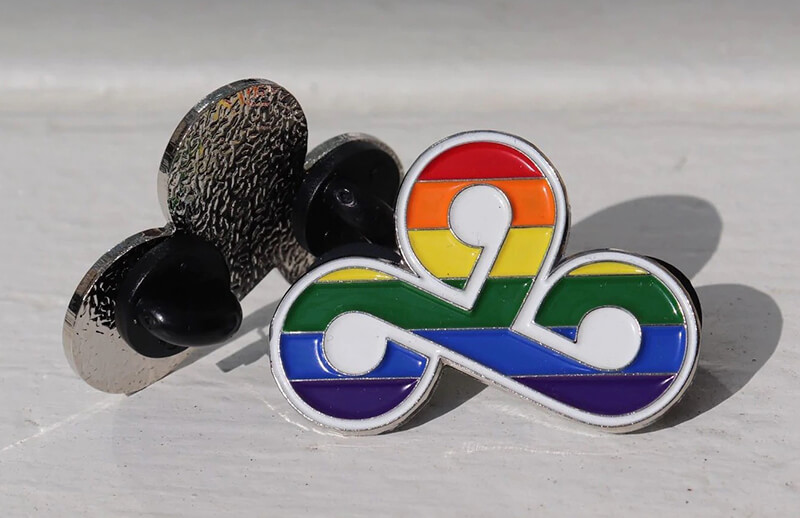 Remember to check that the size you choose is the right one, as well as check that the payment method you are going to use is accepted by the web; in turn, also make sure that your country of origin is among those suitable for international shipments.