ELEVATE is an eSports team of American-Thai origin that is mainly dedicated to the sports competitions of Tom Clancy's: Rainbow Six Siege, one of the most popular video games in the world and to which so many teams from all continents aim. The team was founded in 2014 and is currently one of the most important in the Tom Clancy's environment.
Being a professional team, it uses sportswear, which is worn by all team players during Rainbow Six Siege competitions. For this reason, and taking advantage of the new release of their official 2022 jersey, ELEVATE has partnered with Raven, one of the most famous stores, they have released their new professional eSports jersey for sale to the general public.
In this post we are going to take a look at this new jersey, analyzing it in depth and, at the end of the post, helping you to get it easily from your home country in simple steps. We have previously seen ELEVATE collaborations with Raven as we saw in their latest core clothing collection.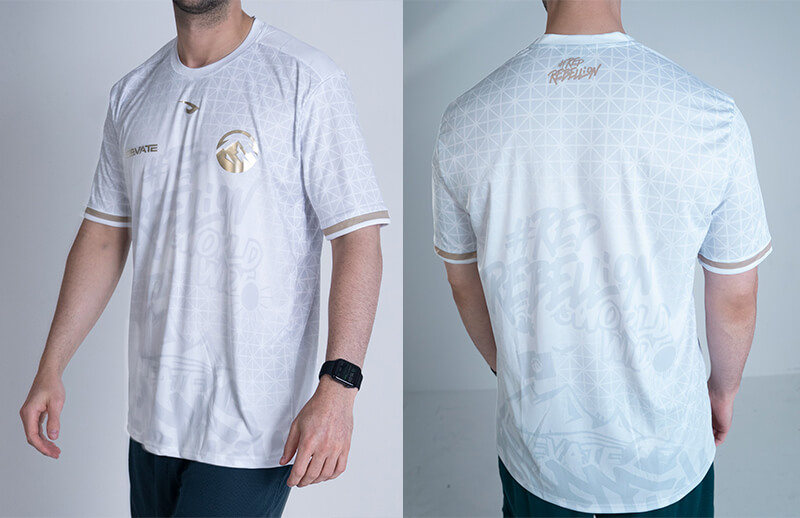 New ELEVATE 2022 official Pro Jersey overview
On August 17 of this year, Elevate and Raven announced through their respective official Twitter accounts the launch of the eSports team's new pro jersey. Below, let's take a detailed look at this jersey, including its fabric features, cuts, size, design, colors and more. Let's get started!
To begin with, we see that this is a player jersey made of 100% polyester, a very common material among professional sports jerseys; this is because polyester is a very light and cool fabric, but at the same time, it absorbs moisture from sweat, product of competition and nerves, with great ease.
You can get it for both men and women, without distinction, and even for children. It is available from size XS to 5XL, so you don't have to worry about it fitting too tight or too loose; you can decide when choosing your size.
As for its design, we see that it is a white player kit, with round neck and short sleeves. In the whole white background we see a succession of vertical, horizontal and perpendicular stripes, emulating stars, in a gray color. We also see, at the bottom of the front, drawings also in gray.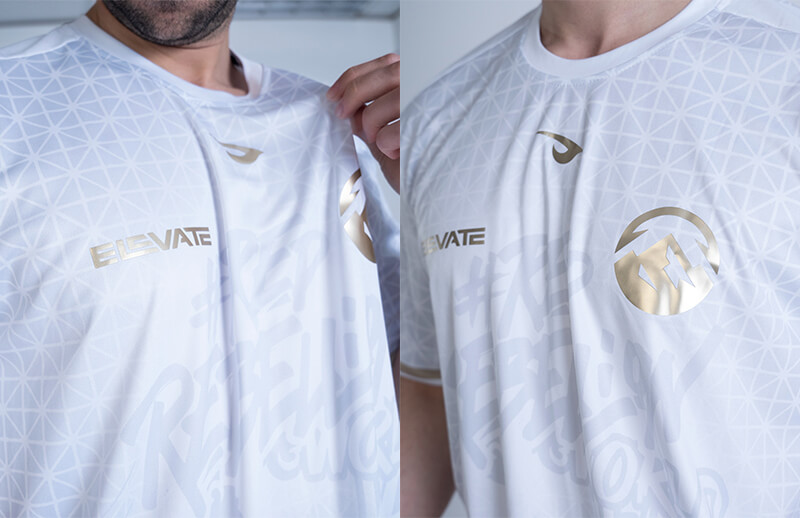 The edges of the sleeves are gold, as well as the Elevate logo, the team name and the Raven logo on the chest of the uniform. On the back we do not see any extra design apart from the gray stripes, and we can only find a phrase on the back of the neck, also in gold. Of course, on the back you have the option to add a gamertag, that is, a name of a player of the team or, failing that, one that you want to customize, either your name or another.
Where to get the new Elevate official professional jersey?
If you liked this player jersey and want to wear it, you should know that you will be able to get it only through Raven's web store, one of the biggest and one that is constantly partnering with eSports teams to sell their products and apparel.
Before purchasing it, if that is what you want, we recommend that you verify that the size you are choosing is correct, using the size guide found on the website. In addition to this, make sure that your preferred payment method is enabled in the Raven store and, finally, that they ship internationally to your country of origin.