Within each eSport there are teams that stand out more than others, some with absolute success, whether in League Of Legends, Call Of Duty, Valorant, among others. In the Counter-Strike: Global Offensive scene, ENCE, the Finnish eSports organization, is one of the ones that stands out the most, with a very wide success in different modalities and categories.
ENCE was founded in 2013 and, with so many years of trajectory, the fan base it has is extremely broad, with followers all over the world. Taking advantage of this large fan base, the Finnish team often launches fashion collections, such as the one they have announced at the beginning of this September.
If you want to know in depth this new ENCE 2022 collection, keep reading this post until the end, as we will also tell you how you can get it from your home country. This is the second clothing collection we have seen from ENCE, here we have analyzed their first drop of this year.
ENCE: new 2022 Fashion Collection overview
At the beginning of September of this 2022, ENCE announced through its Twitter account the official launch of the new 2022 collection on its web store, which includes a hoodie, a sweatshirt and two T-shirts. Below, we will describe each of these garments in depth, analyzing their design, colors, cuts, fabrics, sizes and more. Let's get started!
ENCE 2022 Hoodie
The first thing we find in this new ENCE 2022 collection is a hoodie hoodie, that is, with hood and adjustable drawstrings. It also has kangaroo pockets and fitted sleeve cuffs and bottom hem. This hoodie is made of 60% cotton and 40% polyester, and is available from size S to 3XL.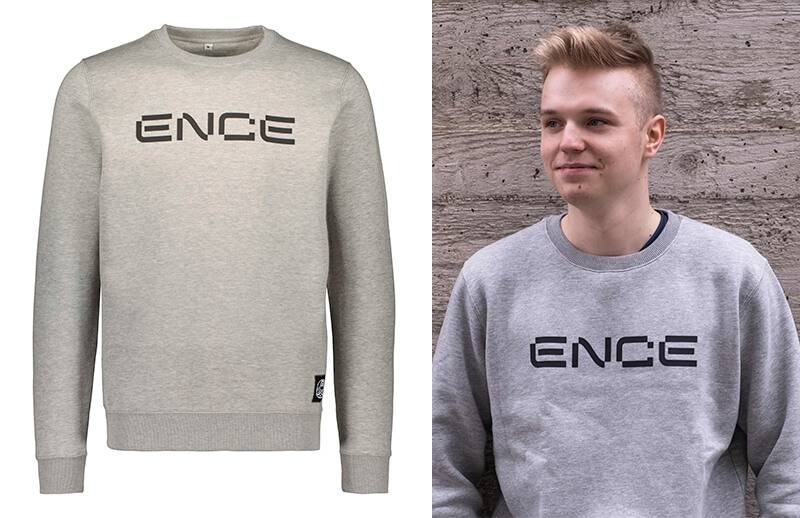 As for its design, we can see that it is a completely gray hoodie, only with the ENCE logo in red in large size on the chest, plus a black label with the same logo on the left pocket.
ENCE 2022 hoodless Sweatshirt
Speaking of sweatshirts, you can also find in this collection a hoodless sweatshirt, also made of 60/40 cotton/polyester blend, with tight cuffs and available up to size 3XL. Its design is quite simple, with a light gray color and the team name in black on the center chest.
Black T-shirt by ENCE 2022
We will also see two T-shirts in this collection: the first one is made of 100% organic cotton, with short sleeves and round neck, sizes from S to 3XL and a very simple design. It is totally black, only with the ENCE name in a dark gray, similar to the design of the previous sweatshirt and with the same engraving on the inside back of the neck.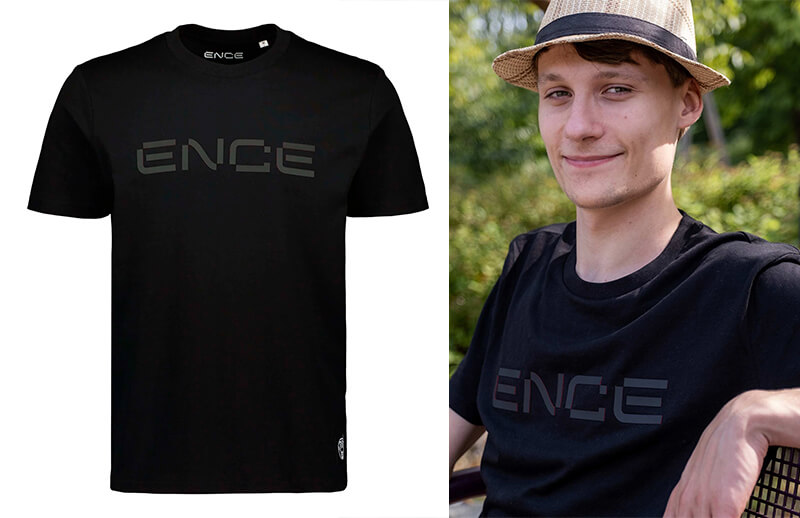 Black Logo T-shirt by ENCE
Finally, we find another T-shirt, also made entirely of organic cotton and with a wide variety of sizes up to 3XL.
Like the previous T-shirt, this one is also black, but with a design that includes, as we saw in the first sweatshirt, the ENCE logo in red occupying the entire chest.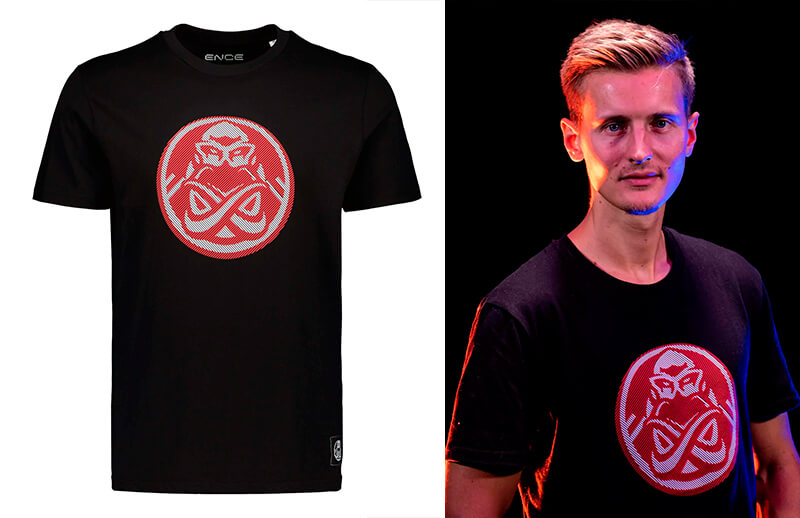 Where can I get ENCE's new 2022 collection?
If you are interested in getting any of the garments that are part of the new ENCE 2022 collection, you will only be able to do so if you access the Finnish team's web store. Inside the store, remember to check that your preferred payment method is enabled to make any purchase, and also that they ship internationally to your country of origin.
Finally, do not forget to check that the size you are going to choose is the right one for you, using the guide table on the ENCE website.