Cloud9 is undoubtedly one of the most recognized eSports organizations in the world, founded almost a decade ago, in 2013, and with a wide experience in competitions of various professional video games, such as League of Legends, Overwatch, CS:GO, Valorant, PUBG, Warcraft and many more.
Being so famous worldwide, Cloud9 usually renders quite a lot to their fanbase, releasing fashion and apparel collections in their official store that are quickly purchased by their fans. In addition, they also tend to partner with other brands and even video games, in order to find more buyers. This time, for example, Cloud9 has partnered with Valorant, the famous and renowned FPS video game that has so many competitors around the world, including the team of this post. Also check out the C9 Worlds 2022 Jersey and Collection.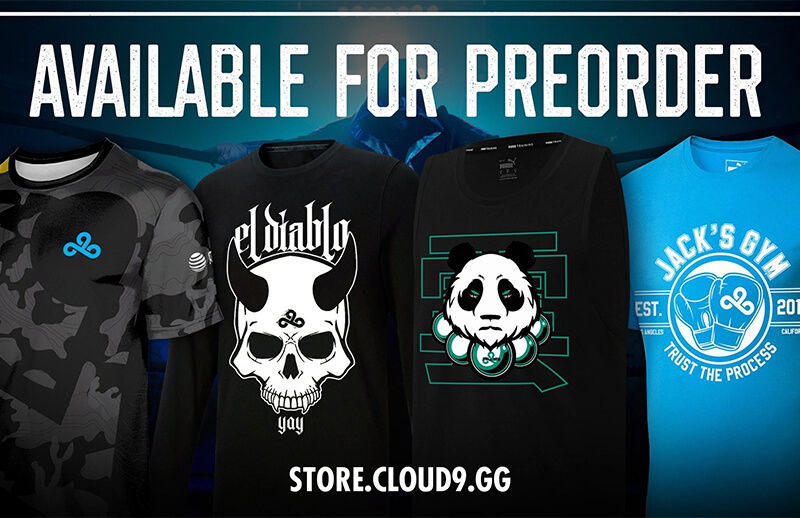 Are you interested in learning about the new collaborative collection this 2022 from Cloud9 and Valorant? Then keep reading this post until the end and don't miss anything we have to tell you, including a guide on how to get it from your home country.
Cloud9 Valorant Knockout Apparel drop: What's in it for you?
Cloud9 announced the new release of its new fashion collection with the shooter video game Valorant through its official Twitter account on October 17, just a few weeks ago, so it's a very new collection.
It is composed of four different types of t-shirts, which you might be interested in. Below, we are going to tell you in detail each of these garments, in case you are interested in any of them, so you can buy them following the guide at the end of the post.
Cloud9 Valorant 2022 professional camo Jersey
The first thing we will find in this new apparel collection is a competitive replica jersey, with round neck, short sleeves and wide availability of sizes, being able to find it from S to 4XL. It is made entirely in polyester, a fabric widely used in this type of garments, since it is extremely light and fresh, with a great capacity to easily absorb the moisture caused by the sweat of the nerves and the tension of the competitions.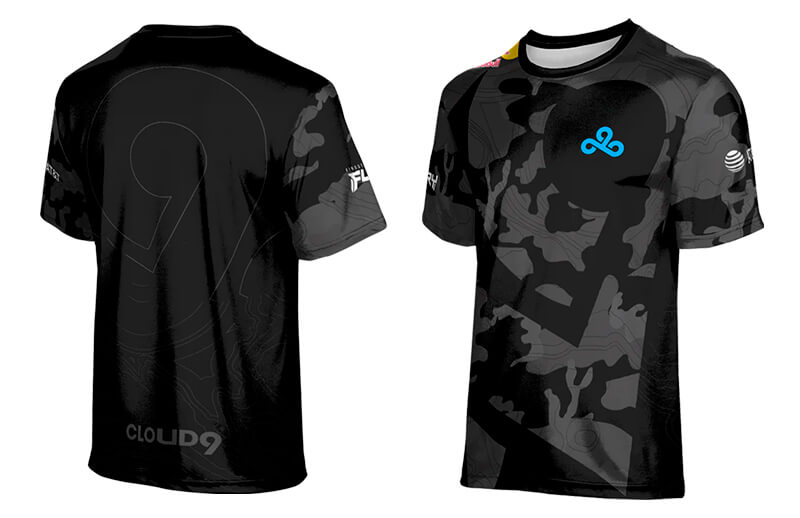 As for its design, we can see that it is a black player jersey with a lighter camouflage, in dark gray. It has a circular area without camouflage on the left side of the chest, which is where the Cloud9 logo sits in light blue, which characterizes this team.
On the shoulders and sleeves it has sponsorships of its various sponsors. The back is black in its entirety, it does not have any camouflage, because you can add a nametag of your choice, choosing the option at the time of purchase. In addition, you will also be able to add a champion star in the design. The only thing we will see on the back is a very thin outline with the Cloud9 logo.
Cloud9 Valorant 2022 Training T-Shirt
We will also be able to find a T-shirt focused on training, made in 70/30 cotton and polyester, with round neck and short sleeves. Its color is completely light blue, the characteristic color of the team.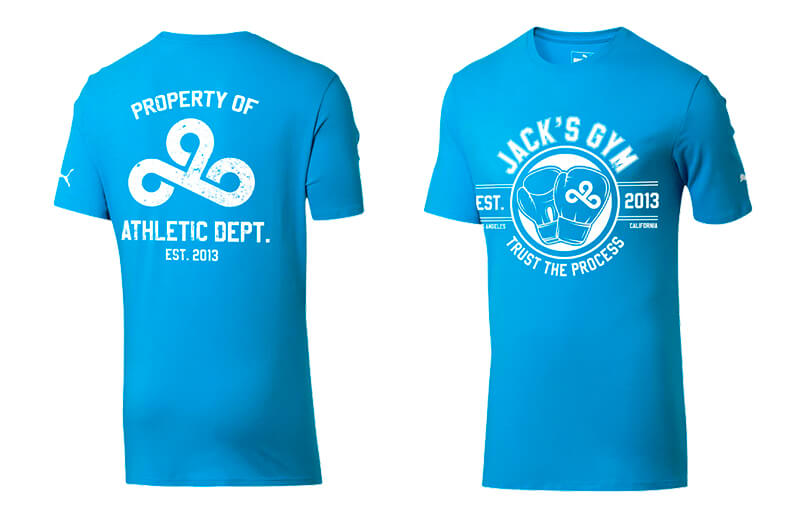 On the front we see a white design that includes a circle with two boxing gloves and the Cloud9 logo, along with the inscription "Jack's Gym" and "Trust The Process", in addition to other inscriptions. On the back, the inscription "Property of Athletic Dept." and the Cloud9 logo in a much larger size. All also in white.
Cloud9 Valorant long sleeve T-shirt
If you're looking for long sleeve t-shirts, this clothing collection brings them too. We found a cotton t-shirt with round neck and long sleeves, with sizes from S to 3XL.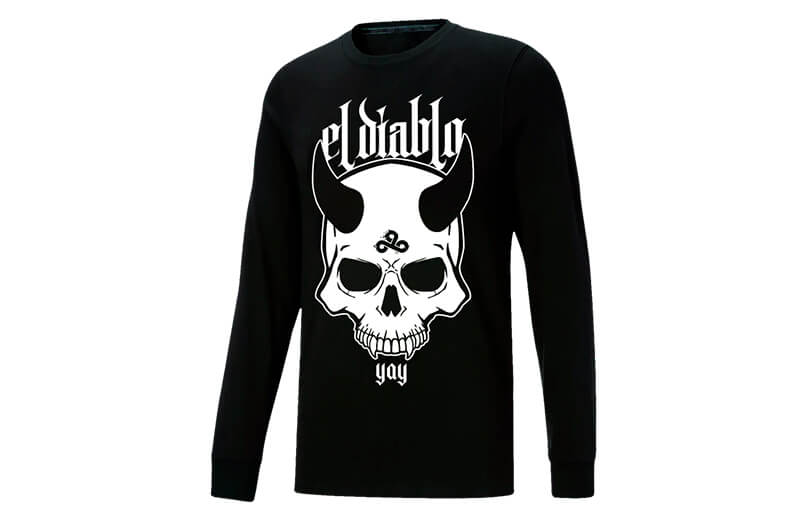 Its design is extremely simple, being black and only including a large drawing on the front of a skull with horns, along with the inscription "The Devil", all in white.
Cloud9 and Valorant 2022 Tank Top
Finally, we find a sleeveless t-shirt made of cotton, with a round neck, available in sizes up to 3XL and a black design with a panda logo on the chest, along with the Cloud9 logo in light blue on the back.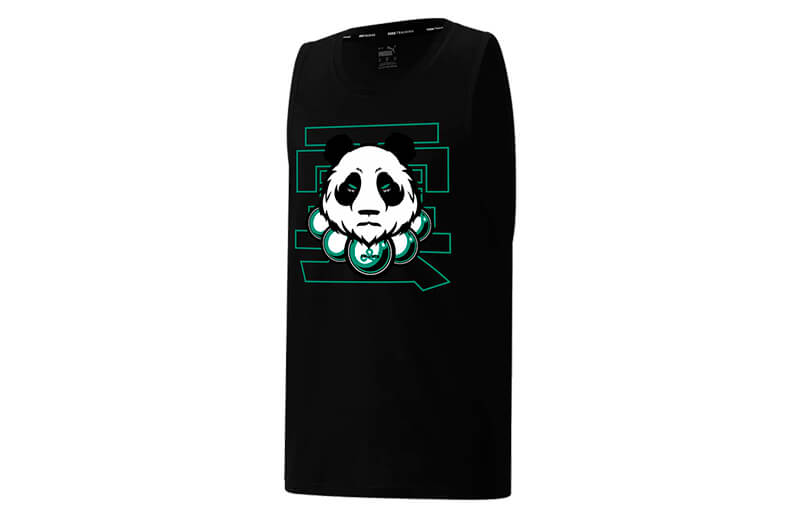 Where can I buy the new Cloud9 Valorant collection?
If you liked any of the new Cloud9's collaborative collection with Valorant and you want to buy it, the only way to do it is through the eSports team's online store; there you will find a lot of collections of different types. If you want to go directly to the collection in question, click on this link.
Before buying any of these garments, don't forget to check that the size you are choosing is the correct one, comparing your body measurements with those shown for each size in the guide table in the same store.