Cloud9 is undoubtedly one of the largest eSports organizations in the world, founded in 2013 and with wide representation of its teams in competitive eSports competitions such as League of Legends, CS:GO, Super Smash Bros., Rainbow Six Siege, Valorant, PUBG and more. In LoL, it is a very important team that participated in several editions of the World Cup, such as the Worlds of this 2022.
Thanks to its participation in this 2022 edition of the Worlds tournament, Cloud9, like many other eSports teams, launched a collection of official apparel for this competition, including a professional sports jersey worn by the team's own players.
If you want to know this new collection in depth, we invite you to continue reading this article until the end, as we will discuss the garments it brings and, most importantly, how you can get them from your country of origin. You can also check out the latest sneakers in collaboration with PUMA.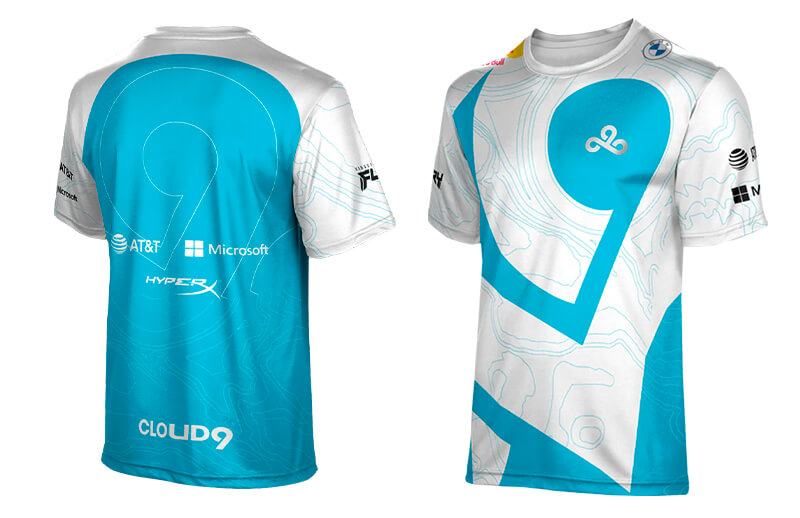 Cloud9 Worlds 2022 clothing Collection overview
On October 5, Cloud9 made through its official Twitter account the launch of its new official Worlds 2022 collection, consisting of a professional player jersey, a sweatshirt in collaboration with the German sports brand Puma, a T-shirt and a gift poster, which you will see below.
Read on for a detailed look at each item in Cloud9's new collection.
Cloud9 Worlds 2022 professional replica Jersey
The first thing we find in this new League of Legends Worlds 2022 collection from Cloud9 is a official jersey of the pro model used by the team's players throughout the competition. It is a polyester jersey, a fabric that is often used very regularly in sportswear, due to its lightness, freshness and, above all, the ease with which it absorbs the moisture produced by the sweat of the competition, nerves and tension of the matches.
It has a round neck, short sleeves and a wide range of sizes, and you can buy it from size S to 4XL (we always recommend checking the size chart to make sure you choose the right one). In addition, you have the possibility to customize this player kit with your name or the name of your choice. In terms of design, we see that it is a white player jersey, with a light blue back. On the front, a series of designs in light blue on the white background, along with the Cloud9 logo in silver on the left side of the chest.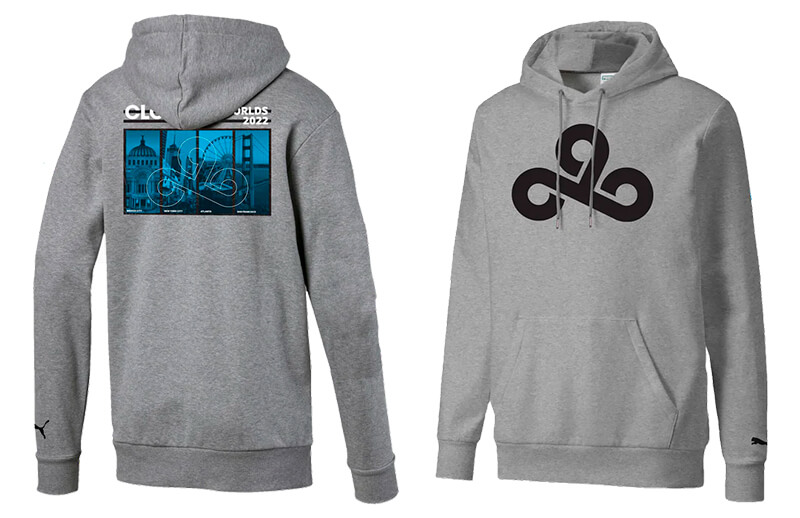 On the sleeves, shoulders and back, different sponsorships, such as AT&T, Microsoft, BMW, Red Bull, among others. Along with the purchase of this replica jersey, you will get an official team poster as a gift, which we will tell you more about later.
PUMA Worlds 2022 Hoodie by Cloud9
We will find in this collection a hoodie with adjustable hood and kangaroo pockets made in 60/40 cotton/polyester blend, with regular fit, tight sleeve cuffs and sizes up to 3XL.
This hoodie is made in collaboration with Puma, the famous German sportswear brand, and we will find their logo on the edge of the left sleeve. It is completely gray in color, and we will only see the Cloud9 logo in large size on the chest and, as we already said, the Puma logo on one sleeve. On the back, a rectangular design in light blue with LoL Worlds 2022 graphics.ç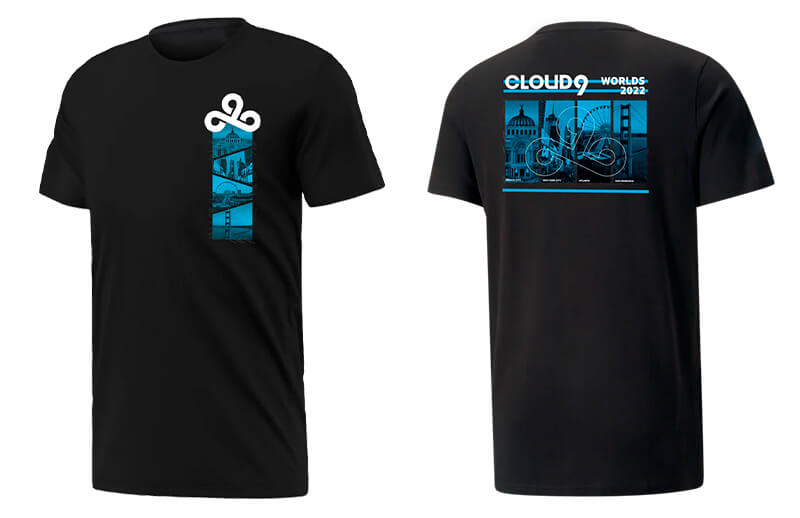 Black Worlds 2022 T-shirt by Cloud9
We will also be able to buy a non-sport t-shirt, if you prefer a garment to wear at any time; it is a round neck t-shirt with short sleeves made of black cotton, with the Cloud9 logo in white on the left side of the chest, a light blue rectangle design below it and, on the back, the same design as in the sweatshirt seen previously.
Free Worlds 2022 poster by Cloud9
Finally, and only as an extra, we find a totally free poster, which is included with the purchase of the professional replica T-shirt. It is an 18×24 inches poster, with a design of the Cloud9 team players in the best manga style.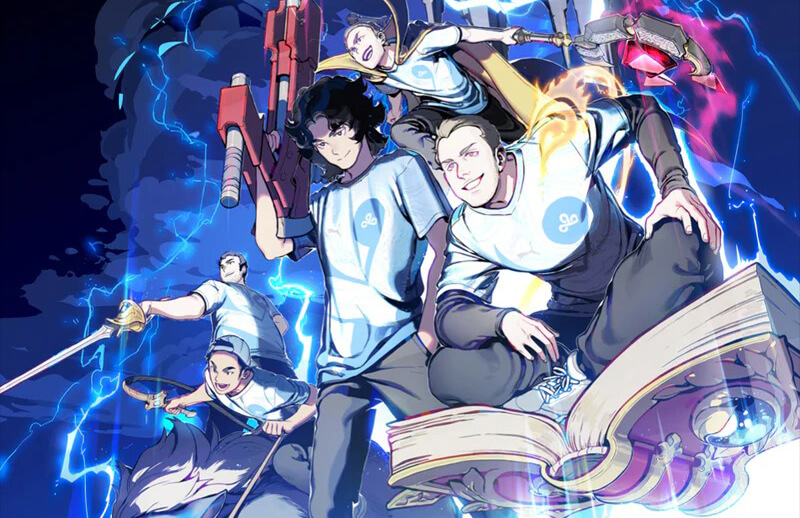 Where to get the new Cloud9 x PUMA Worlds 2022 collection?
If you liked any of the items in Cloud9's new Worlds 2022 collection and you want to get it, either for yourself or for a gift, you should know that the only way you will have to do it is through the official web store of the North American eSports team. Inside the store you will find a long series of collections of the team; to access more quickly to this particular collection, click here.
Remember to verify that you have one of the payment methods available in the Cloud9 store, and also that the store ships internationally to your country of origin, no matter what country you are from.