Rainbow7 is a professional esports team, they have excellent and experienced Latin American players, they play internationally in official tournaments organized by Riot Games; they have earned the prestige and respect of several competitive scenes in different regions. In other news Rainbow7 has beaten XTEN esports team, their team is conformed by Ceo, Daiky, Cepted, SoHwan and Oddie; they achieved 13 victories in regular phase, advancing each time in their achievements and in the LLA 2022 leaderboard.
It has been announced that Flink will be the new main sponsor of Rainbow7, this wonderful app to invest in the stock market has come to the world of esports, supporting R7 an excellent team of Latin American pillars who has won 13 times the regional championship in League of Legends.
Flink and its alliance with R7
Flink has left positive comments about its new bond with rainbow7 implying that the team is already part of its community, this sponsorship has brought two great news for the team, including the renewal of the Jersey and the gaming house for the opening of the 2022 season. In addition, both brands have promised to surprise all their fans and Flinkers with unique and innovative experiences to get into a little-known field of esports.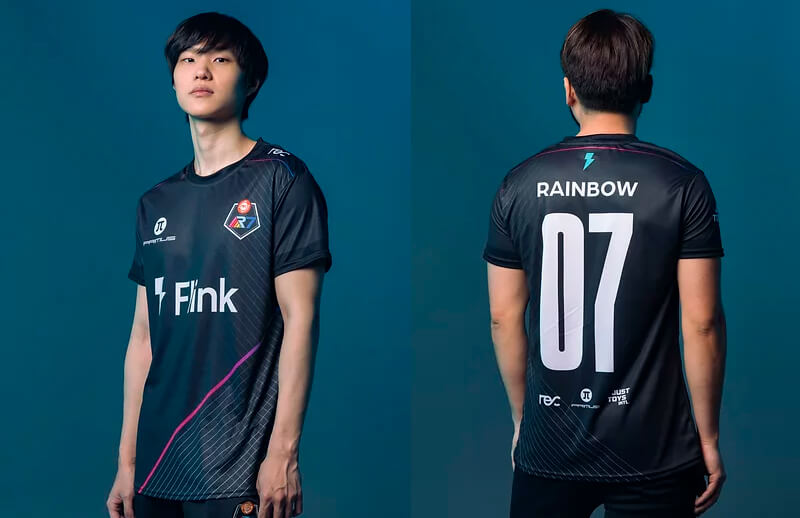 Rainbow7 2022 official Jersey features
Let's talk about this new jersey for the team, we can see that it has a sporty design, this Rainbow7 Jersey is black, with small white diagonal lines on the lower left side, and has some rainbow lines, also on it you can find the Flink brand with its logo, you can find the Rainbow7 logo. On the back if we take a look at it, on it you will find the Rainbow logo and name with the number in big white color, plus some sponsorship marks in small; you can see that it is a quite comfortable jersey to wear and breathable.
Currently is available the pre-sale of this definitive version of the Jersey 2022 jersey, in addition to this they added an option so you can customize your own jersey, deliveries will be from March 28; this jersey has a 100% sublimated design.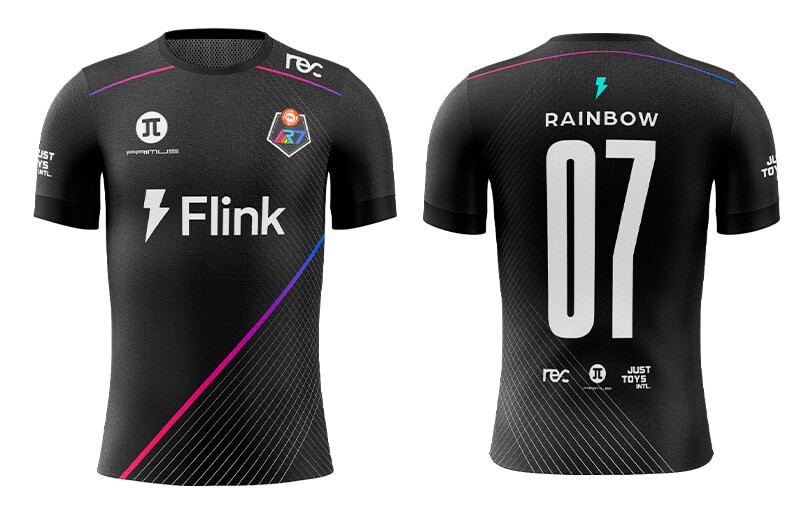 Where can I get this new jersey?
This piece of clothing of Rainbow7 is in charge of distributing all their merchandise, they are original products of them to sponsor their teams and get their fans to support them; they have all kinds of sizes which are small, medium, large, and extra large. This jersey is currently available in pre-sale from this March 16, 2022 in the R7 shop; it is expected to hold soon, has an approximate domestic shipping time of 2 to 5 business days, their shipments to certain countries such as US, AR, BR, CL, CO, PE and UY take between 12 to 20 business days.