Rogue is a widely recognized American e-sports team founded in 2016 and owned by several celebrities, such as DJ Steve Aoki or French basketball player Rudy Gobert. This team has several players who perform in the best professional categories of Rocket League, Rainbow Six Siege and its main sport, League Of Legends, of which they were part in the last edition of the World Cup (Worlds) held in this 2022.
In honor of their participation, Rogue has launched a new Pro 2022 Worlds fashion collection, in which you will find two fully customizable garments of great quality, as we will discuss below. Interested in learning about this new collection? Then stay reading this post until the end and do not miss anything, because at the end of it we will tell you where and how to get it and purchase it from your country of origin. We can compare it to the previous jersey we reviewed, the Rogue 2022 LEC Pro Kit Jersey.
New Rogue 2022 Worlds 2022 Clothing Collection and Jersey
On September 27th, 2022, Rogue announced through its official Twitter profile that the new professional Worlds collection was already on sale through the We Are Nations website. In this collection you can find a fully customizable hoodie and jersey, and you can add your gamertag or username with which you are known in different video games.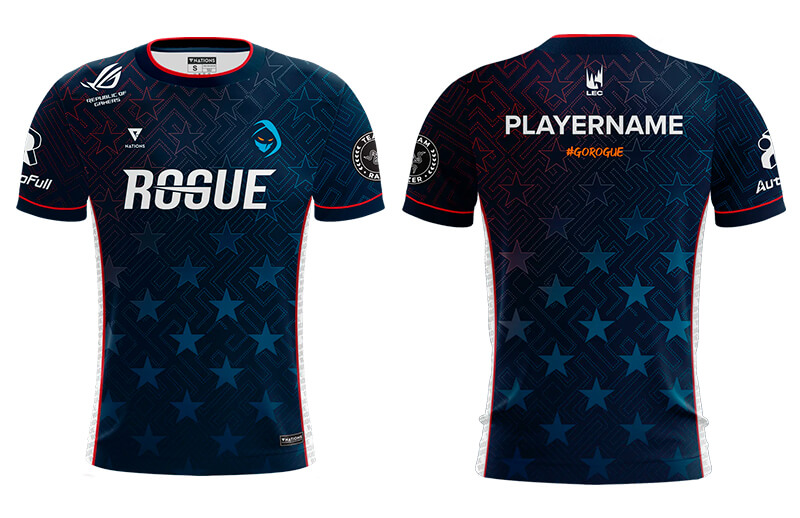 Read on to find out what these two garments are all about, with details and unique features of each one.
Rogue Worlds 2022 Official Jersey
The player kit that is part of this collection is a purely sporty one, made of 100% polyester, a lightweight, soft and comfortable fabric when it comes to sports or demanding the most of yourself, with the ability to easily absorb moisture from sweat.
It has a round neck and short sleeves, with a wide range of sizes available, from XS to 5XL, a total of 9 different sizes! Thanks to this, you won't have to worry about finding one that fits you. As for its design, it is navy blue, with a filled and empty star design throughout, adding a lighter blue and red. On the front you see the Rogue logo, on the left side of the chest, the We Are Nations logo to its right and, below that, the team name in white.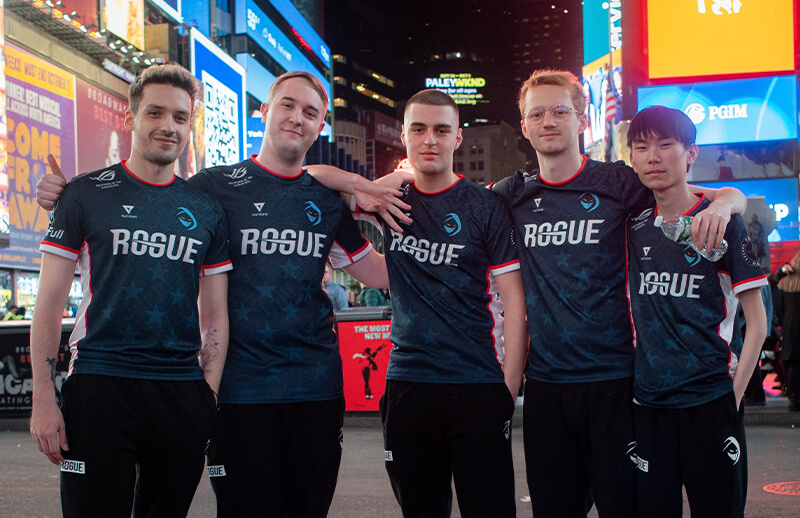 Near the right shoulder is the Republic Of Gamers ad, as well as different ads on each sleeve. The interesting part is on the back, as you will be able to customize this uniform as you prefer, adding your name or your gamer tag. Below your name will be the phrase #GOROGUE, in orange.
Worlds 2022 Hoodie by Rogue
For its part, the professional hoodie of this collection maintains the same color and the same design as the player jersey, with a navy blue color and blue and red stars design, while two white side stripes under the armpits.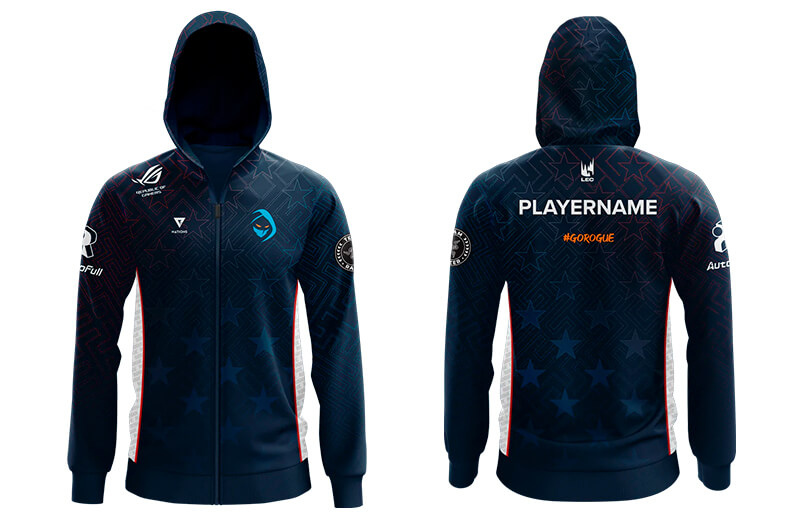 The material it is made of is also polyester, to ensure comfort and freshness at all times. It does not have pockets, but it does have a hood and a central full-zip closure. Size availability is from XS to 3XL.
We will see the same logos and ads as on the T-shirt, including Rogue and We Are Nations on the chest. The back will also be customizable with a gamertag of your choice, something you can point out on the purchase website.
Where to buy Rogue's Worlds 2022 Apparel and Player Kit?
Rogue's new Worlds 2022 collection, in honor of their participation in the LoL World Series, is only available through Rogue's official section on the We Are Nations website, through which many eSports teams release their official apparel. To access directly to the purchase, click here.
Always remember to check the sizes of each of the garments with the guide table in the store and, above all, to make the payment correctly and that your country of origin is among those enabled for international shipments.