Team Spirit is an eSports organization of Russian origin, founded in 2015 and currently based in Belgrade, Serbia, due to the war conflict in the European giant. This organization has professional teams competing in renowned video games, such as CS:GO, Dota 2, League Of Legends and Hearthstone.
In addition to constantly participating in eSports competitions, Team Spirit, like many other organizations of this type, is also committed to launching fashion collections, which fascinate its followers, and even those who are not.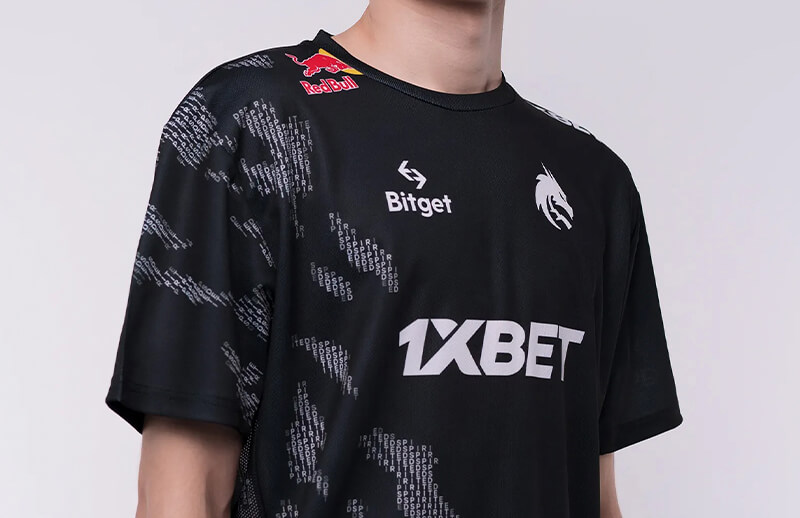 On this occasion, Team Spirit has launched a new fashion collection, which includes its professional garments, dressed by the players themselves from different teams. If you want to know this collection in depth, we invite you to read this post to the end, because we will also tell you where to find this collection and get it from your home country.
New Team Spirit 2022 Pro Collection overview
On September 12 of this year 2022, Team Spirit made the official announcement of the launch of its new 2022 collection through its Twitter account. This collection is composed of four professional garments, including a hooded jacket, a pair of pants, competitive sleeves and the main attraction: an eSports official jersey.
Do you want to know in detail all these garments? Keep reading this guide and don't miss anything about this 2022 collection from Team Spirit.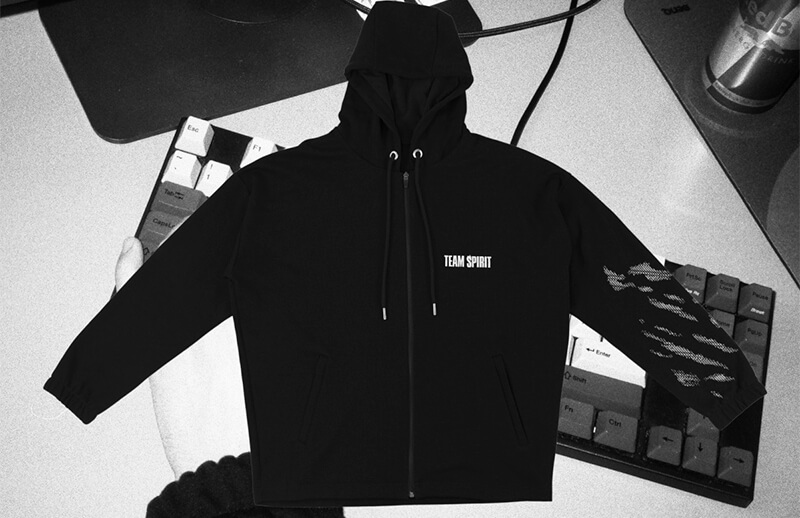 Team Spirit 2022 Pro Hoodie
The first thing you will find in this collection is a hoodie jacket made entirely of cotton, with adjustable straps on the hood and individual pockets on each side. It comes in sizes from S to 2XL.
Its design is quite simple, as it is an all-black jacket, with the team name in white on the left side and a flame graphic on the left sleeve, also in white.
Team Spirit 2022 Pro Pants
In conjunction with the previous jacket, you can also find a cotton pant with tight cuffs, pockets and availability from size S to 2XL. As for its design, this one is very similar to the previous one, with the right sleeve of the pants with a white flame graphic and the Team Spirit logo in white, in a small size, on the left side.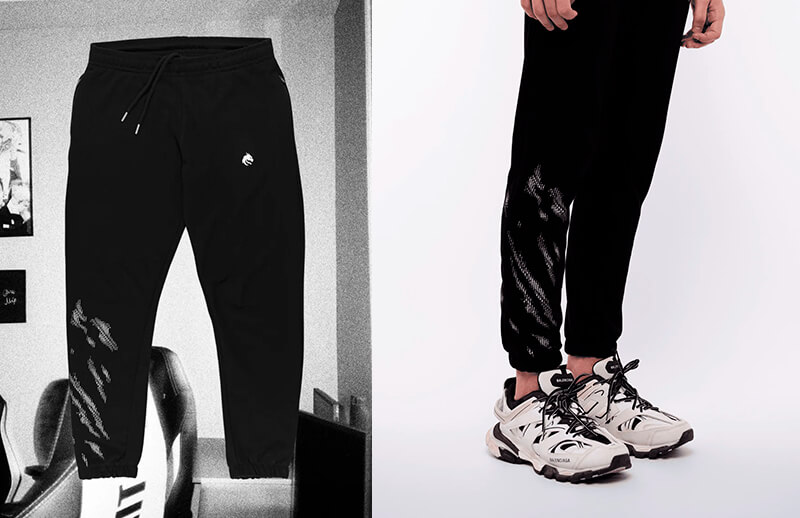 Team Spirit 2022 Pro Sleeves
Who hasn't had it happen to them that, in the middle of a game, their arm gets stuck on the desk and doesn't allow them to move the mouse properly? There is a very simple solution to this problem, which is to buy a sleeve.
In this new Team Spirit collection you can find a set of individual sleeves made of polyester and lycra, with silicone panels, which will ensure a good controlled sliding on the desk. They come in black and feature a great design, including various eSports team graphics in white.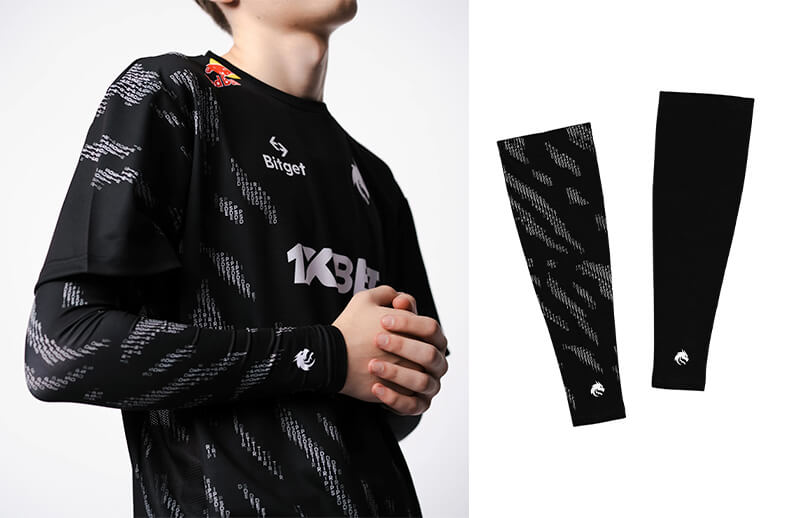 Team Spirit 2022 Pro Jersey
To finish with this collection, we find a professional eSports player jersey, used by Team Spirit in various competitions, being the first time in the PGL Arlington Major trophy. It is a player kit with round neck and short sleeves, made entirely of polyester, a fabric widely used in sportswear, since, in addition to being very light and cool, it easily absorbs moisture produced by the sweat of the competition and concentration.
Its design maintains the same line of simplicity that we have been finding in previous garments, being black, with white flames on the right side, near the sleeve. It includes, on the front, the sponsorship of Red Bull, Bitget, 1XBet and, of course, the Team Spirit logo also in white, on the left side of the chest. On the back, the jersey has the number 22, referring to the current year, and the name "Spirited".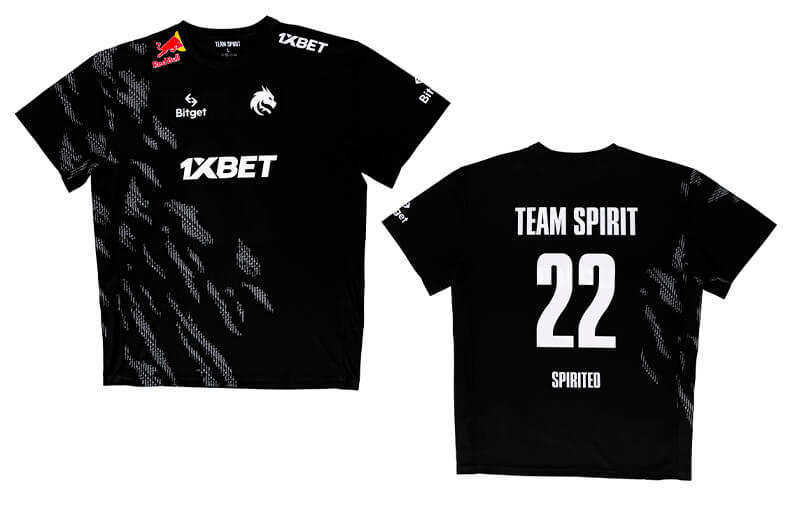 Where to get the new Team Spirit 2022 collection?
In case you want to get the items that are part of the new Team Spirit 2022 professional collection, either for yourself or for a friend, you should know that you will only be able to purchase it through the Team Spirit shop.
Before purchasing any of the garments in this collection, remember to check the measurements of each size, so you can choose the right one for you and not have to make future returns that are costly, both in terms of money and time.
Finally, check that your preferred payment method is enabled to make the purchase within the Team Spirit shop and, above all, that they ship internationally to your country of origin.