San Francisco Shock is an American professional eSports team based in San Francisco, California, primarily focused on the competitive video game Overwatch. "The Shock", as it is commonly known to its fans, competes in the professional Overwatch League (OWL) as a member of the league's West Region.
Founded in 2017, SF Shock is one of the twelve founding member teams of OWL, being owned by Andy Miller, co-owner of the NBA's Sacramento Kings. In addition to dedicating itself to official Overwatch competitions, SF Shock is also dedicated to the fashion world, in which it launches collections with multiple garments on a constant basis.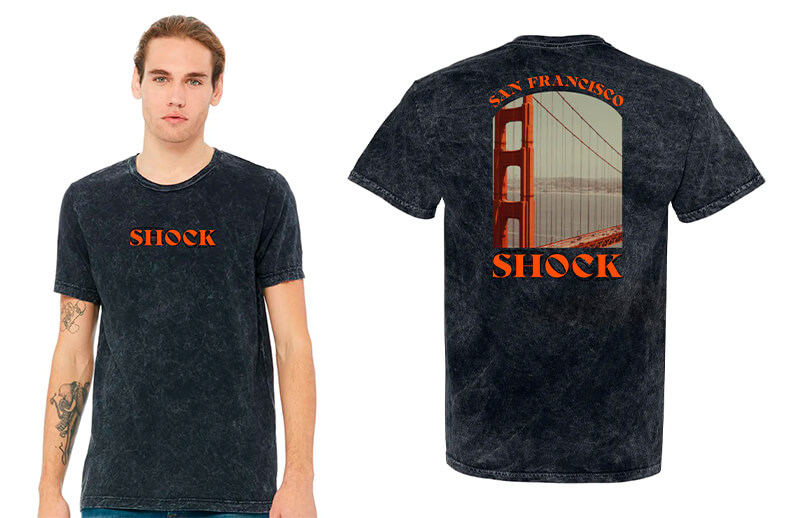 On this occasion, we come to talk about the new 2022 Summer Of Love collection, which features quality items and that, if you are a follower of this eSports team, you will not be able to miss. Keep reading until the end and don't miss anything, because we will also tell you how to get this collection from your home country. The last drop we saw from San Francisco Shock was their Blackout Clothing Drop.
The new Summer of Love 2022 collection, by San Francisco Shock
Relatively recently, exactly on September 8 of this 2022, San Francisco Shock announced through its official Twitter account the new release of its Summer of Love collection, which is composed of a T-shirt, a hoodie and a short.
If you want to know in detail each of these garments, including colors, designs, accessories, sizes, measurements and more, keep reading this guide.
Summer of Love 2022 T-shirt by SF Shock
The first thing we will find in this collection is a vintage cotton t-shirt, with unisex lace, that is, for both men and women, and availability from size S to 2XL. It is a black T-shirt, with a rustic background design, emulating what would be a denim fabric, hemmed at the sleeves and neck, along with its marked seams on the outside.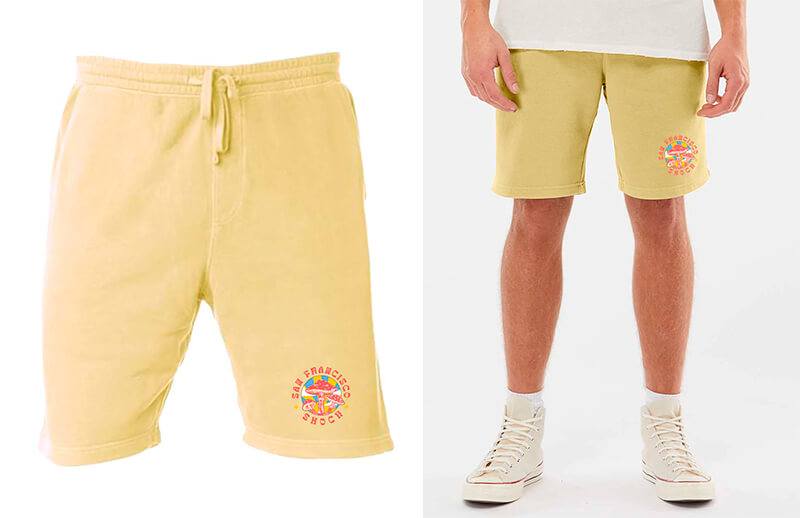 It has the inscription "Shock" on the chest, in orange, with a minimalist design. Meanwhile, on the back, we see a picture of the famous San Francisco bridge, along with the name of the team, also in orange.
Summer of Love 2022 Shorts by SF Shock
In this Summer of Love 2022 collection we will also find shorts made of 80% cotton and 20% polyester, with a relaxed fit, that is, a little looser than normal, and a short extension, located above the knees.
It has an adjustable drawstring waist and is available in sizes up to 2XL, stitched eyelets, stitched fly detail, back pocket and side pockets with knitted lining and woven label. In terms of design, it is cream in color and features only the San Francisco Shock logo in various colors on the left side of the shorts.
SF Shock Summer of Love 2022 Hoodie
To finish with this 2022 collection of San Francisco Shock, we will find a hoodie made of cotton and polyester with standard fit, without being loose or tight to the body.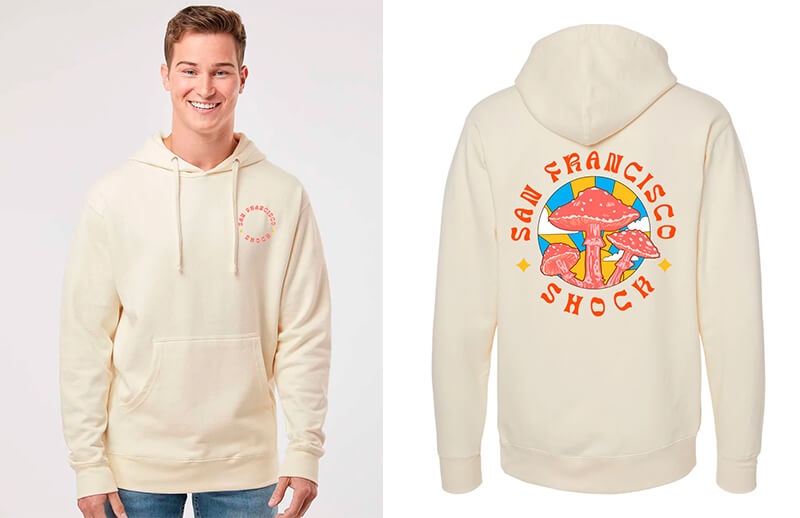 Like the previous shorts, this hoodie is cream, has an adjustable hood with drawstrings, kangaroo pockets and the SF Shock logo on the chest, in orange and the logo on the shorts, much more complex and detailed, covering the entire back, in different colors.
Where to get the new San Francisco Shock 2022 collection?
If you liked the new SF Shock 2022 Summer of Love collection and you want to get some of the garments, either for yourself or as a gift for someone else, the only way to do it is through the eSports team's web store.
Before buying any garment, remember to check that the size you are choosing is the right one, using the guide table found in the store, with exact measurements of each of the sizes. Finally, check that your preferred payment method is enabled on the website and that, above all, international shipments are made to your country of origin, whatever continent you are from.