Vitality is undoubtedly one of the most important European eSports teams of all; founded in 2015, this eSports organization regularly participates in international competitions of CS:GO, Rocket League, Fortnite, Valorant, FIFA and, above all, League Of Legends, which has been its main discipline for many years now.
Like most major teams in the world of competitive video games, Vitality is also betting on diving into fashion, launching unique fashion collections that catch the attention of more than one fan around the world. Following the successful example of seasonal fashion releases, the team has launched a new collection for the fall of the northern hemisphere this 2022.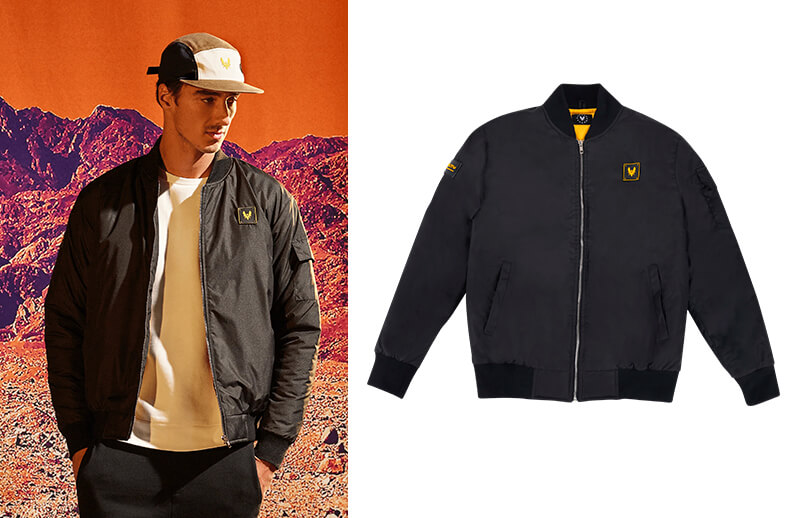 This time, we come to tell you what exactly the new fall Bee The Drip clothing collection from Team Vitality is all about, what features it has, designs, garments and more. If you are interested, we recommend you to stay until the end, as we will also tell you how to access it from your home country. We are used to great collaborations from Vitality like the last collection with Adidas.
Overview of Bee The Drip 2022 collection by Vitality
On September 19 of this 2022, just two days before the beginning of autumn in the northern hemisphere, Vitality announced through its official Twitter account the launch on its web store of the new fall 2022 apparel collection, called "Bee The Drip".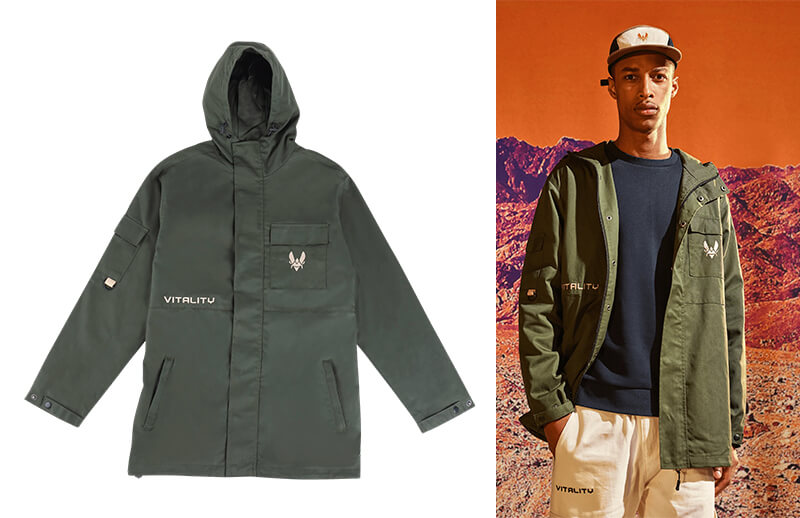 This fashion collection is composed of a total of 33 garments with individual sections, although many of them, like the hats, for example, have the same design, but with other colors. If you want to know in detail each of these garments, including fabrics, colors, designs and more, keep reading this post.
Team Vitality Bee The Drip 2022 Bomber Jacket
Bomber jacket made entirely of nylon, available in sizes XS to XXL, with individual side pockets, fitted cuffs and full-length central zipper. Black with yellow interior, yellow label with Vitality logo on left chest and right sleeve.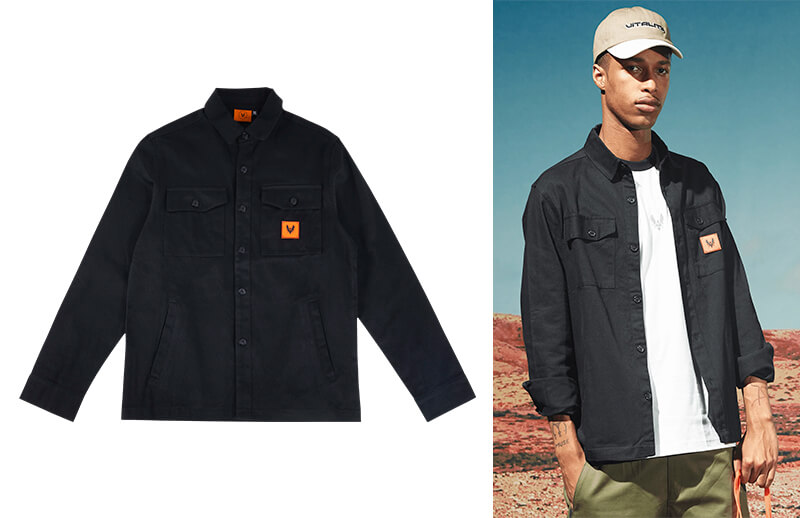 Bee The Drip 2022 Parka
Green parka style coat, 100% polyester, available in sizes up to 2XL, with multiple pockets on sleeves and front pockets and compartments. Full zipper closure; zippered pockets. White bee logo design on left pocket, white Vitality logo on front.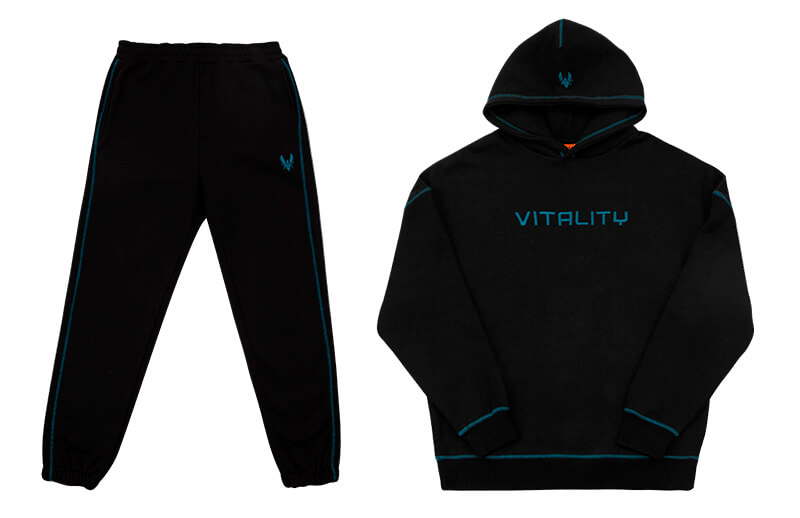 Team Vitality Bee The Drip Windbreaker
Polyester windbreaker in black, with adjustable fitted cuffs and bottom hem, hood, chest to neck zippered closure, individual side and chest pockets. Bee logo on right sleeve and Vitality logo on left chest. Available in sizes XS to 2XL.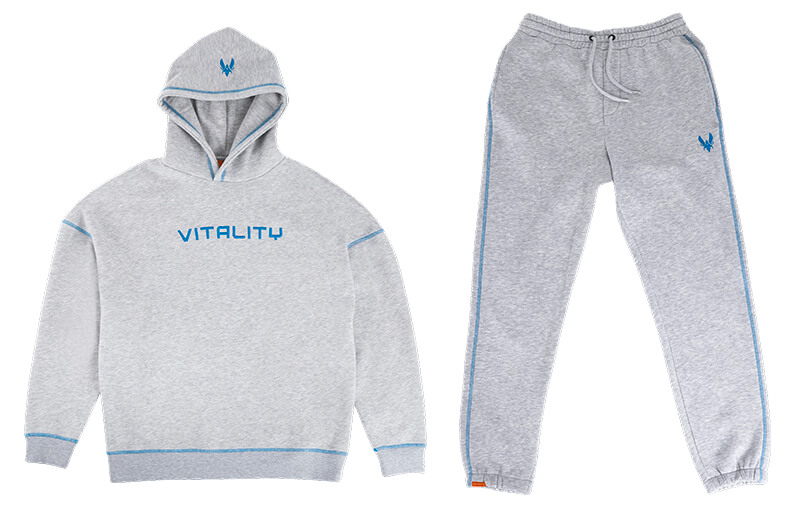 Bee The Drip Vest 2022
Basic vest in green color, made of polyester and nylon blend, perfect to wear with a T-shirt or a coat from the same clothing collection underneath. Central button closure, single side pockets and chest pocket on the right side. Orange interior. Bee logo in yellow on left side of chest and orange label with black Vitality logo on inside back neck.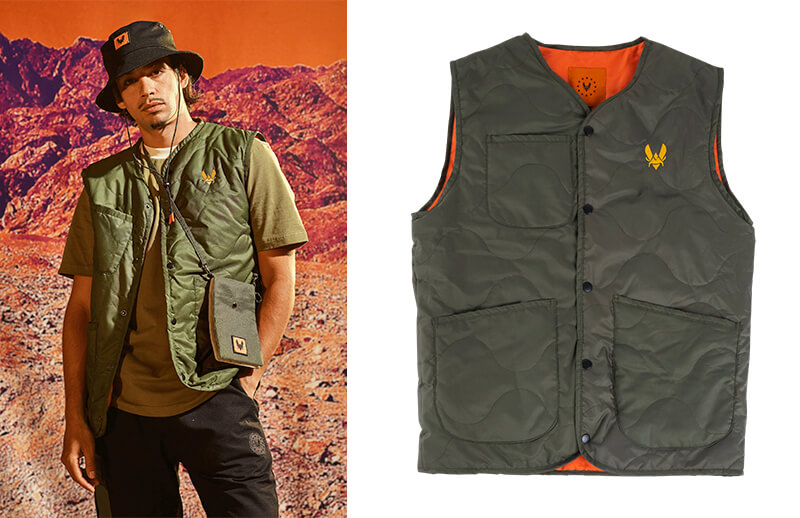 Team Vitality 2022 T-Shirts
Basic cotton T-shirt with round neck and short sleeves, with sizes up to 2XL and available in two models: one in white, with black collar and Vitality logo in the same color in the center of the chest, and another model in beige, with collar and logo in brown. Another extremely basic T-shirt, with a similar design to the previous one, made of cotton, with round neck and sizes up to XXL. Available only in light brown, with a white collar and the Vitality logo in black inside an orange square on the left side of the chest.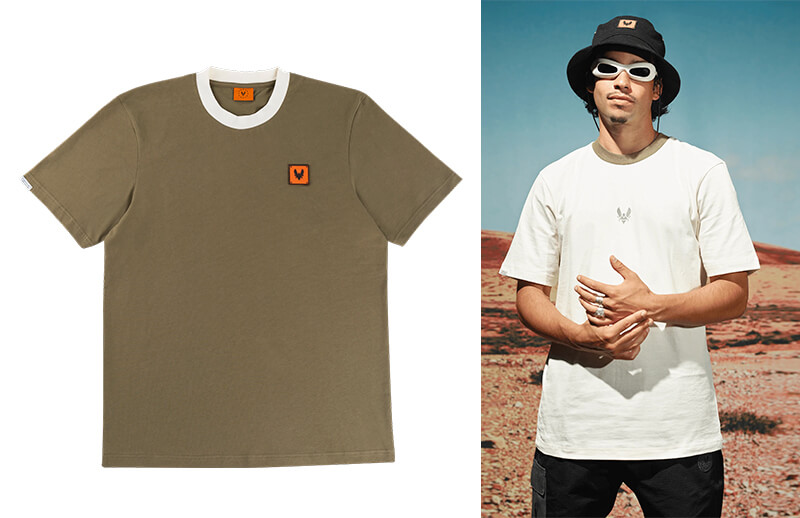 The third t-shirt of the apparel collection, in black, with a tiny orange label on the right sleeve and orange back label on the collar. It has a front pocket on the left side, in black, with a metal buckle and a small orange strip.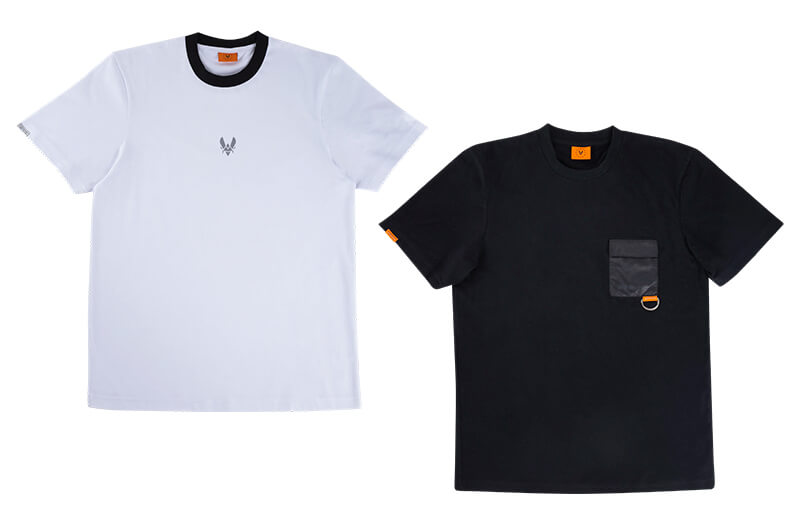 Vitality Crewneck square Bee The Drip Sweatshirt
Gray cotton sweatshirt with black crewneck and sleeve cuffs. Available from size XS to 2XL. White silicone chest label with Vitality logo in black. White Vitality lettering on both cuffs. Orange label on right shoulder.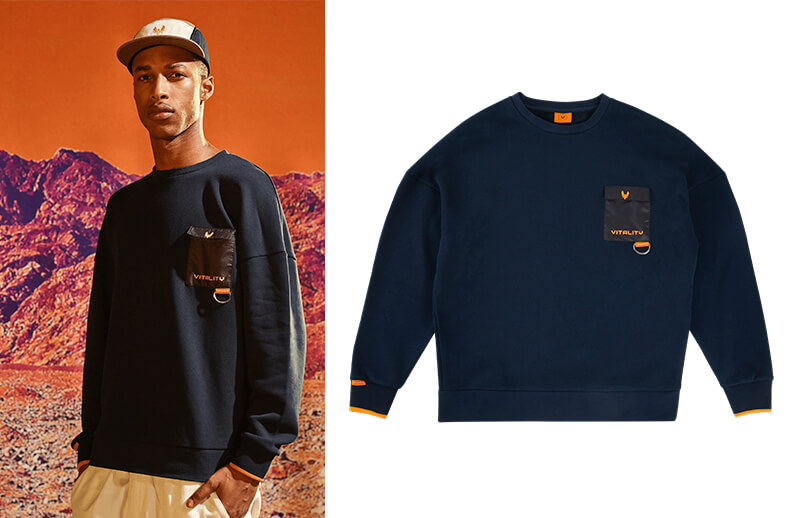 Bee The Drip 2022 Crewneck Sweatshirt
Another crew neck sweatshirt, in this case, available in beige and dark blue, both models with the same design. Made of cotton and with a black patch on the chest that functions as a pocket, along with a metal buckle and a small orange fabric. On the cuffs we see small black stripes, in the case of the beige model, and in orange, in the case of the blue model.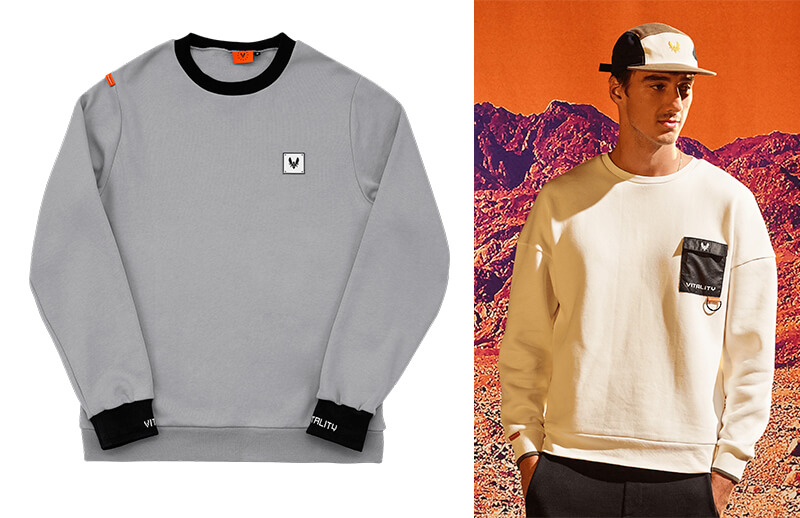 Basic Hoodie Bee The Drip 2022
Cotton sweatshirt with non-adjustable hood and no pockets, available up to size 2XL. You can find it in two models: one light gray and one black, both with blue stripes on the cuffs, shoulders, hood and bottom hem, with the Vitality logo on the top of the hood and the team name on the chest, all in blue.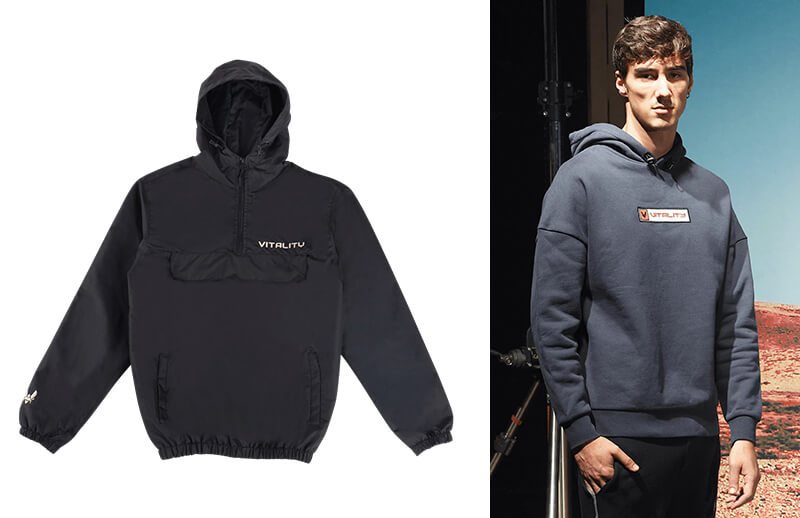 Team Vitality Hoodie square Bee The Drip
Another cotton sweatshirt, in this case with a simpler, more minimalist design; available in two different models: one in dark blue and one in beige. Both models have pockets and adjustable hood with straps, and the name Vitality in small size in the center of the chest.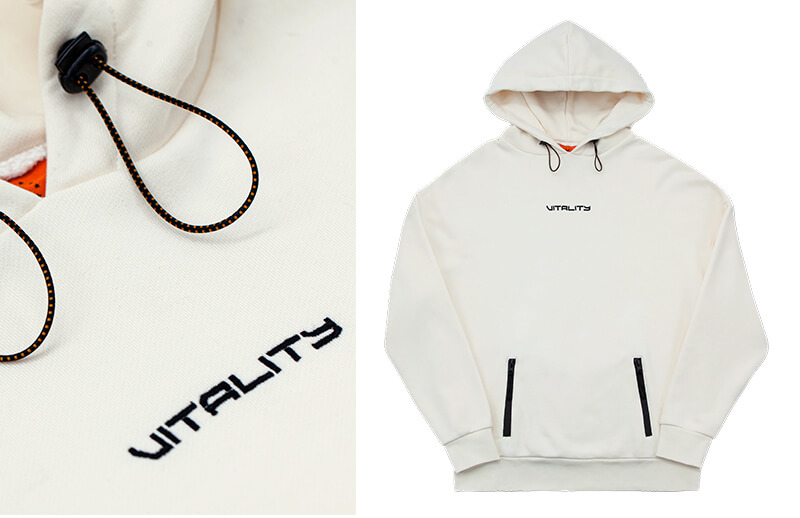 Bee The Drip 2022 cargo Pants
Cargo pants made of ribstop, a fabric used in these types of garments, with multiple individual pockets on the sides and on each sleeve of the pants. Available in beige and military green, both with Vitality logos in black for the first model and yellow for the second model.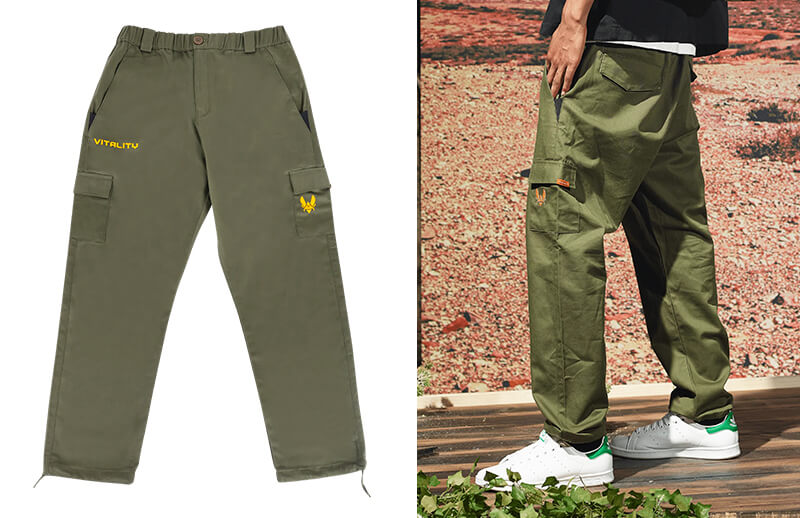 Team Vitality jogging pants 2022
Jogging training pants, made entirely of cotton, with adjustable straps at the waist and tight sleeve cuffs. Available in gray and black, paired with a previously seen sweatshirt with blue accents and logos.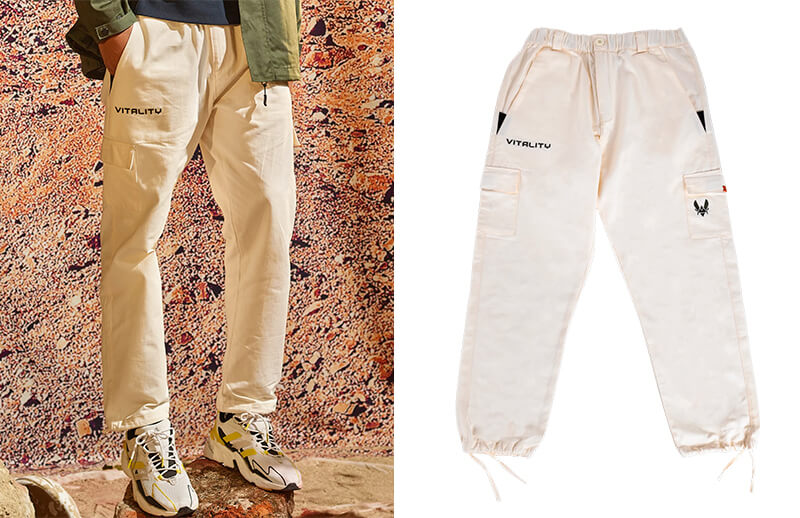 Bee The Drip 2022 Bucket Hat
Black fisherman's cap, "piluso" or "Bob", made of cotton, with adjustable black straps with orange plastic tips, same color as the top label and the square patch with the Vitality logo in black on the inside.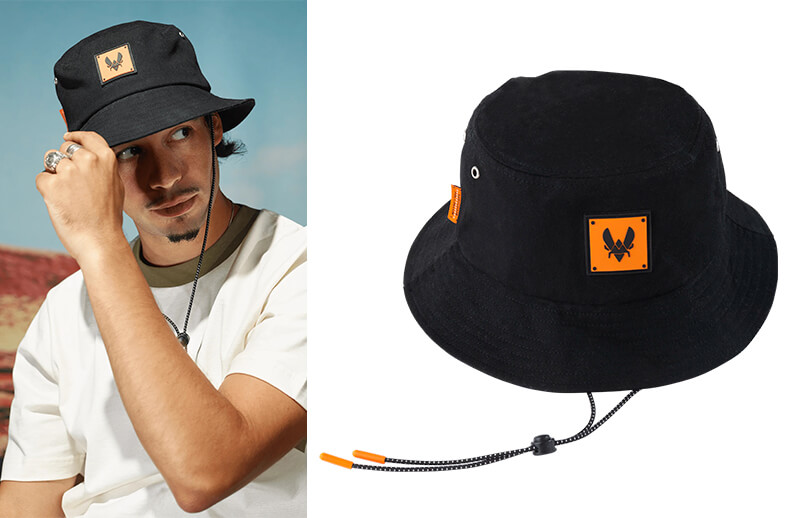 Bonnet Bee The Drip 2022 hat
Polyester and acrylic 60/40 warm beanie with thick knit and bottom hem, available in various colors including beige, dark blue and green, all models with a black patch with Vitality logo in white on the front of the hem.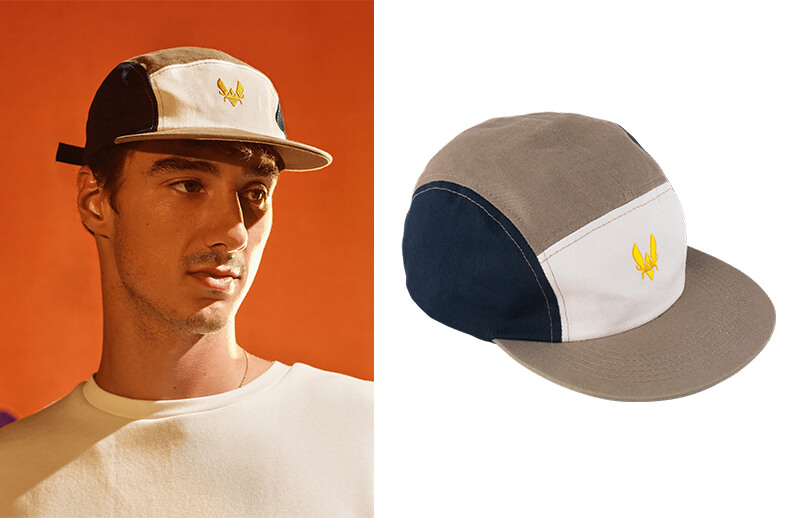 Team Vitality Bonnet 2 Bee The Drip cap
Second Bonnet beanie in the fashion collection, in this case, a single model in orange, with the Vitality lettering in black on a gray plastic label on the front of the hem. Also made in 60/40 between polyester and acrylic and done in thick knit.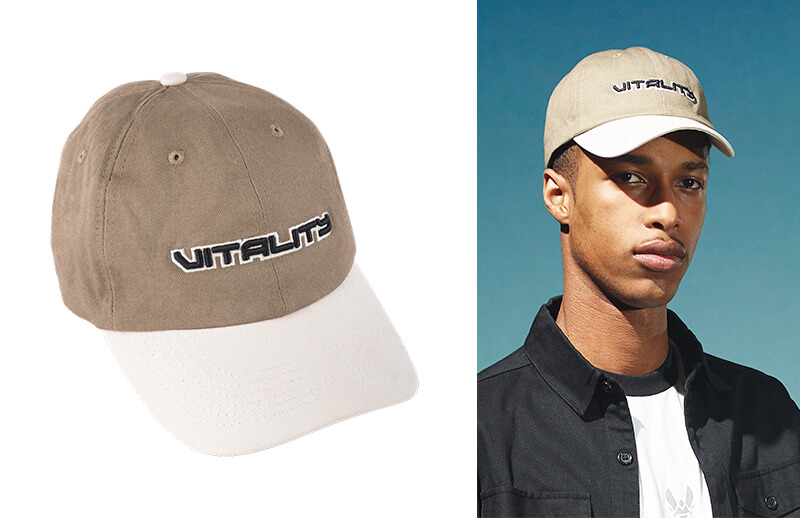 Bee The Drip 2022 baseball cap
Cotton baseball style cap, i.e. with curved visor and not flat. With top holes, center button at the top, six panels and adjustable strap at the back of the neck. Available only in beige with white visor and black Vitality logo on front.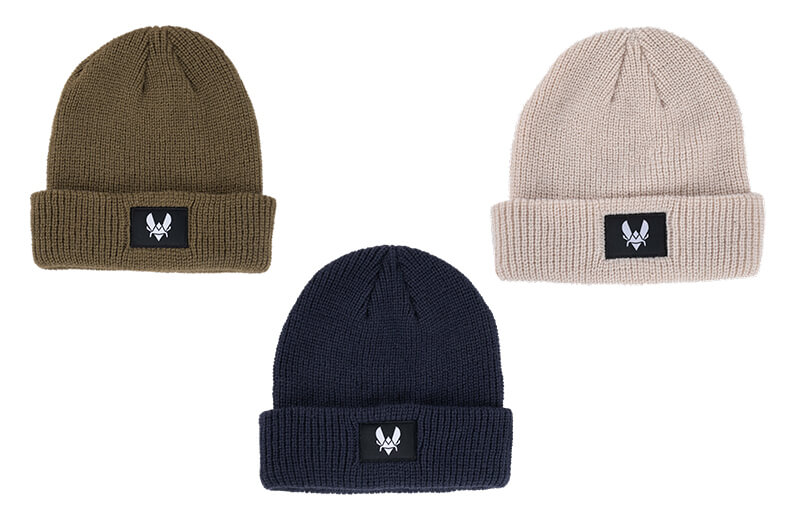 Team Vitality Snapback Cap
Flat snapback cap in tricolor design, with four panels, two sides, one top and back and one front panel. It comes in blue on the sides, beige on the top, back and visor and white on the front, where we see the Vitality logo in yellow.
Bee The Drip 2022 Socks
Dress socks in 80% cotton, 18% pliamide, 2% elastane with 3/4 size, that is, around the calf. Available in three different models: one in black, with orange details and Vitality logo in white, one in green, with black details and Vitality logo in orange, and one in white, with orange details and Vitality logo in black.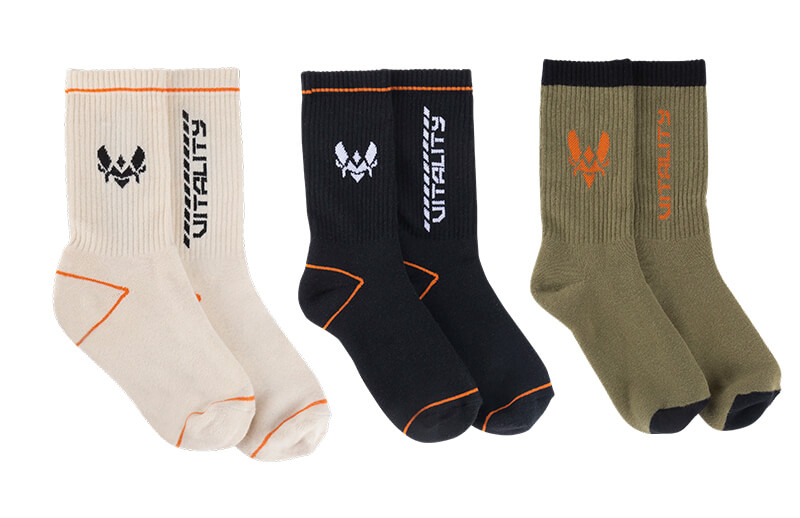 Team Vitality Bee The Drip Scarf
Scarf with Vitality name and logo. Available in black and yellow on one side and black and dark gray on the other. Made entirely of cotton.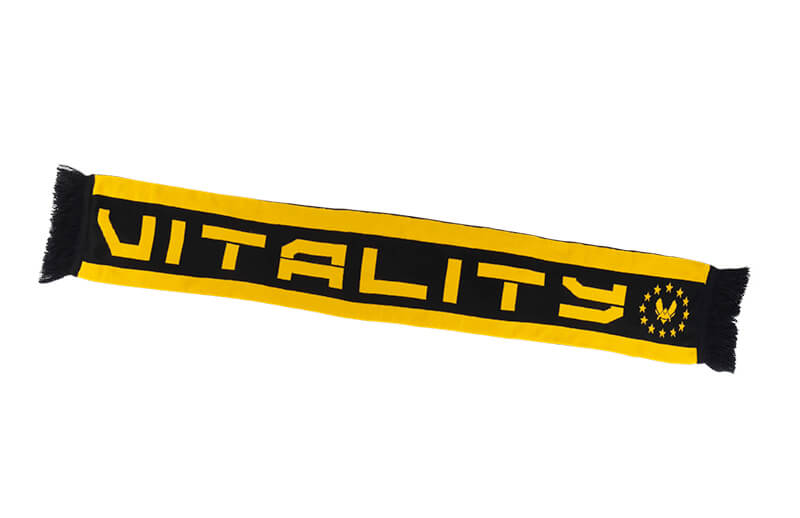 Bee The Drip 2022 Shoulder Bag
Small shoulder bag with several exterior and interior compartments, in green outside and white inside. Measures 39,5 x 12,5 cm, perfect for hiking and carrying essential things without having to carry a big bag. Button and zipper closure, Vitality logo in orange on the front.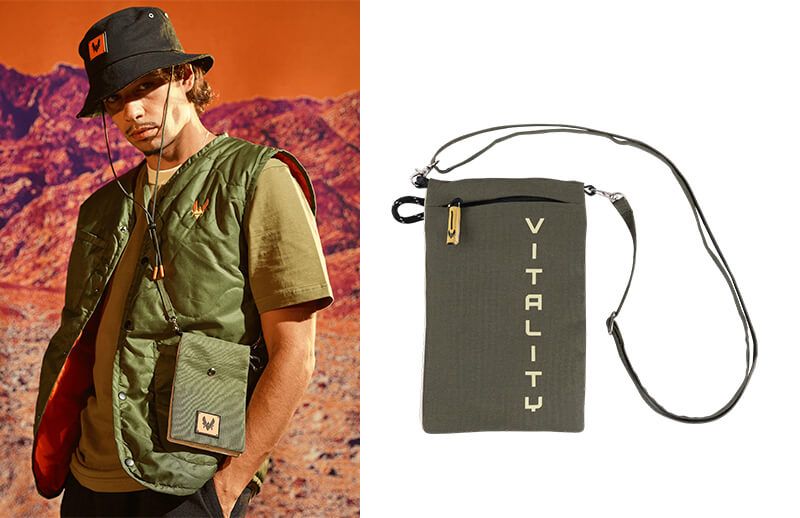 Vitality Bee The Drip Snackpack
Finally, a bag or backpack in green, beige, black and orange. Includes top straps to carry in the hand, as well as shoulder straps on the back to carry like a backpack. Measures 50 x 33 x 13 cm, with a large interior space and a total of 15 different compartments and pockets, in which you can introduce work or study things without any problem.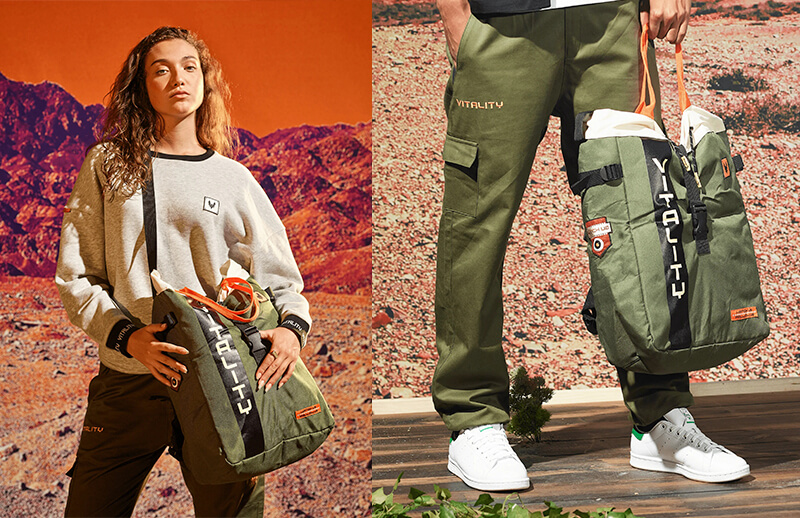 Where to get the new 2022 Bee The Drip collection by Vitality?
If you liked the new Bee The Drip collection by Vitality and you want to get any of its garments for yourself or for a friend, you should know that the only way to do it is by accessing the web store of the French esports team. Before buying any garment, don't forget to check that the size you are choosing is the right one for you, using the size guide table found in the team's store. This is mainly so that you don't have to make future returns that cost time and money.
Finally, make sure that your preferred payment method is enabled on the Vitality website and, above all, that they ship internationally to your country of origin, no matter what continent you are from.