Team Vitality is the leading esports in France, aiming to conquer to world which surprises its fans this time with a beautiful kit collection for their 2021 season. The 2021 Pro Kit collection is the official outfit of the athletes and ambassadors. The unique, asymmetrical and two-tone design traces the history of Vitality since its inception and gets benefits from the "primegreen" label on it. Their beautiful new jersey doesn't come alone, let's proceed to see the design available in the shop.
Pro 2021 Team Vitality official jersey
Team Vitality started 2021 era with a Pro Jersey, the "most innovative esports jersey ever created". It comes with a black color representing the development of the players and teams (yellow) and the competition titles and places we touch now (white). United around a central yellow strip, this proprietary design also celebrates the first adidas jersey to be entirely thought of, designed and created by and for an esports team.
Apart from 2020, they made significant changes which includes removal of tiger effect strips and a Renault written on the top. Orange and Team Vitality are strengthening their bond until 2021 so the use of Orange logo on the front of the Jersey of approximately fifty professional Team Vitality players, giving oranges in all major tournaments. The Jersey is a V-shape which represents V for Victory.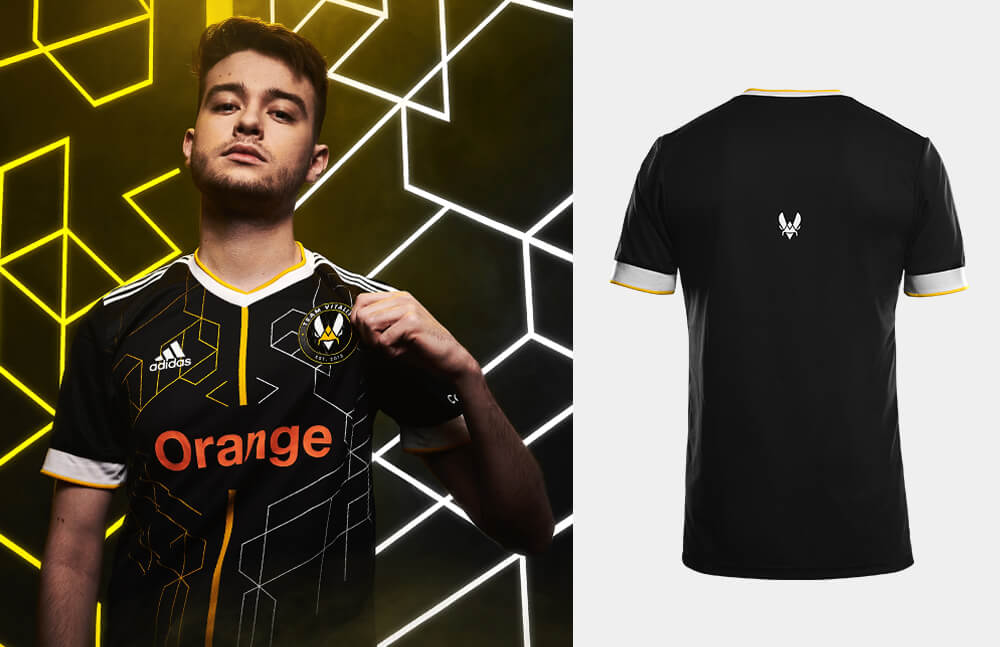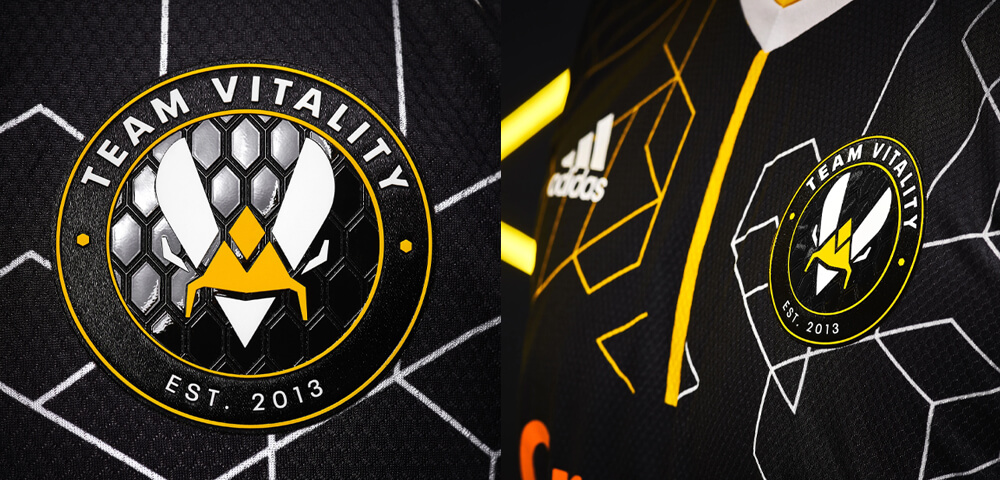 Some more things about this Jersey which improves its quality and make it look attractive are,
100% recycled polyester mesh with adidas Primegreen Label.
V-neck (for Victory).
Classic Cut.
New satin badge.
AEROREADY technology to stay dry during the most complicated clutch.
Pro kit Adidas hoodies
Black hoodie is created for the players and for their fans to cheer up for them which comes up with three parts,
70% cotton and 30% recycled polyester fleece.
Kangaroo pockets.
Ribbed base and cuffs.
There is also a second version of black hoodie for the fans which is designed with a light weight, breathable fabric with mesh ventilation zones to keep them cool and dry.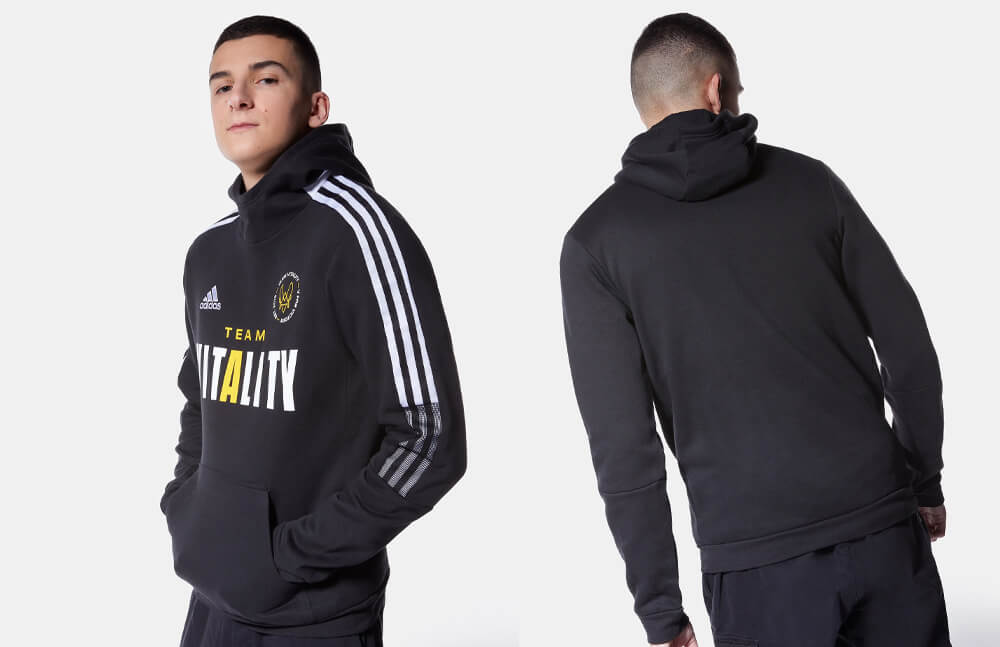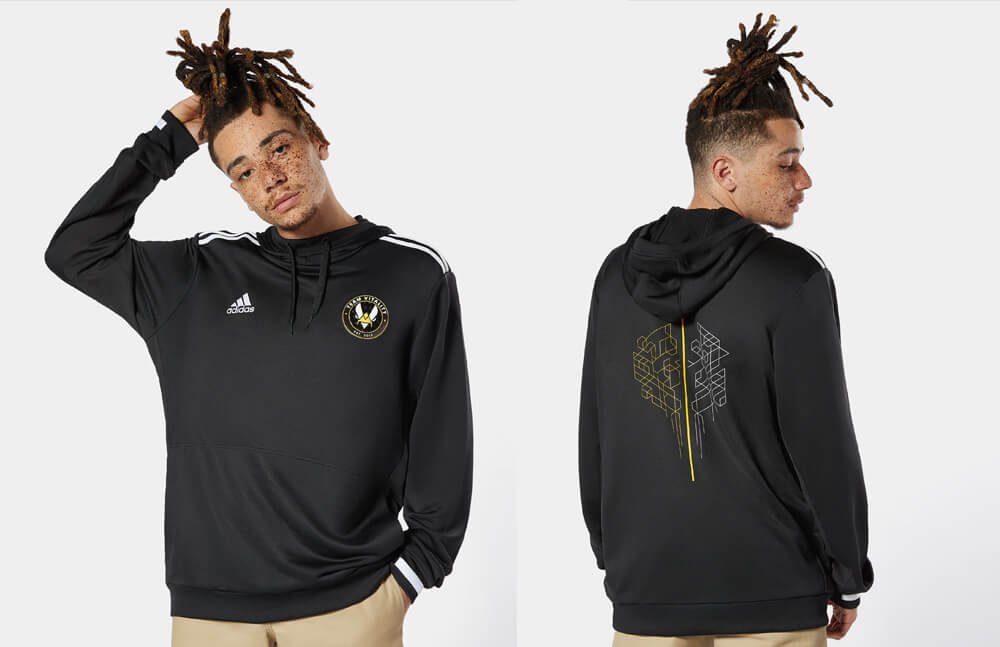 Pro kit Adidas shorts
The adidas pro kit 2021 shorts are made up of 100% polyester and mostly used in the hottest summer days or during the training session of the team. On both sides of the short, there is a white bold lining which gives it classy look and there is a Team Vitality logo on the right bottom side of the shorts and adidas logo on the left bottom side of the shorts.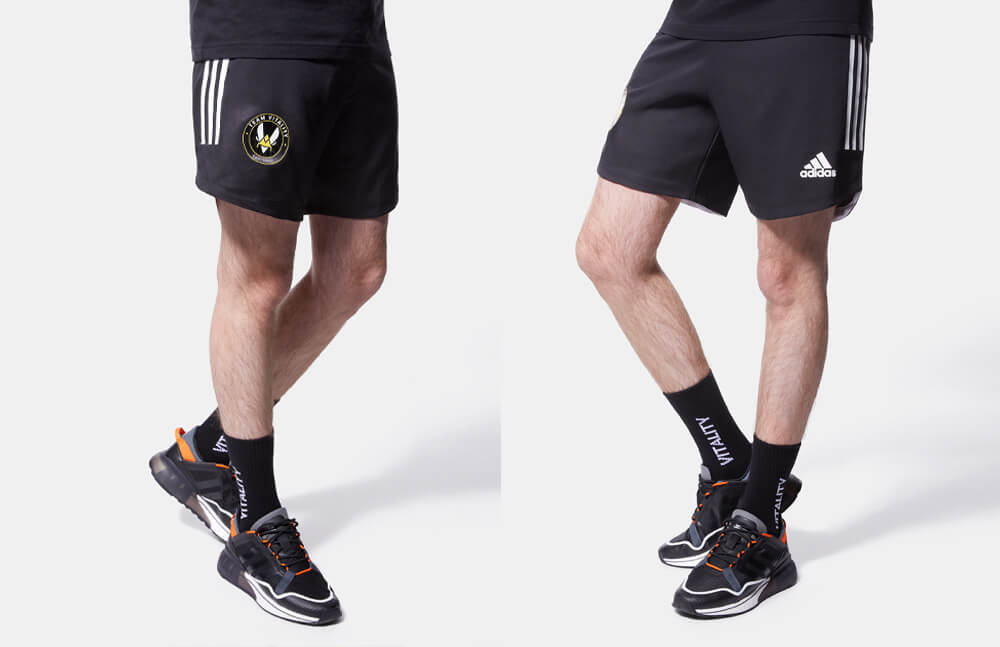 Pro kit Adidas T-Shirts
Black T-shirt
One more product available in the Team Vitality new jersey is black T-shirt which is ultra-soft cotton having a logo on the top of the shirt and white linings on the both short sleeves. There is a TEAM VITALITY written on the front of the shirt. Furthermore, it is a half-flexible, half-sim, ultra-comfortable with a ribbed crew neckline. It is also a 100% cotton jersey.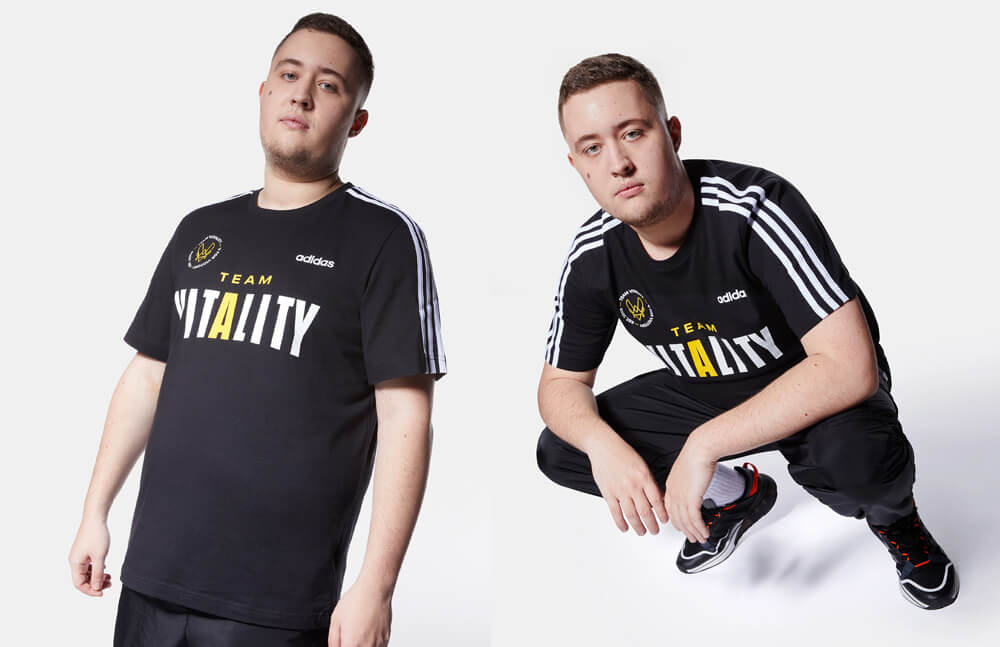 White T-shirt
After a Black T-shirt, company also produces a white T-shirt which looks more attractive to their fans. This shirt is also an ultra-soft cotton a logo on the top of the shirt and black linings on the both short sleeves. There is also a TEAM VITALITY written on the front of the shirt. This one is a 100% pure cotton with short sleeves. Apart from this, other qualities are same as that of Black T-shirt.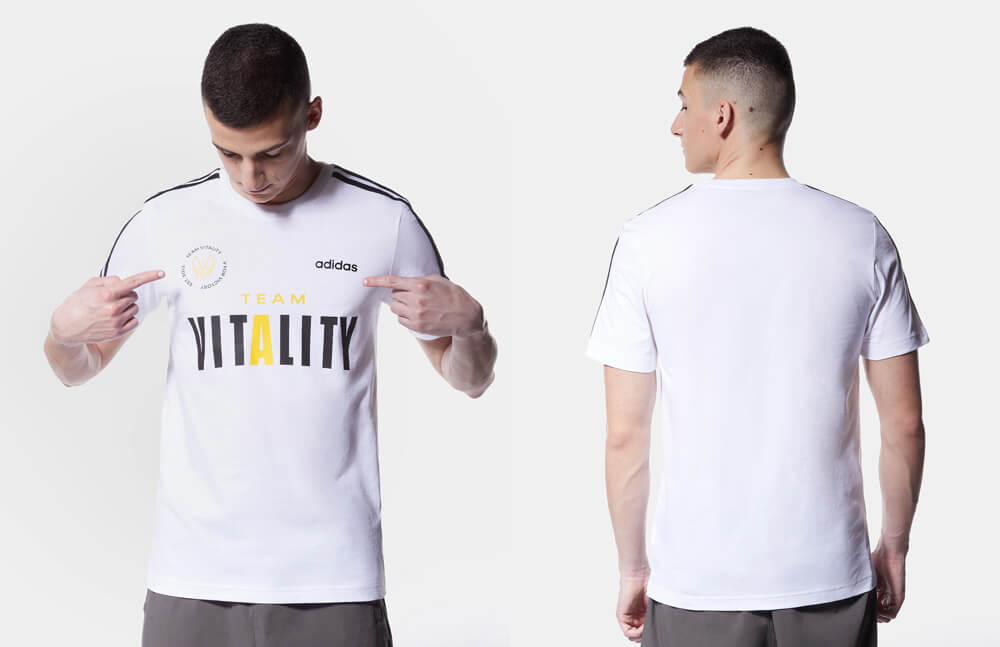 Pair of pro kit cuffs
There is also a pair of pro kit cuffs, made up of 100% polyester, available which involves a Team Vitality logo at the bottom of the cuffs with a long vertical line in the center which comes in two different colors i.e yellow and white which gives a more cool, stylish and attractive look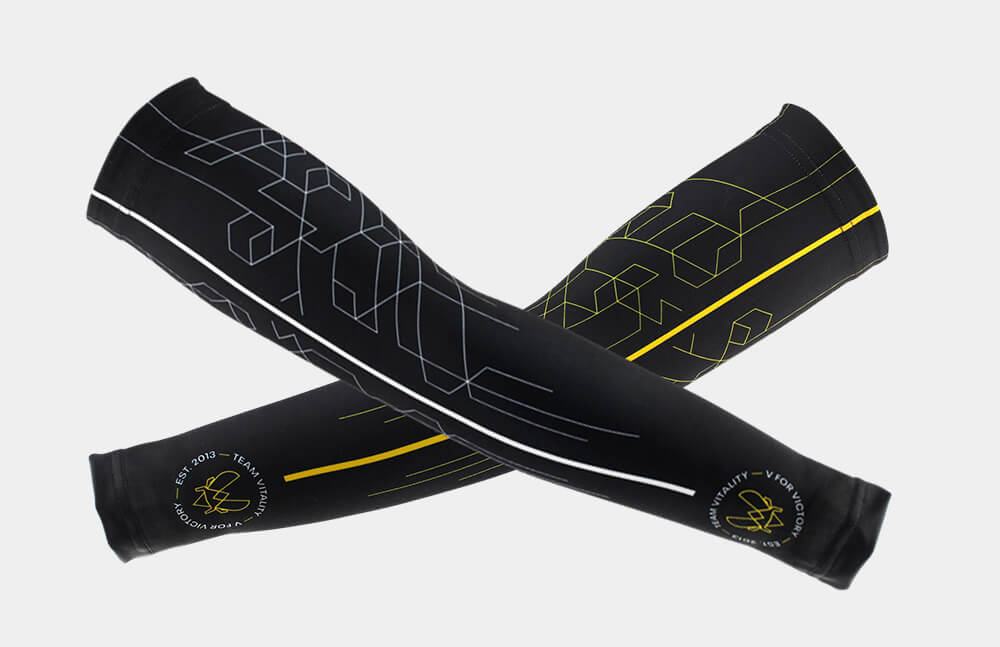 Pro kit maillot
One more design included in the Team Vitality 2021 pro kit is a maillot, which is used at the training sessions. Main advantages of these underlay pro kit is that they ensure good blood circulation and gives them comfort during all the games with a breathable fabric. It is tightly fit with a ribbed funnel neck which makes it look cool and attractive and is made up of a 79% recycled polyester, 17% nylon and 4% elastane.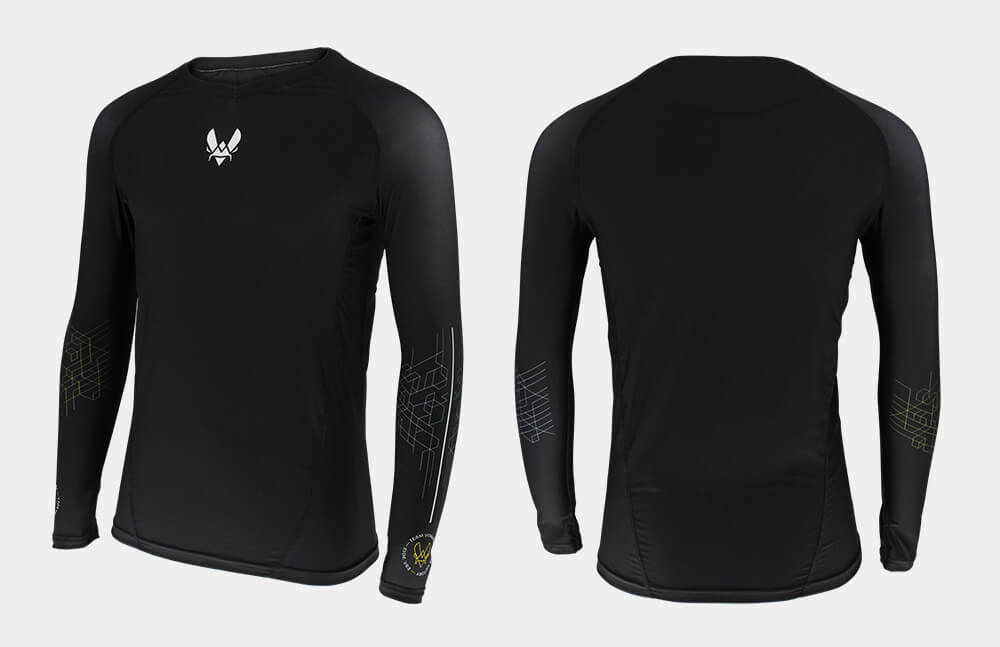 Do you like the new collection of the French esports team?
The new Team Vitality pro kit collection  is now available for purchase at the official Team Vitality shop.