XSET, in case you don't know it yet, is an American eSports team based in Boston, Massachusetts, which participates mainly in competitions of Fortnite, Valorant, Call of Duty: Warzone, Rocket League, PUBG, Madden, Apex, Halo, Rainbow Six Siege, among others.
This team, like many others in the eSports scene, decided to dabble in fashion as well, which is why you find yourself in this post today.
Recently, XSET launched a new fashion collection called Meta Exploration Collection, which is composed of various garments. Below, we are going to detail each one, with detailed features of each and, at the end of this article, include a guide on how you can get these items in your home country. We recently saw XSET's Pride drop.
Team XSET's Meta Exploration Collection overview
Just a couple of days ago, exactly on July 12 of this 2022, XSET Gaming announced on its official Twitter account that its new Meta Exploration collection was now available for sale through its web store.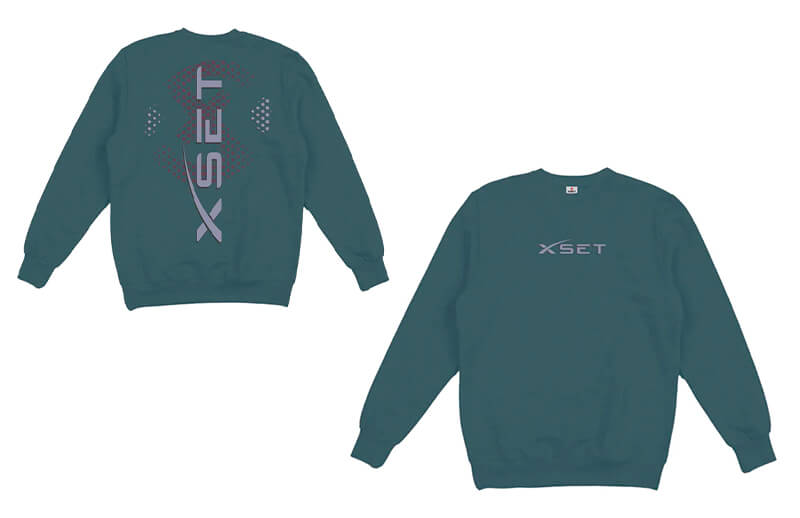 This collection is composed of sweatshirts, hoodies, t-shirts and a cap, and below we are going to see how these garments look like, their details, manufacturing, sizes and more.
Meta Exploration hoodless sweatshirt by XSET
The first thing we will find in the collection is a hoodless sweatshirt, with long sleeves and round neck, made entirely of cotton, and available in sizes ranging from S to 2XL. Its fit to the body is regular, so it is not an oversize or tight sweatshirt.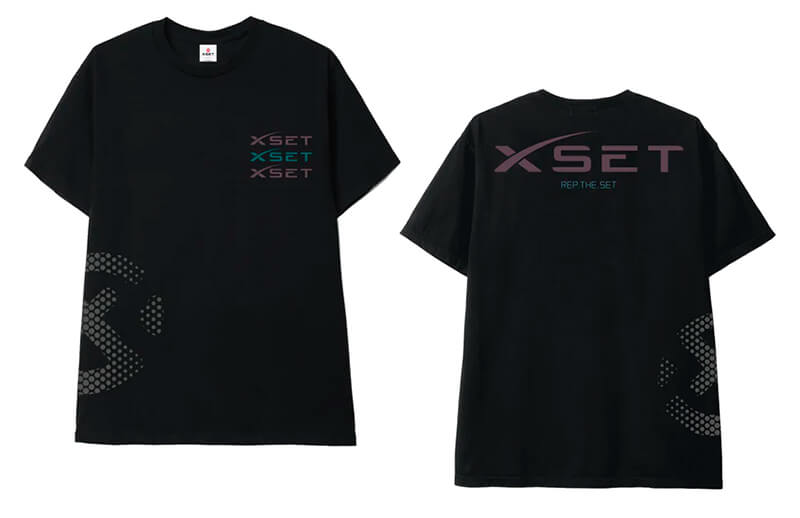 This sweatshirt has only one model, and you can get it in a forest green color, with a fairly dark tone that can be combined with a variety of other garments.
On the front of the sweatshirt we will find the XSET logo in gray, in the center of the chest. On the back is the team name in vertical, also in gray and, behind it, the team logo with a design similar to the pointillism, also with gray and burgundy colors.
Meta Exploration purple Hoodie by XSET
In this collection we will also find a hoodie in dark purple, almost reaching the black, available in sizes from S to 2XL. It is made of 100% cotton.
In its design we will see the XSET logo on the front, on the left side of the chest, in dark green; this hap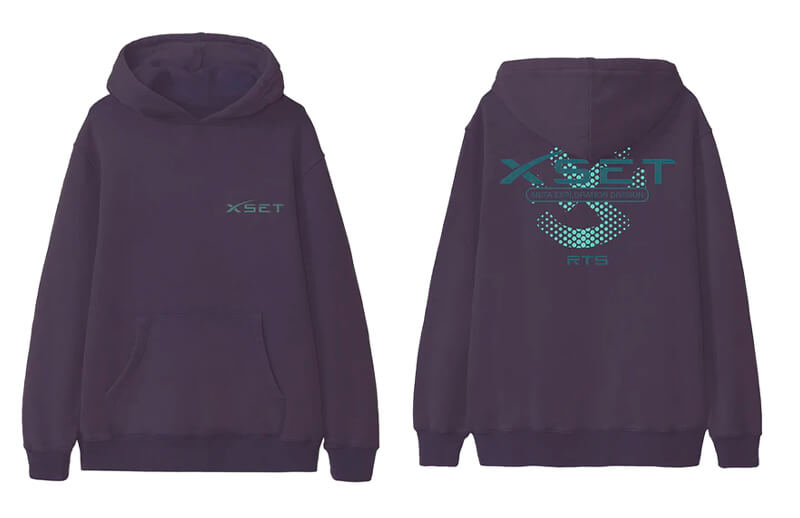 pens also on the back, where we will see again the name of the team in dark green, in front of the XSET logo in pointillism, this time in a much lighter green tone.
Being a hoodie, it obviously features a hood, which is not adjustable, i.e. no adjustable drawstrings, and kangaroo pockets at the bottom.
Meta Exploration black hoodie by XSET
The last hoodie in this collection is black, being this one very similar to the previous one, but with design details that differentiate it. As for its fabrication, it is made entirely of cotton, it also has classic lace and is available in sizes up to XXL.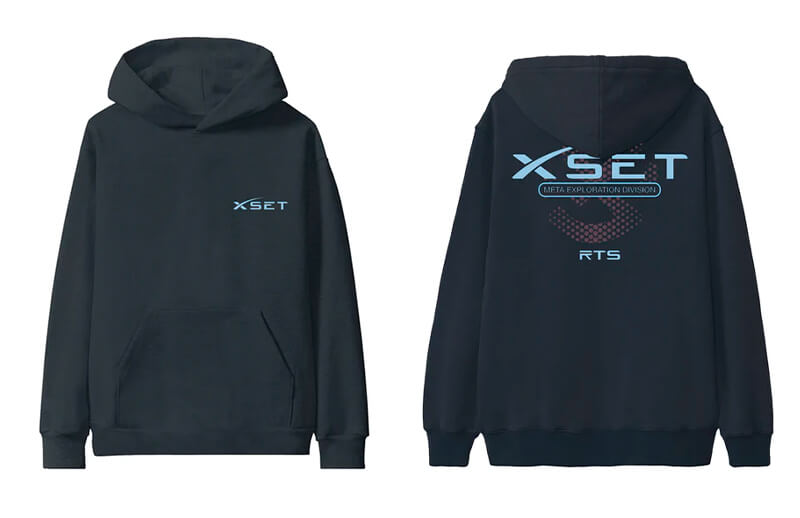 On the other hand, the design of this hoodie is quite the same: it has the XSET name on the front, exactly on the left side of the chest, in light blue. The back features the team's name, also in light blue, over the team's logo in pointillism, which is in burgundy.
XSET Meta Exploration T-shirt
The only T-shirt of this Meta Exploration Collection is made of ring spun cotton, better known as ring spun cotton, also available in sizes from S to XXL and with a very particular design.
This T-shirt is available in two models: the first, in black, features the XSET logo on the left side of the chest repeated three times, one on top of the other. The top and bottom two logos are in burgundy, while the middle one is in dark green. On the back is the team logo in a large size, with the same colors as the front and, on the right side, the XSET logo in pointillism.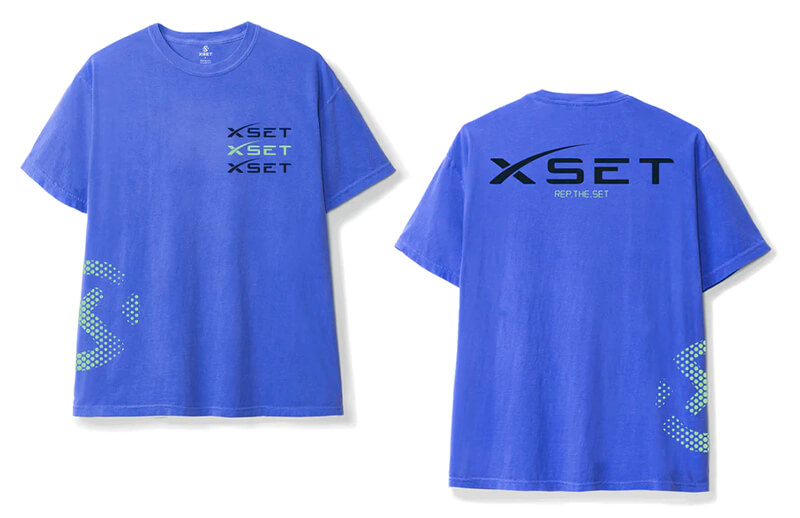 The second model is France blue, with the logos on the front and back in black and mint green, as well as the logo on the right side.
XSET Meta Exploration Cap
Finally, to finish with this XSET Gaming collection, we find a flat cap, made 60% cotton and 40% polyester. It is a black flat cap, made of six panels and with the XSET logo embroidered on the front in blue/sky blue color.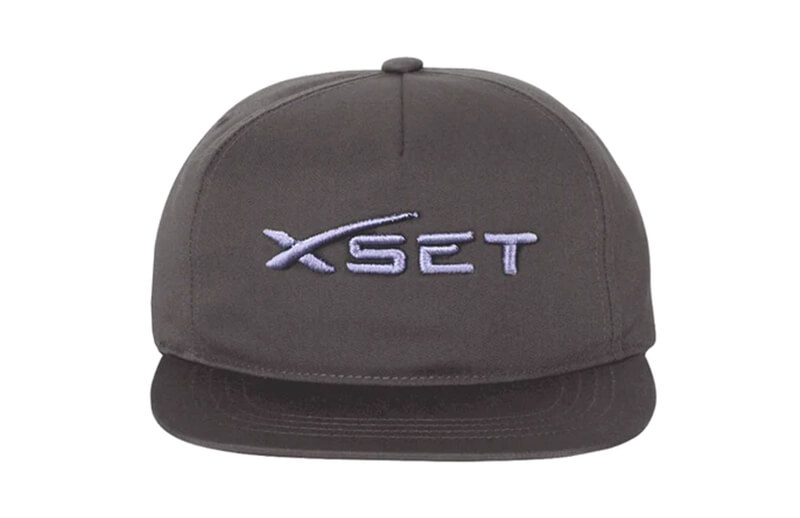 Where to get XSET's new Meta Exploration collection?
If you liked any of the items from the new XSET Meta Exploration collection and you want to wear it, you should know that you can only get these items from the official XSET shop.
Before buying any garment, remember to verify that the size you have chosen is correct, helping you through the guide table that these stores have for their users to take their measurements. In addition to this, make sure that your chosen payment method is enabled in the XSET store and, finally, that your country of origin is eligible to receive international shipments.