Japan is one of the main regions in terms of Esports, therefore, standing out among so many teams made up of talented players may seem like a really difficult task, however, this is not impossible. Zeta Division is a great example of this, in the short time they have existed they have managed to be among the top positions of recognized competitions in titles such as Valorant, where they managed to win the Ignition Series and First Strike Japan, and Brawl Stars, getting to participate in monthly championships and participating in the monthly qualifiers.
However, one of the most important aspects of the franchise is its goal to change the way gamer culture is perceived, which has generated a great growth in its fan community. This year Zeta Division is on a quest for new victories, and they will try to achieve them by wearing a new player jersey for the season. Previously we saw the announcement of their spring uniform by Zeta Division.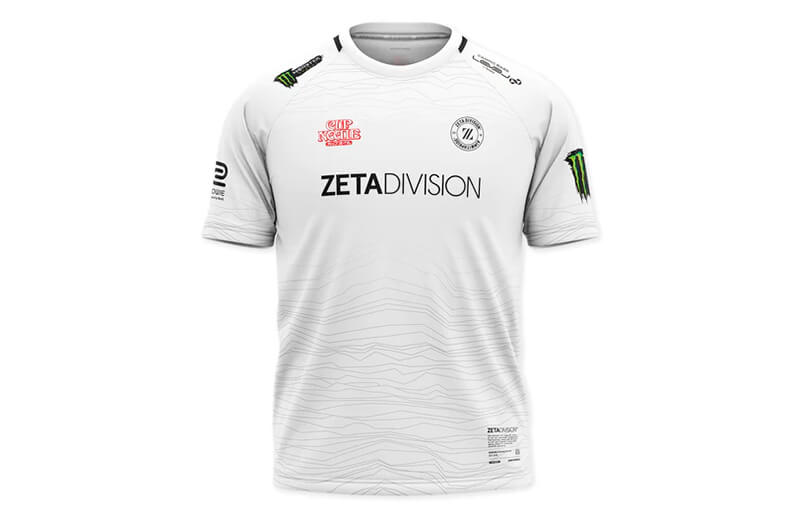 What Zeta Division brings us with its 2022-2023 jersey
Since we are in the middle of 2022 this can only mean one thing, and that is the arrival of the 2022-2023 season, many franchises already have in mind their objectives and goals to achieve during this step and Zeta Division is no exception, therefore, they will seek to give their best and have a season full of victories. In order to motivate both players and fans of the franchise, the Zeta Division organization has created a new professional jersey that will be worn by the players during this new season.
To start with the analysis of this new jersey, the first thing we should know is about its type, as this will determine many things such as its functionality, fit, comfort, etc. In this case, the Zeta Division professional jersey is a sporty type, a very famous model for the garments that are worn by players during competitions. The reason for choosing this model of player kit is because it gives the wearer a great level of comfort and at the same time functionality, since he can make movements with his body without feeling restricted.
Continuing with the analysis, we can note that for the design of the Zeta Division 2022-2023 uniform, we sought to create a minimalist and elegant garment, with simple details that allow us to appreciate more easily each of the features present in the garment. The result of this is a jersey with great versatility when it comes to wear it and combine it with other pieces, perfect for casual occasions, so you can not only wear it to support your team, but you can also see this uniform as a streetwear garment.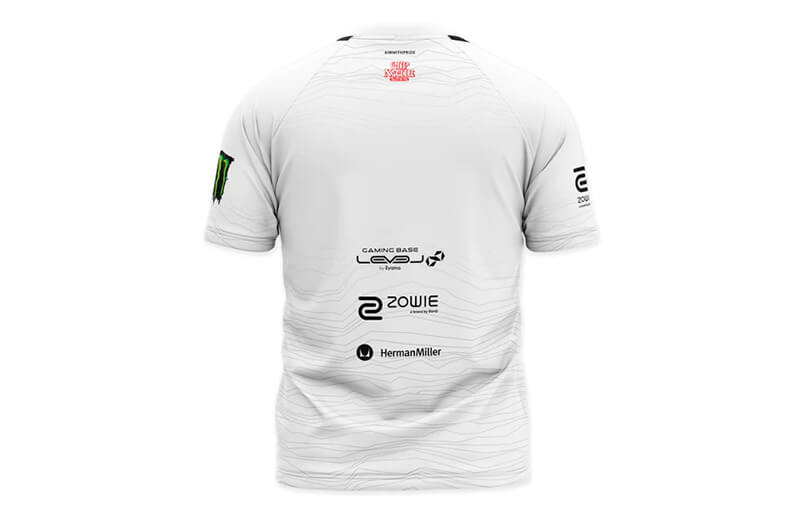 As for its appearance, the piece has a white base that carries a very interesting pattern, it is a series of gray waves that give more character to the garment, this detail is located at the top, bottom and sleeves of the jersey. As it is a detail in a fairly light color like the base, it offers a better visual sensation compared to a player jersey with a solid color base. On both sides of the chest are the Cup Noodle and Zeta Division logos, below that is the name of the organization in a larger size than the other details.
On the shoulders and sleeves we can see other brands that support the franchise, some of these are Monster, Gaming Base Level, Zowie and Herman Miller, these same brands can be seen on the back of the player kit. Each of these details were captured by means of a durable and high quality sublimation.
The arrival of a new season means new challenges for Esports franchises, however, it also means the arrival of exciting moments, which is why Zeta Division and its team are fully motivated by the challenges that the future holds for them, and not only them, but also their community of followers who will wear this new jersey during the tournaments where the groups will participate. You can get this new jersey from the official Zeta Division store.