In case you haven't heard of it yet, 100 Thieves is a renowned eSports team of American origin, affiliated with the NBA Cleveland Cavaliers team. It was founded in 2017 to participate in official League Of Legends competitions and, although to this day it remains their main focus, they also have professional teams in other video games, such as Valorant, for example.
In addition to being dedicated to e-sports, 100 Thieves has a large participation in the fashion world, with thousands of fans around the world, who are attentive to the latest collections launched by this American organization.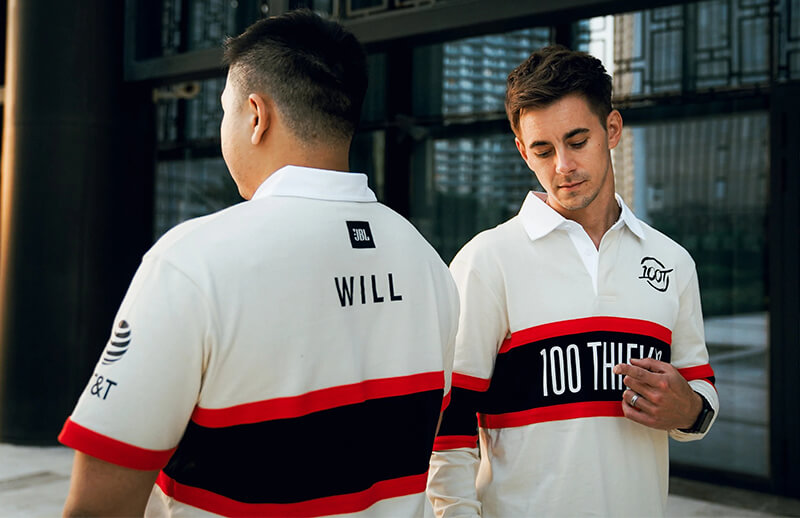 On this occasion, 100 Thieves announced the official launch of its new 2022 championship jersey, which has two models and unique features not so common in eSports team kits. Interested in getting to know it? Keep reading this post until the end and don't miss anything, as we will also tell you how to get it from your home country.
New 100 Thieves 2022 Polo Shirt
On September 1st of this 2022, 100 Thieves announced through its official Twitter account that its new 2022 pro jersey was already available through the team's official store. Next, we are going to know in detail this jersey, giving its main features, fabrics, colors, sizes and so on. let's start! Mainly and at first glance, we can see that it is a polo type shirt, which are not so often used by eSports teams, as they opt for more sporty shirts and that we can find anywhere else.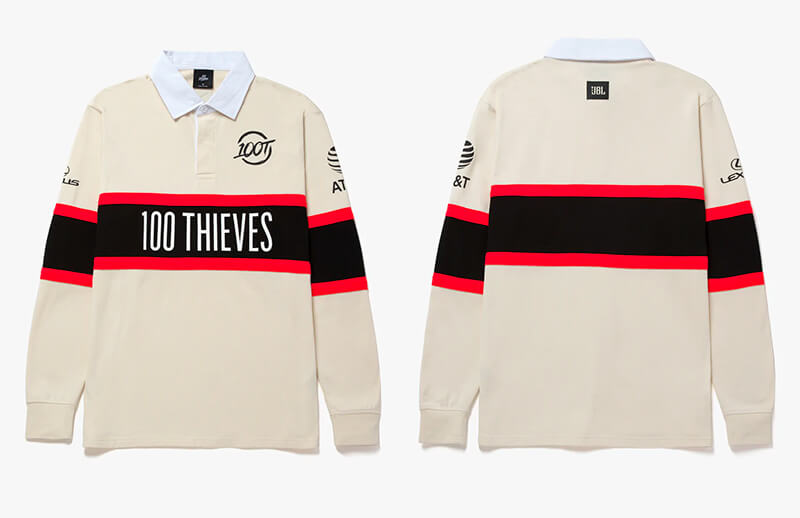 In this case, we see a 100% cotton polo shirt, with a ribbed collar, rubber buttons and ribbed cuffs. Available from size XS to 4XL. Its fit, i.e., its lace, is relaxed, without being tight to the body or extremely loose like the oversize ones.
As for its design, it is a cream-colored polo jersey in its entirety, with a white collar and a large black stripe in the center, with a lower and upper contour in red. This stripe surrounds the entire jersey , including the sleeves.
We can see the 100 Thieves logo in black on the left side of the chest, the team name in white on the front of the black stripe, AT&T sponsorship on the left sleeve, Lexus on the right sleeve and JBL on the upper back, just below the collar. All the prints, both of the logo and team name, as well as the sponsors, are made in high quality, which will not dilute or fall off in the wash. On top of all this, you will be able to get a different model for $15 extra with your name on the back.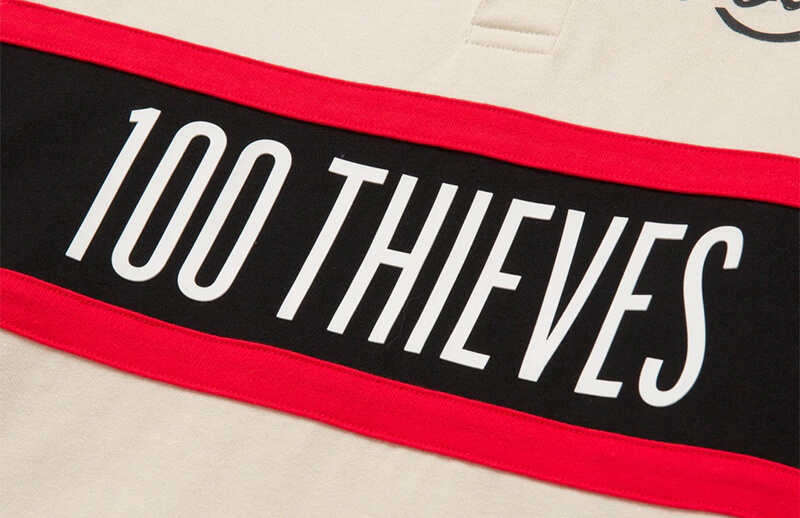 Where to get the new 100 Thieves jersey?
If you liked the new 100 Thieves official jersey and you want to get it for yourself or for a friend, you should know that you can only do it through the team's website, and more specifically in their online store.
Before purchasing it, we strongly recommend you to check more than once that the size you have chosen is correct, using the size chart on the website. Also, verify that your favorite payment method is enabled in the store and, above all, that they ship internationally to your country of origin.