Elevate is an esports team that was created in 2014, and since then, it has not stopped growing exponentially over time. In addition to having top quality teams in titles such as Call of Duty, Rainbow Six and World of Tanks, it is an organization that works independently with the aim of imposing standards in the management and development of Esports franchises, as a result, they have gained a huge community of fans who offer their unconditional support. Currently the franchise has a great interest in lifestyle, therefore, they have created a new collection for their fans with the theme of Ellie V8, a character that represents the franchise and its principles.
What does Elevate bring us with its new Skin collection?
Elevate is a well-known Esports franchise very famous for the design of its clothing pieces. This organization tends to create its own garments in the form of a collection for its fans. For this occasion, Elevate has decided to create a collection that will please many, which, is composed of a t-shirt and a hoodie.
Elevate Ellie V8 Skin T-shirt
To start with this drop of pieces, we will analyze the most demanded garment at the moment, being the Elevate Skin T-shirt. The concept of this t-shirt is to represent the character known as Ellie V8 along with details that characterize this great franchise. Although Elevate is an Esports organization, this time they decided to focus on lifestyle, therefore, this t-shirt is casual. What this means is that it has a construction that will be comfortable for the person wearing the piece, being perfect for day-to-day activities. However, if you want to wear it during your gaming sessions, the skin t-shirt will allow you to perform without any problem.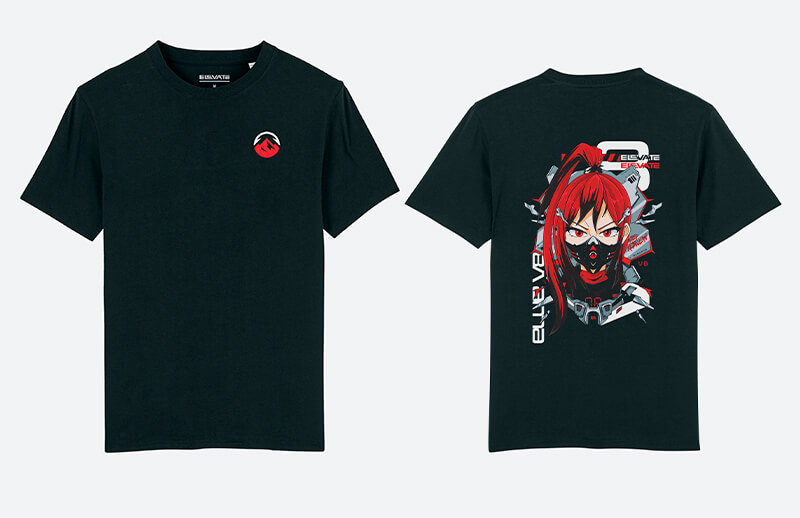 Regarding its style, the Skin T-shirt has a combination between minimalism and futurism, since on the one hand we have simple details with an optimal definition, while on the other hand we have complex illustrations full of color. The combination of both styles is extremely pleasant due to its good complementation, besides giving as a result a well designed t-shirt that can be combined in different ways thanks to its characteristics.
Focusing on its appearance, the base of the shirt is completely black, offering an ideal contrast with the details that we will know below. In the front area, we have on one side of the chest the logo of the franchise, which consists of a representation of a mountain, in the colors red and white. While, on the back, we find the most striking detail of the garment, being this detail the illustration of the character Ellie V8. This character is a red-haired girl with accessories and a futuristic armor, next to her we see her name and that of the franchise, in addition to its representative hashtag #RedRebellion. All these details are captured through a direct printing process to the garment, in order to offer durability.
If materials are of utmost importance to you, you'll be happy to know that Elevate's Skin T-shirt is made entirely of cotton. This is a material that is not only extremely comfortable, but also has properties that increase its durability, thus offering us an attractive and functional shirt.
Elevate Ellie V8 Skin Hoodie
As the second piece of the Skin collection, we have a hoodie, a garment that should not be missing in any closet. Similar to the T-shirt analyzed above, it is based on the Ellie V8 character, however, it has its own characteristics to make this a unique piece in its style.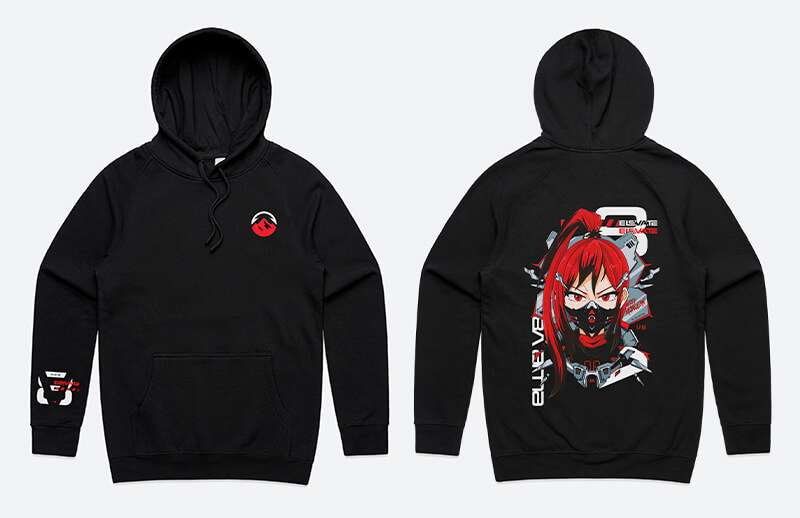 The Skin hoodie was created with the purpose of representing the Elevate franchise at all times, therefore, it is a casual type of piece. This type of garment in addition to being extremely comfortable will keep you at a comfortable temperature depending on the environment in which you find yourself. For gaming, it is another good option, as it will not obstruct any movement when developing your games. For its style, it is similar to the Skin T-shirt, where a combination of futurism and minimalism is implemented. As a result, the Elevate Skin hoodie has an eye-catching, but at the same time simple look, which allows you to appreciate each of the details it has in its structure.
In the appearance section, it was developed in a similar way to the Skin T-shirt, however, it has a difference. In the front area is the logo of the franchise on one side of the chest, however, in one of the sleeves is located an additional detail, this being the insignia of the character Ellie V8, which is embodied in the back area of the hoodie. The durability of these details was guaranteed thanks to the direct printing on the piece.
As a final section we have one of the most important, this being the materials, and for this garment, cotton was also fully implemented. In this way, the characteristic comfort of the hoodies was achieved. You can get your hands on this Elevate clothing collection at their official shop.