Since its beginnings in 2015, OG set itself the goal of becoming one of the leading exponents of the international esport scene. Their first team debuted in Dota 2 in whose competitions they reached a status that placed them among the best in this video game. Over time, OG would achieve the necessary success to establish its base of operations and host there talented players who would receive the necessary training to be part of the different teams that would emerge within this organization. Monkey Bussiness was the name by which this organization became known in its beginnings, which would adopt the nickname of OG after having obtained the European qualification for the Frankfurt Major. In November 2015 OG turns out to be the winner of the inaugural Dota 2 Major championship in that city.
However, they would not remain at the top for long, as in March of the following year they would be placed in the bottom half of the ranking, although months later they would vindicate themselves in the Major of Manila (Philippines) taking the trophy. Recently the news was released about the new line-up that OG presented for the Valorant team in which he decided to incorporate only French players. The reason behind this action lies in the poor performance shown by this team during the Valorant competitions held this year, which made the organization feel the need to apply drastic measures and replace the entire squad in an attempt to achieve better positions in the 2022 season soon to start in February. In the meantime, fans can continue to show their support for this and the rest of the OG teams, even during the Christmas holidays. A great way to do that can be with the new Christmas sweater added to their store and available for a limited time.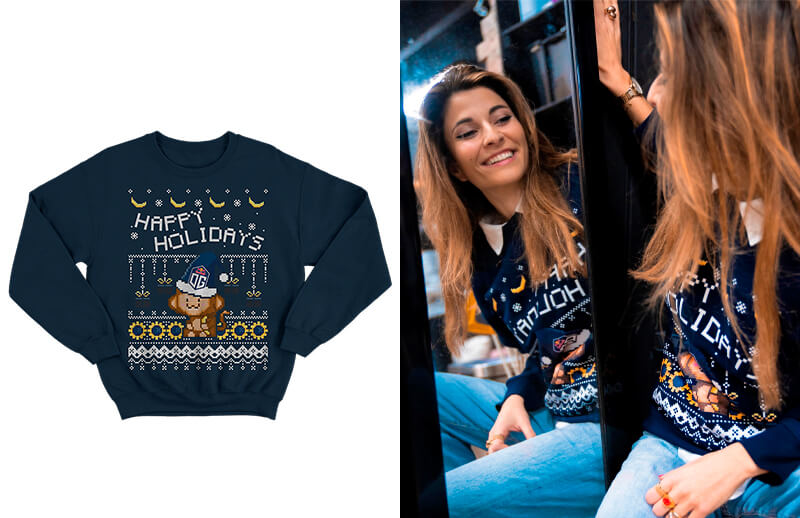 OG Christmas Sweater 2021 Limited Edition Features
The OG Christmas sweater is made of a material that makes it comfortable to wear and that will give you that characteristic style of the Christmas festivities. On the front you will notice the presence of a graphic alluding to the Monkey Bussiness team in a totally Christmas context surrounded by elements typical of this season, also accompanied by the logo of the organization. This is how with this OG Christmas sweater you will have the opportunity to acquire a unique piece to wear during these holidays, so you can continue to support your favorite OG team while you look according to the occasion.
OG has wanted to accompany its fans in these festivities with the launch of a Christmas sweater impregnated with the spirit that characterizes this season. Those interested in purchasing this Christmas sweater can do so through the official OG website.