CLG, whose official name is Counter Logic Gaming, in case you don't know it yet, is a highly recognized eSports team of North American origin founded in 2010 by the famous League Of Legends player, George "HotshotGG" Georgallidis. Currently, although CLG's forte is LoL, it is also dedicated to participating in other official sports competitions, such as Fortnite, Super Smash Bros, CS:GO, and Apex Legends.
Like many other teams in the world of eSports, Counter Logic Gaming has taken advantage of the official launch of its new official jersey, i.e. the one that will be worn by the team's players in various competitions, to put it up for sale.
Many fans of the team will be interested in this new jersey, and if you are one of them, we recommend that you read this post to the end, as we will tell you what this player jersey is all about, as well as explaining how to get it from your home country. Earlier this year we saw CLG launch its new summer player jersey.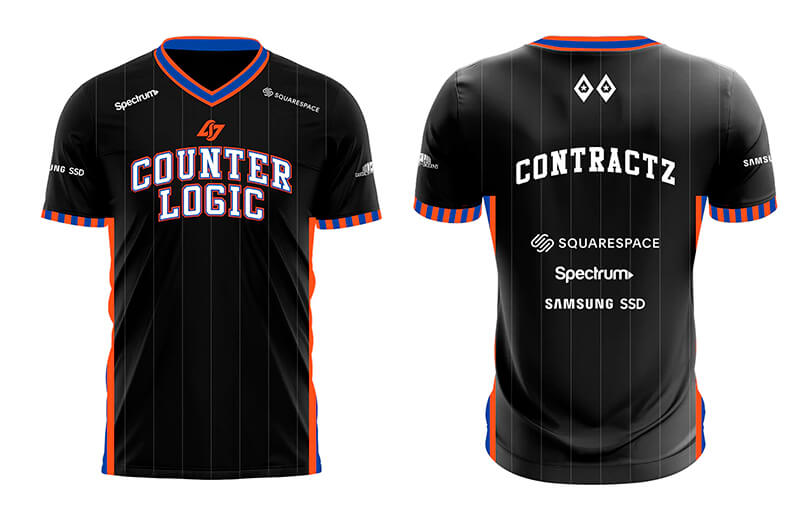 New Counter Logic Gaming official professional Jersey for 2022 season
CLG announced on August 19 of this year the official launch of its new professional jersey, which will be used by the team's players in various competitions. If you are a fan of this North American team, keep reading and don't miss out on everything this jersey has to offer.
Next, let's see details of it, including its manufacture, colors, design, sizes and more. This is a sports player kit made of 100% polyester, a fabric widely used in garments of this style, because it is light, cool and, despite this, easily absorbs the sweat generated by the competition and nerves. It is available from size XS to 3XL, so you won't have to worry about finding the right size for you (the measurements of each size can be found on the website, in case you are still not sure which one is right for you).
As for its design, Counter Logic Gaming once again reaffirms its relationship with New York by choosing orange and blue colors to combine with black. It is an all-black jersey, also composed of thin gray stripes that are almost imperceptible, but look very nice to the eye. The collar of this player jersey is V-neck, and has three stripes surrounding it: two orange ones on the outside and a blue one, thicker than the previous ones. The sleeves are also surrounded by stripes in the same blue and orange colors.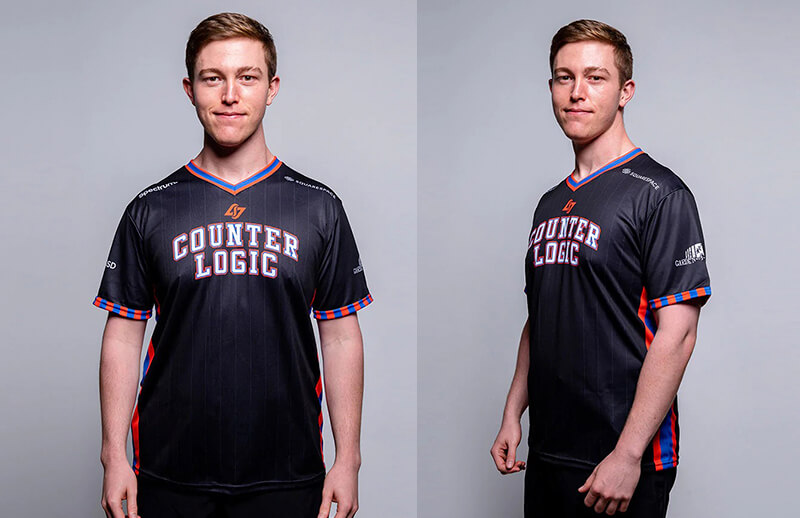 The front is composed of Spectrum and Squarespace sponsorships (which also sponsor the NBA basketball team, the New York Knicks) near the shoulders. On the chest, the CLG logo in orange color and, below it, the inscription COUNTER LOGIC in white, also surrounded by blue and orange.
On the sleeves of the jersey we will see two more sponsorships, one of them from Samsung. The sides below the sleeves also have orange and blue stripes. On the back there are two white diamonds near the neck, along with the Squarespace, Spectrum and Samsung sponsorships, all three already present in other areas, at the bottom. The great thing about this official jersey is that, in addition to this, you can add your nametag, i.e. your username or whatever you want to include on the back.
Where to buy the new CLG 2022 official Jersey?
If you liked the new official CLG professional jersey and you want to get it, you should know that you can only do it through the official Counter Logic Gaming shop. Before purchasing it, remember to check that the size you choose is the right size for you in terms of size (you can help yourself with the guide table found on the website). Also, make sure that your favorite payment method is available in the CLG store and, above all, that your country of origin is enabled to receive international shipments.