FlyQuest, in case you don't know it, is an American eSports organization, based in Los Angeles and founded in 2017, after the acquisition of Cloud9 Challenger's League Of Legends roster. Currently, its owner is the same who owns the NBA team, the Milwaukee Bucks, and they are mainly dedicated to LoL competitions, although they also occasionally participate in Super Smash Bros.
Taking advantage of the team's participation in the Playoffs this 2022 and the summer season in which the northern hemisphere is, FlyQuest launched for sale its new professional eSports jersey, which will be used by the team in this competition.
In this post, we are going to learn a little more about this jersey, including its features, details, design and, most important of all, how you can get it from your home country. To find out everything and not miss anything, keep reading this post until the end. Not long ago we also saw FlyQuest's Summer Jersey for 2022.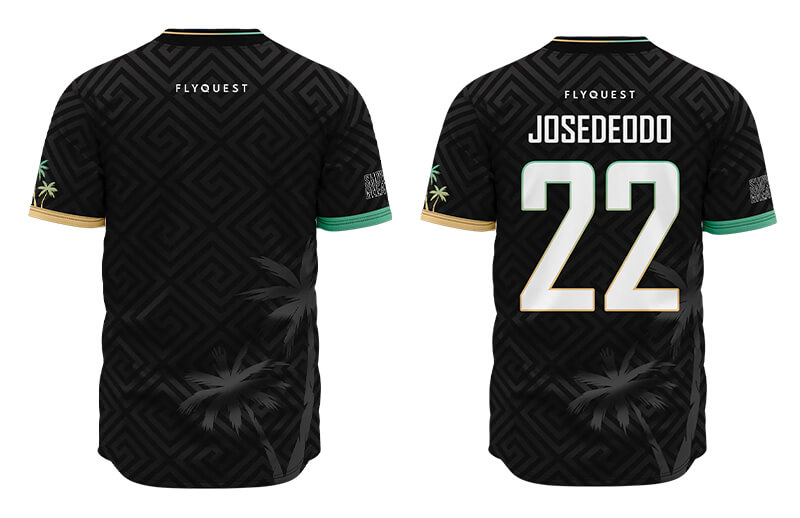 FlyQuest 2022 Playoffs Jersey details
On August 19 of this year, FlyQuest announced through its official Twitter account that on the 20th of the same month it would officially launch its new professional eSports jersey for the summer playoffs 2022. Next, let's take a look at all the main features of this jersey, including its fabric, materials, colors, design, sizing and more. To begin with, we see that it is a jersey made of 100% polyester, a fabric widely used in sports or eSports categories, since it is very light and cool; despite this, it absorbs moisture from sweat caused by competition, confrontation and tension very well, so you won't have to worry about being cool all the time.
It has a V-neck, short sleeves, loose and lightweight design and wide availability in terms of sizes, being on sale from size XS to 5XL (if you do not know what size corresponds to you, do not worry, you have a guide in the store). As for its design, we see that the jersey has a black background, on which gray stripes form mazes around the entire front and back.
It does not have any sponsorship, and on the front we can only see the FlyQuest logo in white on the left side of the chest. On this front we see a design of two zig-zag stripes on the chest, one in green and the other in yellow, with a palm tree pattern, giving a more summery look. The right sleeve features a phrase in white and the sleeve border in green, while the left sleeve has palm trees and the border in yellow. The collar has a small strip that surrounds it in gradient, from green to yellow.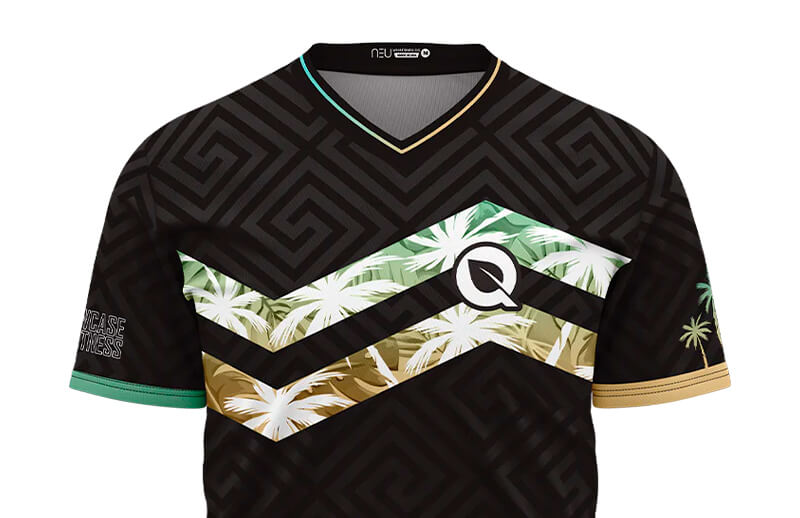 The back is completely plain, with only the FlyQuest name at the top and gray palm trees at the bottom. Despite this, for an extra 10 dollars you will be able to customize your jersey, including a number from 00 to 99 that you like and a name, either your first name, your last name, your username, your namertag or whatever you prefer.
Where to get the new FlyQuest 2022 playoff jersey?
If you liked this new jersey and want to honor FlyQuest by wearing it this summer, you should know that the only way to get it is through the team's web shop.
Within the purchase section, remember to choose your size correctly so you don't have to make future returns, which can be costly and late. If you don't know exactly what your size is, you can help yourself with the guide chart found in the same store. Also, make sure that your preferred payment method is enabled on the FlyQuest website and, finally, that your country of origin is listed in the store.