After an amazing journey the FlyQuest team has successfully advanced to the 2022 spring, reaching the finals of the League Championship Series, their winning team consists of Lee Dong-geun (IgNar), Colin Earnest (Solo), Tristan Schrage (PowerOfEvil), Han Min-kook (Dreams), Jason Tran (WildTurtle). Thanks to their great enthusiasm, they have decided to hold a giveaway, offering 5 tickets to see the League Championship Series finals 2022, event that takes place in Houston, Texas for Saturday, April 23, 2022.
One of the great news about this team is that they partnered with MasterCard this season, offering exclusive offers for both, in fact, they promoted a MasterCard QR code at the event so you can customize your apparel. If you are up for it MasterCard will allow you to do the customization absolutely free during the spring 2022 finals, the only thing required is a proof of purchase with a MasterCard card and the offer will be available to you during Fan Fest.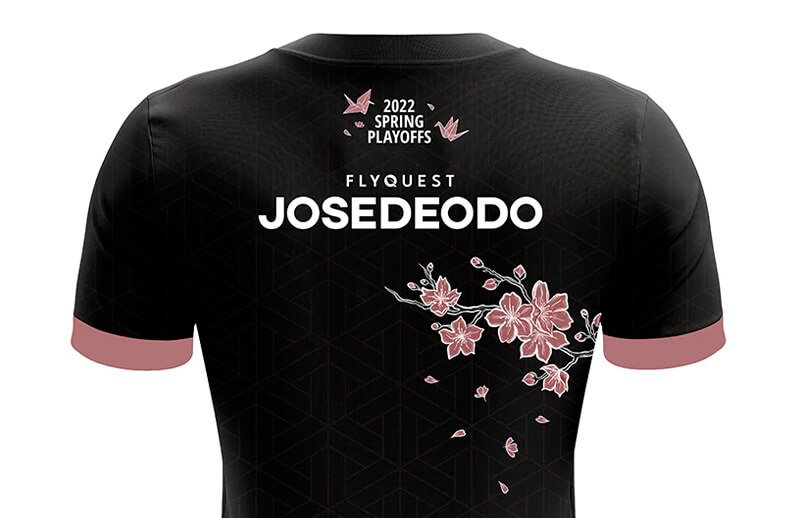 In other news we must highlight the great initiative of FlyQuest, which have organized throughout the League Championship Series division, thanks to its partner MasterCard Nexus has managed to plant at least 10,606 trees, and with this last set of the season they will continue planting making known this project the TreeQuest.
Spring 2022 Playoff Jersey
We present this spectacular Spring 2022 Playoff Jersey, which basically represents FlyQuest Esport, and it is an authentic jersey made exclusively for this team, it has a unisex cut which favors the figure of both men and women.
FlyQuest Spring Playoff Jersey
It is composed of 25% recycled material, however, it has top quality materials leaving one of the best sensations; this jersey has a breathable design, has short sleeves, a high quality lightweight fabric, contains a 100% polyester sublimation and was made in the USA. On this jersey you can find a beautiful floral design, it is a black jersey with some opaque pink details, and on the chest area you can find the FlyQuest team logo, it has a slippery feel.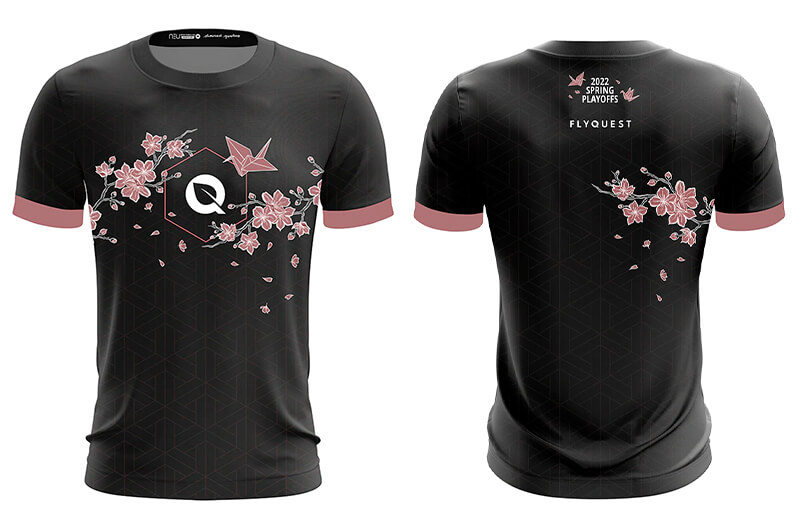 In the back you can find in white letters the name of the event, the edges of the sleeves are opaque pink, the name of the team, and you can customize the jersey if you wish, with an additional cost; For this article is printed on demand, has an approximate shipping time of 5 to 14 business days after purchase.
Where can I find it?
These clothes are from FlyQuest Esports, they are in charge of distributing all their merchandise, they are completely original products from them, and have all kinds of sizes which are XS, S, M, L, SG, 2XL, 3XL, 4XL, 5XL. FlyQuest is preparing for the grand finale in the LCS Spring 2022, they have also released their special piece for this season Playoff Jersey. This piece of clothing is currently available, they also have a great variety of garments, if you want to get any of these products you can go to the official shop of FlyQuest.