Debuting in the Spanish esport scene in 2014, G2 Esports is an esports organization that over time has been consolidating its position in the industry through the participation of its teams in tournaments for games such as Apex Legends, Counter Strike: Global Offensive, League of Legends, Fortnite, Rocket League, VALORANT, Rainbow Six: Siege, Halo Infinite and SIM Racing.
It was on February 25, 2014 when Carlos "Ocelote" Rodriguez Santiago took the initiative to create a team called Gamers2 led by him to venture professionally in League of Legends. Subsequently, the organization added the German Jens Hilger as co-founder, who had a great business experience within the esports industry that allowed him to be an agent of change for Gamers2, which would later be renamed G2 Esports.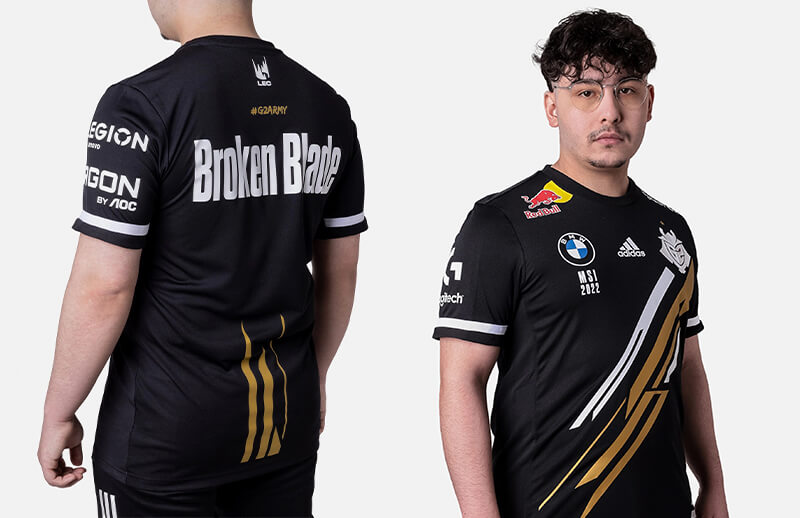 A few days ago G2 esports was crowned as the top winner in the European League of Legends Championship where they managed to maintain a 12 – 0 streak in the lower bracket by facing and defeating Team Vitality, Fnatic, Misfits Gaming and Rogue. Currently the team is preparing to participate in the Mid Season Invitational (MSI) 2022 which will take place next May 10 in Busan, South Korea. In addition, the organization has taken the initiative to design a jersey that will be worn by the team members during their participation in this event, which features an oriental-themed aesthetic.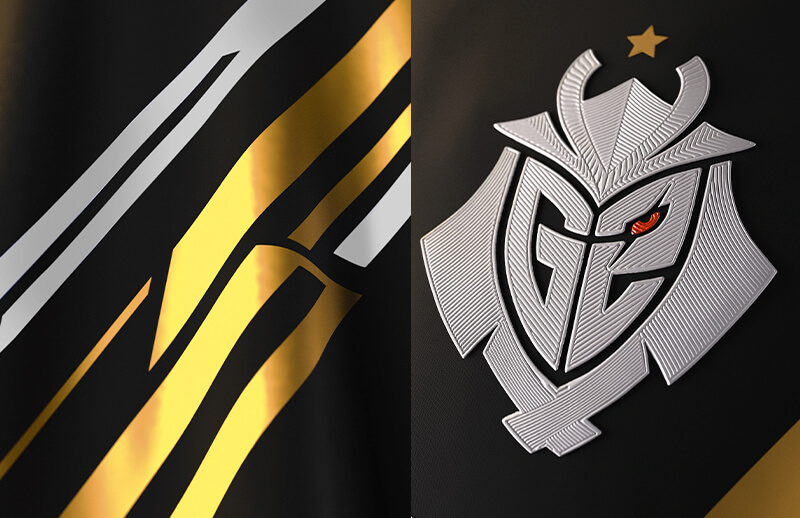 Features of the G2 Esports x Adidas MSI 2022 Jersey
The G2 x Adidas MSI 2022 jersey is made of recycled polyester with AEROREADY technology, which allows the fabric of this model to disperse sweat quickly and prevent the formation of bad odors. So when wearing the G2 x Adidas MSI jersey you will feel comfortable at all times, whether supporting the team at an event where you have the opportunity to attend, at a meeting with friends, or to be relaxed at home while playing a game of your favorite video game.
In the graphic part, the details captured in this jersey are remarkable, being the irregular straight lines in gold and white color located in the front part the point where the look is most concentrated. There is also the team's logo wrapped in a samurai helmet, accompanied by the logo of the sponsoring companies that can be seen on the front, at the shoulders and sleeves.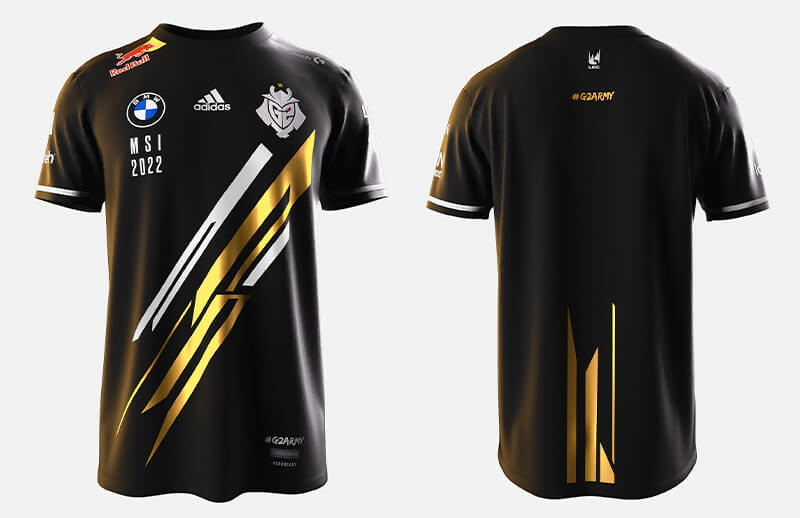 G2 Esports presents a new jersey with Adidas on the occasion of its participation in the MSI 2022 League of Legends and with which its fans will be delighted. Those interested in purchasing this jersey can do so by accessing the official G2 Esports shop.