G4TV is getting ready to surprise their followers and inviting new ones to join their great team to enjoy their platform and all the new things it will bring; that's why we bring you the latest from this great gaming team, where you will no longer be a simple spectator but an important part of the G4 team of players. G4TV is taking a little break, which is why they are expanding their platform and improving it for their debut on November 16, 2021, which is why many will be watching to see what will happen.
As you can see, in addition to their social networks on twitter and their website, they are also looking at the possibility of opening their own television space, so that game lovers can enjoy pop culture and live shows inside the court, so that you can fully enjoy the court.
From virtual games to real life
G4TV is a team that prepares to play in all scenarios, which is why they have created an exclusive clothing line for all those who love the sport and live their best moments on the court, whether as a spectator or as a star. This clothing line called G4TV x Champion Limited Edition Drop is a new limited clothing collection of sports and youth fashion that fits your personality; which has garments of varied and very pop styles that appeal to a large part of the population. Many have already purchased or obtained some of their t-shirts in previous promotions, so they know the quality of the garments and for nothing in the world will be without a piece of this clothing collection.
Variety of colors and garments
It's not just about comfort and practicality, G4 x Champion garments seek to be part of your personality, which is why they provide you with colors that together create the perfect harmony between how you look, the environment and what others will see of you. Among their items you can get:
G4 x Champion Hoodies
Made with a material that gives you quality and durability, its hood is double and is ideal for programmers and lab rats.
They come in many sizes, suitable for slim and muscular bodies, so you can get them in sizes from SM to 3XL.
They feature the Champion logo on one sleeve and the chest in vibrant colors, allowing you to identify yourself as a member of the G4 team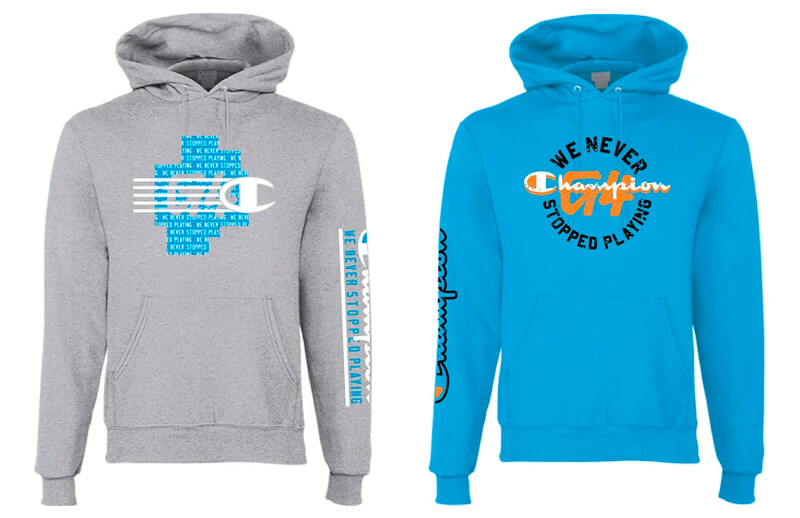 G4 x Champion T-shirt
Made of cotton with a tapered collar, short sleeves and the Champion G4 logo to make you stand out on the field.
Neutral colors such as black along with the brightly colored print offer a quality two-dimensional look.
Available in sizes ranging from SM to 2XL so everyone on your team has a Champion.
Made from polyester and spandex fabric, helping to conform to your body for comfort and security.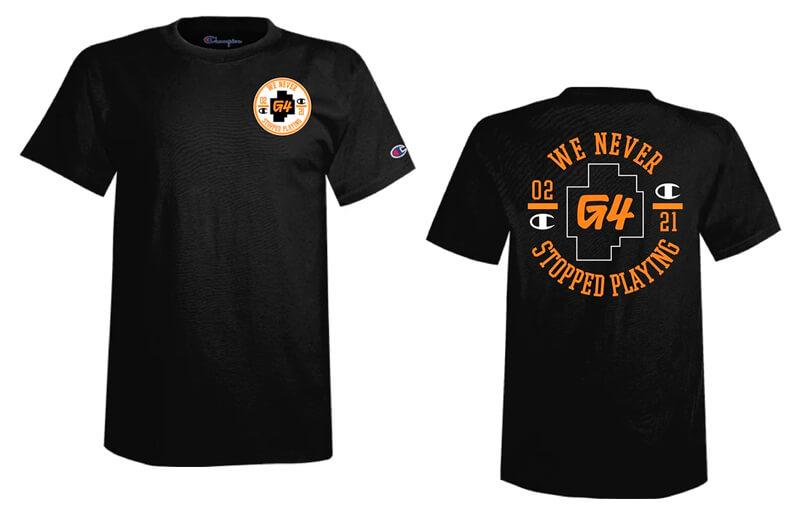 G4 x Champion Sweatshirts
Ideal for staying at home enjoying G4 or going out on the weekend to enjoy live games, practical, comfortable and made with Powerblend material that provides quality and durability.
Stylish yet casual, in sizes ranging from SM to 3XL.
Front and back logos in vivid colors that stand out and make you part of the crew.
Made of cotton and polyester fabrics for comfort and freshness.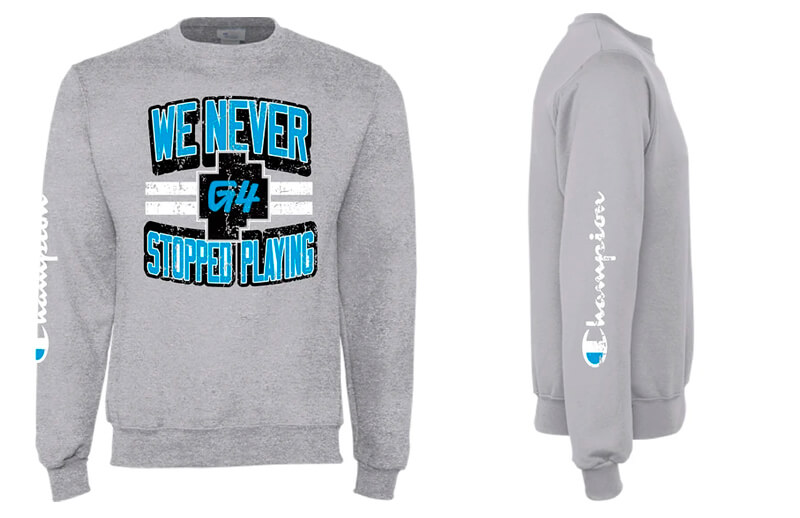 G4 x Champion long sleeve T-shirts
Lightweight, but quality clothing, made with polyester and spandex materials that give you freshness and presence wherever you are.
Sizes from SM to 3XL for the entire playing team.
Neutral colors with stunning Champion prints that will make you be identified as part of the team.
Always fresh and odor free, thanks to its moisture wicking and microbial wicking fabric.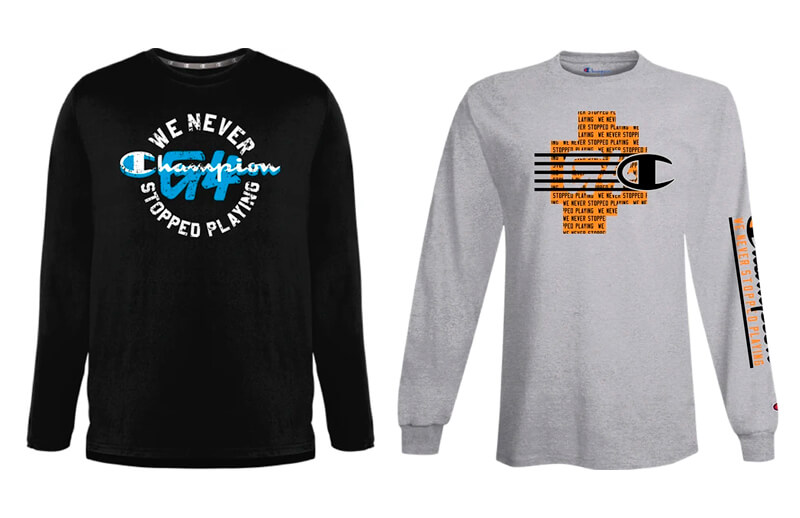 G4 x Champion Joggers
Versatile, since you can combine them with flannels, T-shirts or sweatshirts.
Its cotton and polyester fabric gives you comfort and quality at all times and anywhere in and out of the field.
Available in sizes from SM to 2XL.
It has an elastic waistband that fits you without stretching you.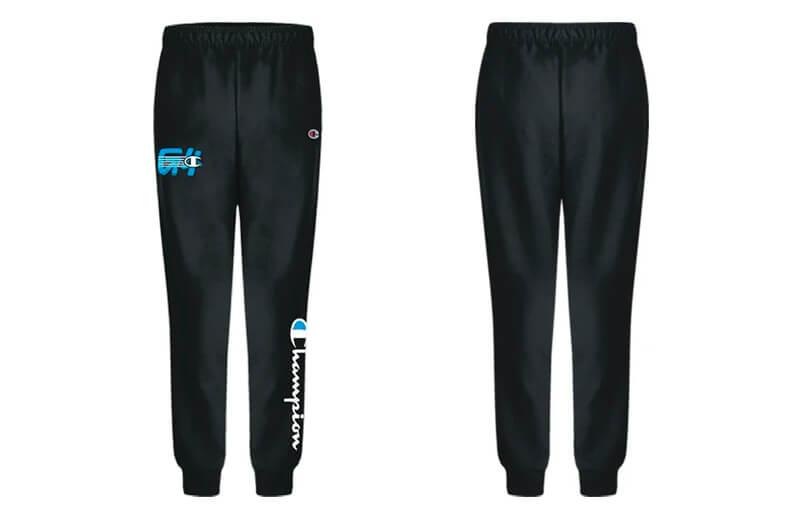 This apparel collection has colors like black, blue, gray, white; where all the T-shirts have very fashionable and jovial prints and are made of special materials to provide comfort and the possibility that you can perform physical activities with them without any difficulty. Special materials to provide comfort and the possibility that you can perform physical activities with them without any difficulty.
G4TV has its own online store, so if you want to buy some of the garments from their fashion collection you can search it on the web, remember that the Champion Limited Edition Drop has unique pieces and they are few, so they will be there until they run out of stock. However, if you are left without buying your piece, G4 gives you the opportunity to purchase other pieces from their permanent apparel collection called G4 Bongo Cat, which has T-shirts, mugs, stickers, among others … with a youthful style and fun images that give that different touch and will make you make a difference.