100 Thieves is a highly recognized lifestyle and gaming brand originating from Los Angeles, founded in 2017, exactly 5 years ago, by "Nadeshot" Haag. As an eSports organization, it is present in many and varied official competitions of various eSports, including some such as Apex Legends, Call of Duty, Warzone, Fortnite, League of Legends and Valorant, which are extremely well known worldwide and attract many fans annually.
As a lifestyle brand, 100 Thieves has long been an excellent option for buying clothes, as they periodically launch fashion and clothing collections for sale, many of them in collaboration with other well-known brands, or perhaps alone, but focused on particular events, such as the organization's anniversary. Also not to be missed from this team is the 100 Thieves Fall Winter 2022 Apparel Collection.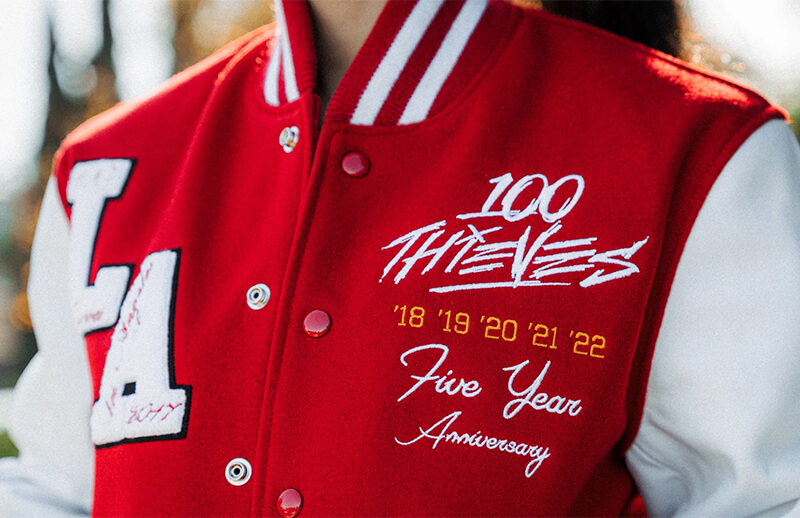 That's right, 100 Thieves has a birthday, exactly its fifth anniversary, and celebrates it by launching a new clothing collection that you can't miss. If you want to know more about it, including all its garments and a final guide on how to buy it from your home country, keep reading this post until the end.
New 100 Thieves anniversary collection: Colors Collection
Just a few days ago, exactly on November 14, 100 Thieves celebrated its fifth anniversary in the world of eSports, and what better way to do it than by launching a unique apparel collection. That's exactly what the organization did, announcing that same day the launch of its new "Colors" collection, composed of 5 garments in 5 different colors, honoring those 5 years of history.
Below, we are going to take a detailed look at this collection, analyzing each of its garments, so you can get to know them in depth.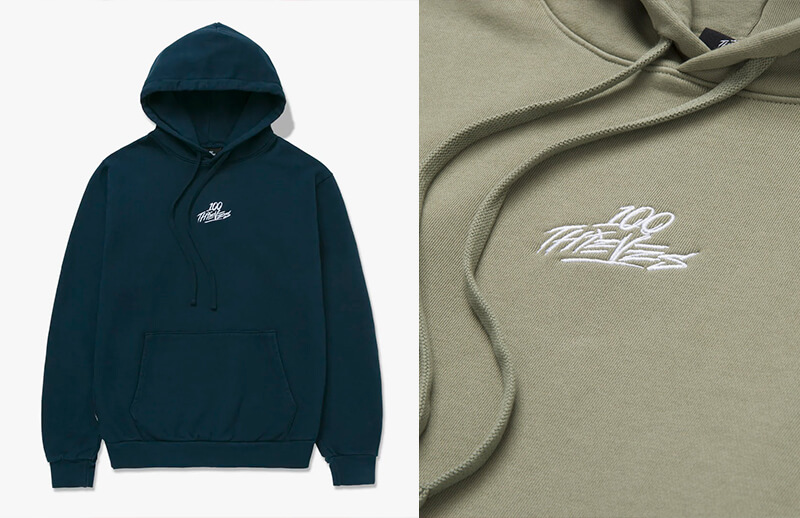 100 Thieves 5th Anniversary – Sage color
The first color that we will find in this new and varied apparel collection is the Sage, as it is known in the 100 Thieves store; it is a sage color, being a grayish green color, very similar to the dried leaves of the sage. As with all the colors we will see in this collection, this one is composed of a hoodie with a hood, adjustable drawstrings, kangaroo pockets and fitted cuffs. It is made of 100% cotton and you can get it in sizes from XS to 4XL. Its design is quite simple, including only the 100 Thieves logo in white in small size in the center of the chest.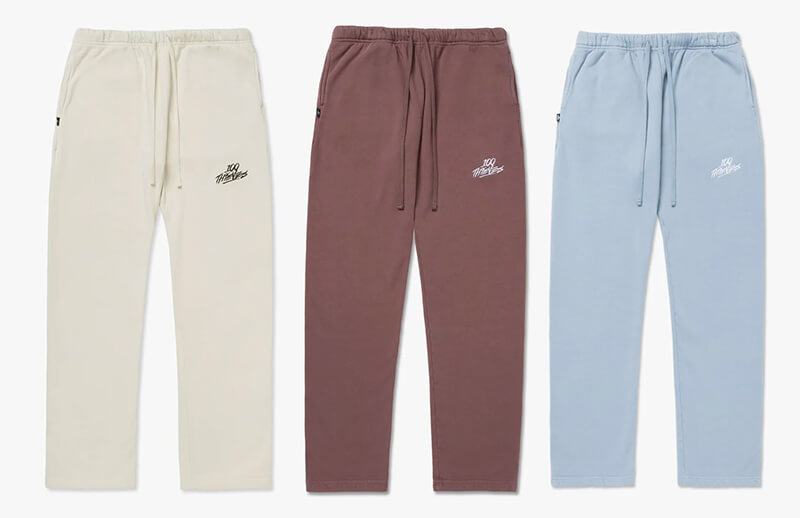 In this color we will also find a fully warm fleece sweatpants, made of cotton and with sizes ranging from XS to 4XL. Its waist is adjustable with drawstrings, very similar to those found on the hood of the sweatshirt. It has individual pockets on each side, a back pocket on the right side, and the brand's logo in white on the left sleeve.
You can also find a cotton T-shirt with a round neck and short sleeves, again available in sizes from XS to 4XL. It has a relaxed fit, that is, not as loose as the oversize fits, but still somewhat loose. Its design is again very simple, only including the 100 Thieves logo in white on the chest. If you want a cap, this fashion collection also offers a fisherman's bucket cap made in cotton with a CHINESE cut, available in one size and with the 100 Thieves logo embroidered on the front.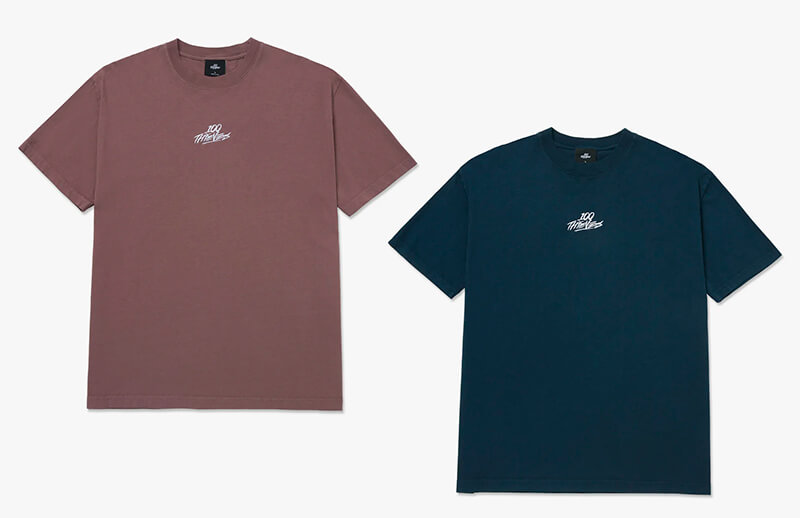 But you will not only find clothing; to finish, we find a cotton bag with polyester handles, perfect for carrying whatever you prefer. It has a spacious interior and a pocket where you can put different things. Its design includes the 100 Thieves logo embroidered on what is considered the front of the bag.
100 Thieves 5th Anniversary – Cloud color
The second color of the fashion collection is the Cloud color, although, as we can see, it is a fairly light cream color, resembling white, without reaching that particular tone. Of course, it is also composed of the sweatshirt, pants, T-shirt, cap and bag, all with this cloud color and with the 100 Thieves logo, in this case in black, to differentiate it.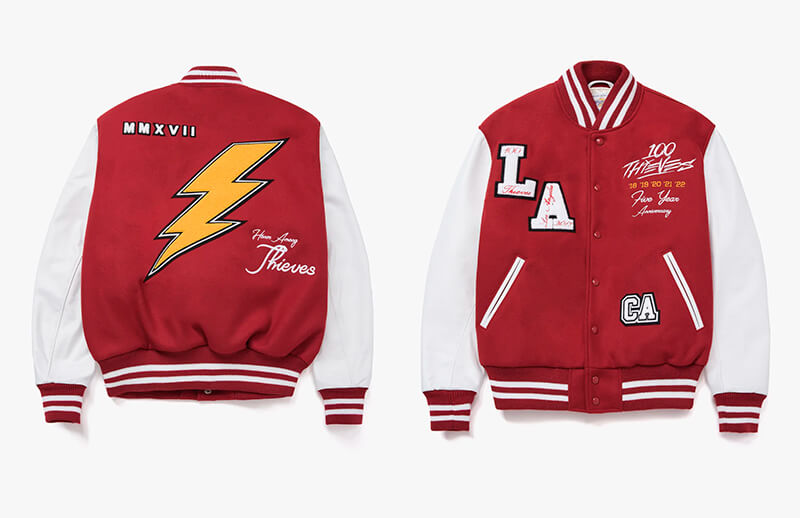 100 Thieves 5th Anniversary – Powder Blue color
You will also find the same garments as before (sweatshirt, pants, t-shirt, cap and cotton bag) available in Powder Blue, which is a beautiful pastel blue or light blue color. Available in all sizes up to 4XL, starting at XS.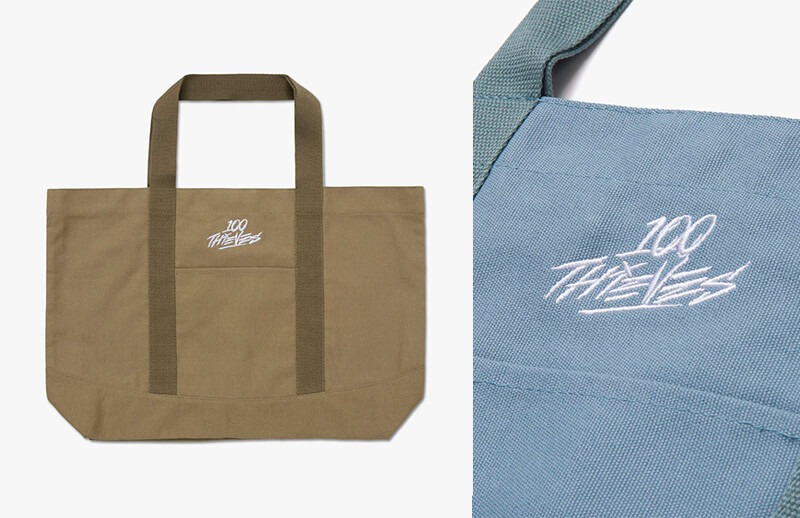 100 Thieves 5th Anniversary – Midnight Color
Another color you will see is Midnight, which is a really dark blue, very similar to the sky when midnight comes, and hence its name. Obviously, in this color you will find all the previously mentioned garments, all with the 100 Thieves logo in white, offering a great contrast.
5th Anniversary – Chestnut Color
Finally, we will see the same garments as before, in Chestnut, a color very similar to burgundy, but with a much more grayish tone. All the garments in this color will have the brand's logo embroidered in white.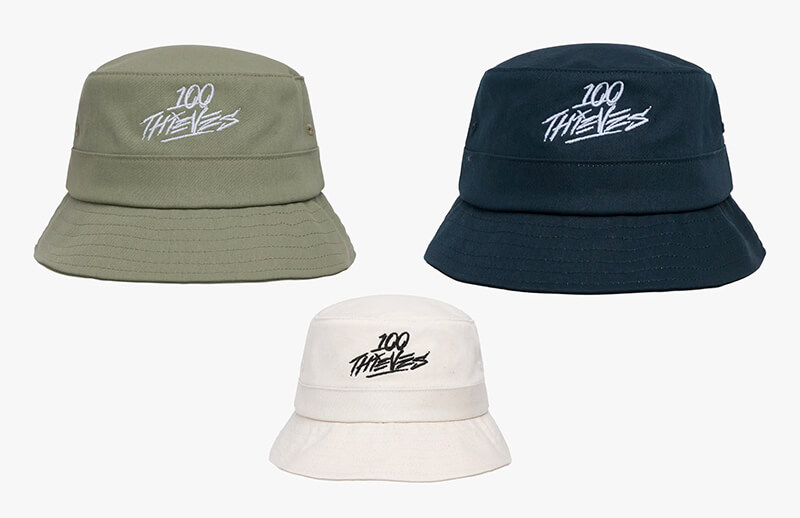 Where can I buy the new 100 Thieves anniversary apparel collection?
The new clothing collection for the fifth anniversary of 100 Thieves can only be purchased through the official webstore of the Angelino team; inside the website, you will find a lot of garments and collections belonging to different collections, so if you want to get directly to this anniversary collection, you can click here and get there in seconds.
Remember to have at hand any of the payment methods enabled by the 100 Thieves web store, otherwise you will not be able to purchase any of the garments that are part of this collection.