Nongshim RedForce, commonly known as NS RedForce, is a South Korean League of Legends team owned by the food and beverage company Nongshim.
Initially, the team competed professionally in the Challengers Korea league, i.e. the second professional League of Legends division in South Korea, calling itself Team Dynamics. After winning the LCK 2020 summer tournament, Riot Games Korea announced that Dynamics would become a permanent franchise of League of Legends Champions Korea. On June 17 of that 2020, Nongshim would become Dynamics' main sponsor, acquiring the team and changing its name on December 17, to be called Nongshim RedForce.
This team has a huge fan base throughout South Korea, as well as a large part of the Asian continent, which is why they have their own online store, through which they please Nongshim fans by selling official merchandise in the form of high-quality accessories and apparel.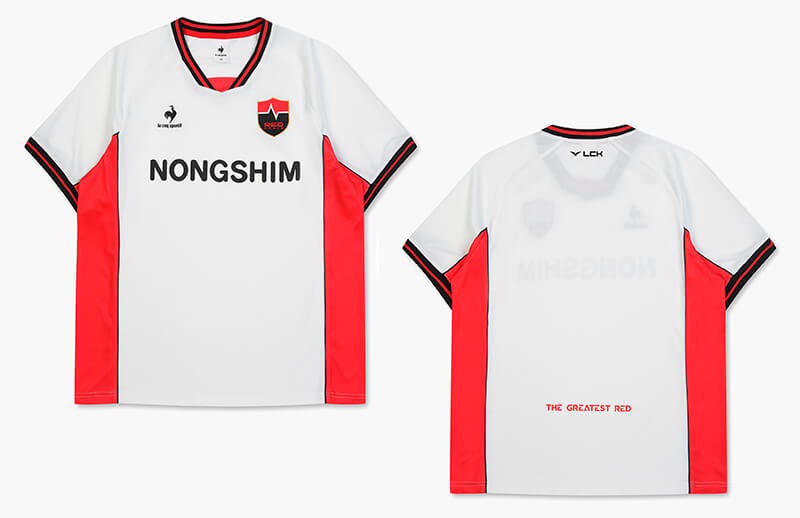 Recently, Nongshim RedForce launched a new collection together with LeCoq Sportif, the famous French sportswear brand. Interested to know what this collection is all about? Then stay with us until the end of the post, as we will also explain how to get it from your home country, whatever it is.
Nongshim RedForce x LeCoq Sportif clothing Collection for 2023 season
Recently, Nongshim RedForce launched for sale a new collection in collaboration with the famous French brand LeCoq Sportif, composed of two garments: a T-shirt and a jacket, both with a sporty approach and unique features that you will see below.
Nongshim RedForce x LeCoq Sportif 2023 player Jersey
The first thing we will find in this new collaborative collection by Nongshim RedForce and LeCoq Sportif is a sporty T-shirt made of polyester, with V-neck and short sleeves, designed in white color, with the collar the outer edges black and the inside red, as well as on the edges of the sleeves. The sides under the armpits are red. It features the team logo on the left side of the chest, along with the LeCoq Sportif logo in black on the right side and, underneath, the Nongshim name in black.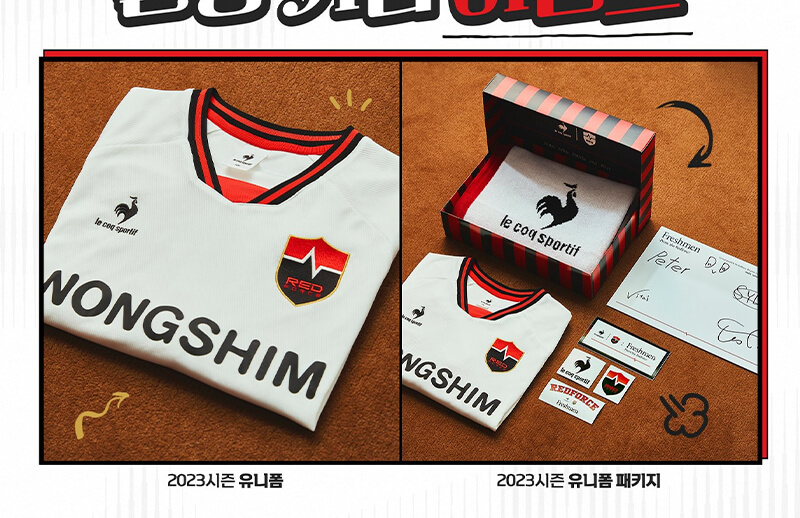 Esports jacket by Nongshim RedForce x LeCoq Sportif
The second garment in this new sports collection is a nylon jacket with a high collar and full center zipper closure. It is black in color, with red zipper border, thin white stripes on the shoulders and NS RedForce and LeCoq Sportif logo on the chest, also in white.
Where is the new NS RedForce x LeCoq Sportif sports collection on sale?
To get either of these two garments that the Nongshim RedForce players will wear in the upcoming competitions, all you will have to do is head to the official web store of the South Korean team; you can get there faster by clicking here.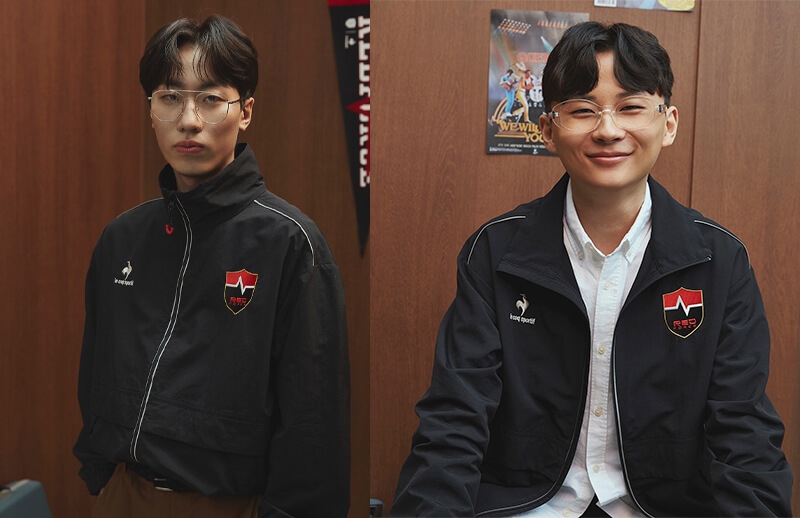 Remember to check the available sizes and compare the measurements of each of them with your body measurements, so you can choose the size that best suits your body, so you don't have to worry about future returns that will cost you time and money.
Also make sure you have one of the payment methods enabled by the NS RedForce store, otherwise you won't be able to purchase this collection. Last but not least, check the countries to which the store ships internationally, to be sure that you find yours.