Gen.G, the South Korean esports organization, in collaboration with PUMA, has just unveiled its new limited jerseys for the 2021 League of Legends World Championship. On this occasion, Heron Preston has been in charge of the design of the official jerseys of Gen.G. Internationally, the Korean national league (LCK) comes to these Worlds 2021 with four qualifiers for the championship. One of them is Gen.G, along with T1, Hanwa Life and DAMWON Kia. Gen.G has been second in the spring and managed a third place in the summer, so they have made it into the Worlds with great consistency. After a good start to the league and some losses, Gen.G made it to the semifinals and with it a guaranteed ticket to the League of Legends Worlds 2021.
Gen.G x Heron Preston x PUMA 2021 Worlds Jersey overview
Gen.G heads to Reykjavik looking to improve on its previous quarterfinal appearance with a new official jersey. Designed by Heron Preston, this new jersey is based on a plain black background. On the center front, we see the South Korean team logo in large size, with the letters bordered on an illustration of white lines. On the side of the heart, the logo of one of its sponsors, Mercedes Benz, and on the right side the logo of the clothing brand that is in charge of manufacturing, PUMA.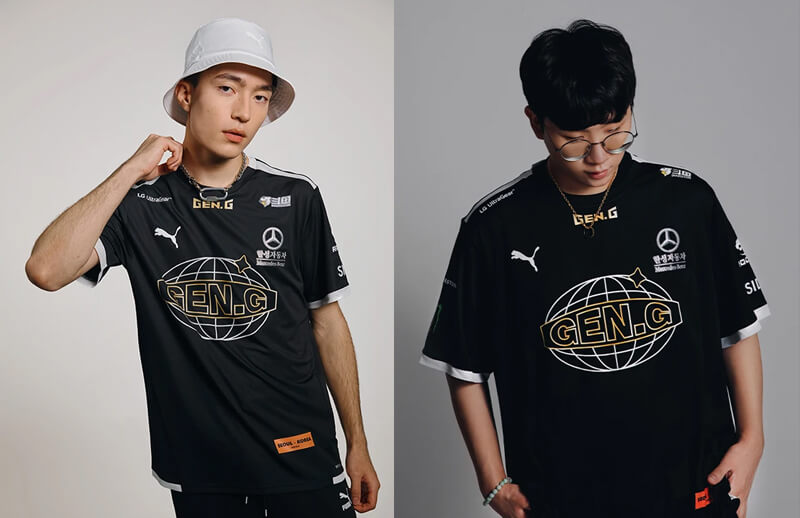 We also find the team name under the collar, centered and in orange. Both on the sleeves and under the shoulders we find the rest of the sponsors: LG, Roccat and Monster among others. According to Heron Preston, "the design of the jersey is about capturing the energy and spirit of the team". Heron Preston wanted to reflect on the back of the jersey a series of white, gray and orange lines in pointed shapes, surrounding the Gen.G. logo.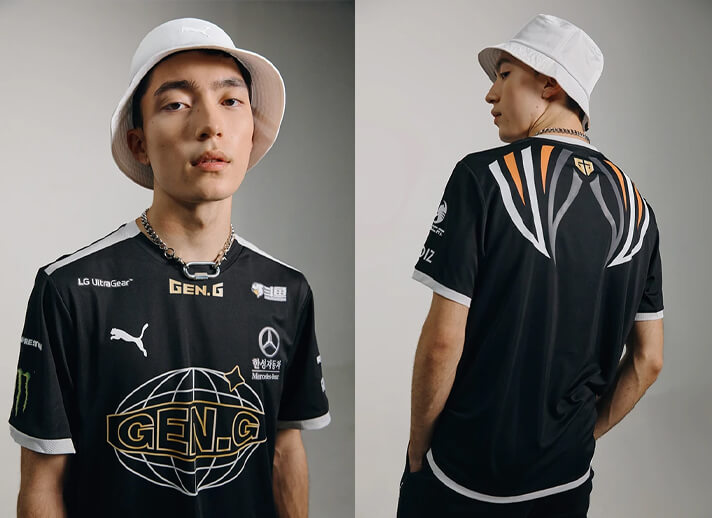 Gen.G x PUMA, the new product of this collaboration
As we told you in The Gaming Wear, this jersey is the next phase of the agreement between Gen.G and PUMA that was announced a few months ago. Through this collaboration, both brands want to bring fans of the team all kinds of products, apparel and accessories. This new jersey can be purchased at the official Gen.G. store.
After last year's League of Legends Worlds, the organization did not make any changes before the start of the 2021 season. They continue to play with Rascal, Clid, Bdd, Ruler and Life. Their Worlds group is one of the easiest in the draw and realistically they can get the first seed if they play considerably well. Their goal is to get through the groups and then we will all be watching closely to see what happens with Gen.G at Worlds 2021. Anything short of reaching the semifinals would be a great surprise, best of luck Gen.G!