Luminosity Gaming is a Canadian eSports team that currently plays in different divisions and official competitions of various video games, including CS:GO and Overwatch, for example. It is a very important team in North America and, although it is not the most recognized of all, it has a large fan base, both at the continental level and worldwide.
Their growth has been mainly in recent times, which is why they have decided to open their web store for the first time, where they will be in charge of selling official team products, as they have done with their new launch, including four sports jerseys that you can't miss. Want to know more about this new official Luminosity Gaming launch? Then keep reading this post until the end, as we will also tell you how you can get it from your home country.
Luminosity Gaming 2022 Pro Jerseys overview
On October 5, just a few days ago, Luminosity announced through its official Twitter account that its online store was now available to the general public for the first time in the eSports team's history. This announcement was made in conjunction with the launch of a collection of gamer player jerseys.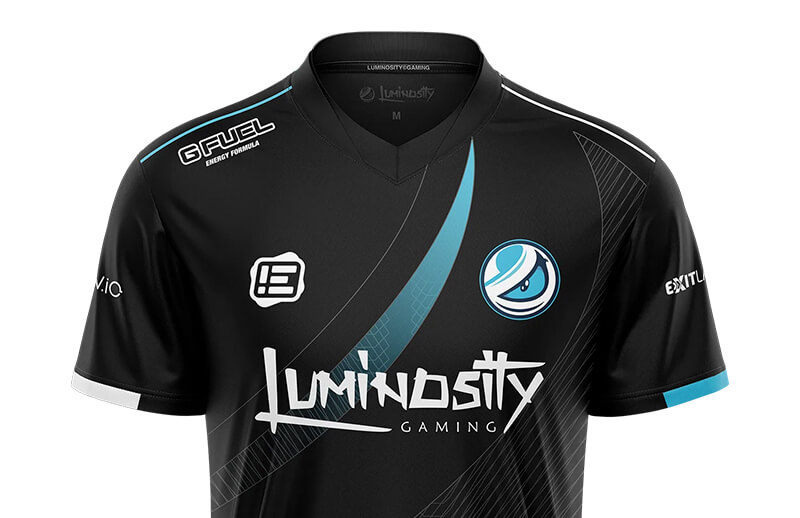 It consists of four professional jerseys, each with different colors, but a very similar design. If you want to learn more in depth about these garments, including their materials, design, sizes and more, read on.
Luminosity Gaming Black Pro Jersey
As you will see in this post, the four kits that are part of the collection are the same, with the difference being that the base color and the color of their graphics change. In this case, the first jersey we see is black, with a V-neck and short sleeves. It is made entirely of polyester, a fabric that is regularly used in sportswear of this type, as it absorbs with great ease the moisture caused by the sweat produced by competition and stress.
As for its design, we see details in light blue and white, which are the main colors of Luminosity; it has light blue stripes on the right shoulder and curves of that color throughout the front, while the left shoulder has details in white, as in other parts of the front.
It features the Luminosity logo in white and light blue on the left side of the chest, along with a sponsorship on the right side and, underneath, the Luminosity Gaming inscription in white. Available from size XS to 2XL.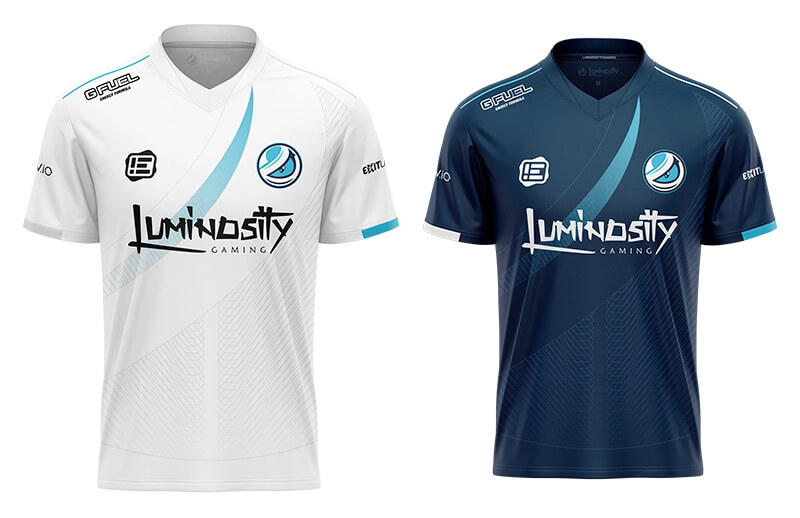 Luminosity Gaming White professional 2022 Uniform
With the same design, also made with V-neck, short sleeves and polyester fabric, we find a totally different player kit from the previous one in terms of its base color, since this one is white, with details in silver and light blue.
Instead of replacing the stripes that were previously white for a more visible color, it was decided to keep a light color almost imperceptible; where the white was replaced is in its sponsors and in the Luminosity Gaming logo, as well as in the name of the team that is in the center of the chest.
Luminosity Gaming Navy Blue pro Jersey
This jersey also has the same design as the previous ones, with the particularity that, instead of being white or black, it is navy blue. It is also made entirely of polyester, with a V-neck and short sleeves, with availability up to size 2XL.
It has light blue and white stripes on the shoulders, as well as on the abstract design seen on the front. In this area are the logos of Luminosity and different sponsors, all in light blue and white.
Luminosity Gaming Breast Cancer Research Foundation Pro Jersey
Finally, we find a professional official jersey that is very similar to the previous one, also designed in navy blue, with the curiosity that replaces the typical light blue color of Luminosity by pink, in honor of the month of breast cancer awareness. Next to the team's logo, the acronym BCRF is included, along with a pink ribbon.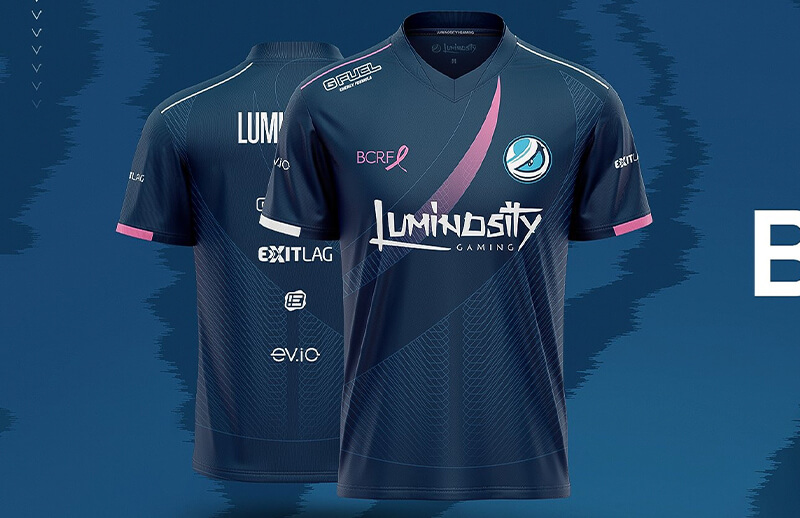 However, the white already present in the previous model is maintained, so we will see the rest of the non-pink details in that tone.
Where to buy the new Luminosity Gaming 2022 pro Jerseys?
The new Luminosity Gaming 2022 professional eSports jerseys are available only through their new web store, which opened recently and in a few hours managed to fall, due to the large number of fans who entered en masse to look for everything this team had to offer.
To access it faster, you can click here and enter the website in just seconds. Before purchasing any of these jerseys, don't forget to check the size you are choosing. Remember that these are sports garments, with a tighter fit than normal, so you will have to be guided by the size chart found on the website. This way, you will not have to make returns that will cost you time and money.
In addition to this, check that you have some of the means of payment enabled in the new Luminosity store and, above all, that they ship internationally to your country of origin.