Movistar Riders, the famous Spanish eSports organization with teams in FIFA, League of Legends, Counter Strike and Valorant, has recently launched a new fashion collection, in this case, focused on summer, together with the Kappa brand.
This collection is limited edition and includes a wide variety of garments, which you will know in this post, along with a guide on how to get them in your home country, through Kappa's web store. We are used to collaborations between these two brands, such as the last special edition of Movistar Riders x Kappa.
Summer collection 2022 by Movistar Riders x Kappa
Kappa, through its official Twitter account, announced last June 21 the official release of the new summer collection together with Movistar Riders, which is composed of t-shirts, shorts and more. Now, let's see all these garments in detail, with their materials, design and other features.
Riders x Kappa men's t-shirt
The first item we found is a men's t-shirt in white color, with round neck and sizes up to 2XL. It is a t-shirt with a very simple design, with a front where we will find the name of the team in black color; the back has no design, but the sleeves have three Kappa logos in black and pink.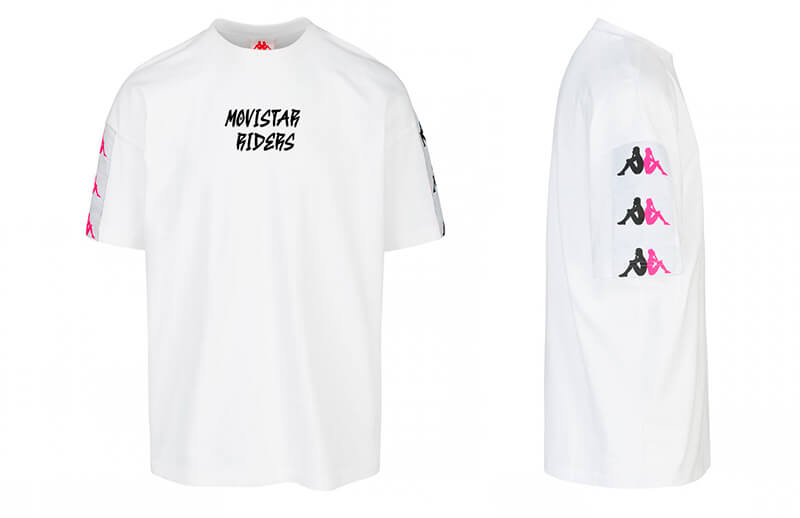 Movistar Riders x Kappa men's shorts
We also found some men's shorts in dark turquoise, with a fitted waist and a length up to a little above the knees, depending on the size, which goes up to 2XL. The design features the Movistar Riders name on the front right side and the Kappa logo in pink and black on the back. These shorts feature side pockets and a back pocket.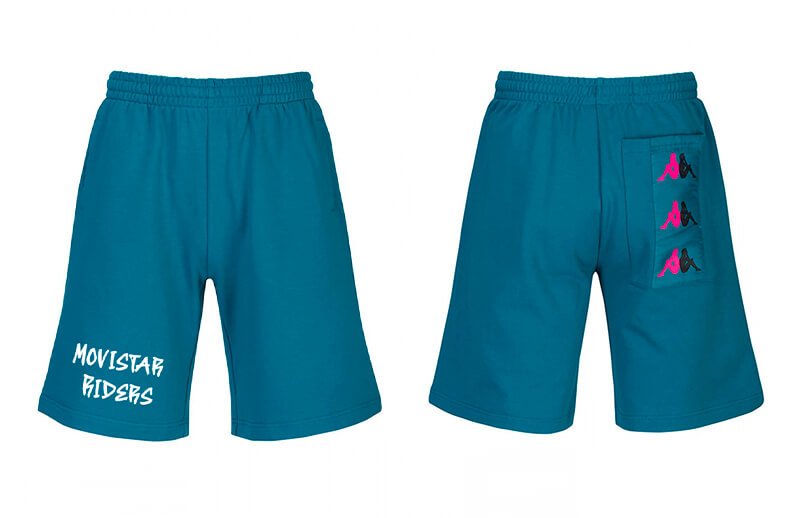 Riders x Kappa women's T-shirt
The collection also includes garments for women, first of all this black T-shirt with round neck, available up to size 2XL. Its design includes the Movistar Riders name on the front in white and, on the back, a gray stripe that runs the width of the back, on which is the Kappa logo in a pink and light blue pattern.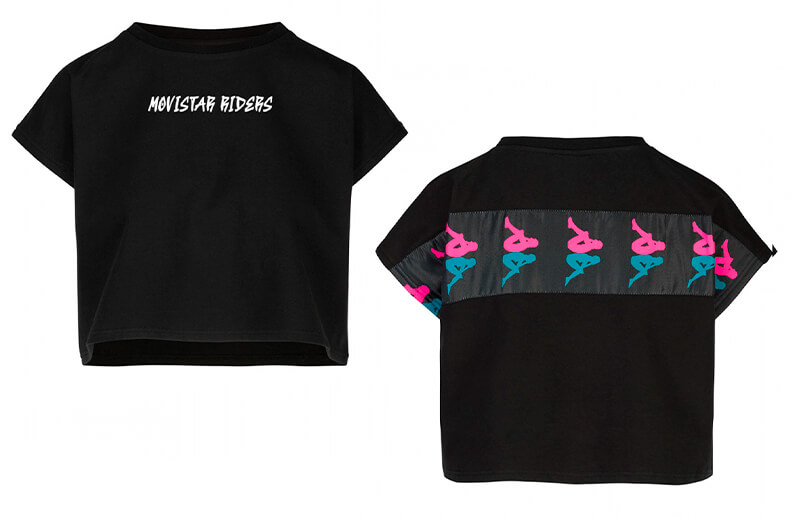 Movistar Riders x Kappa women's shorts
You'll also find women's shorts, which, unlike the men's, are not much shorter, though not uncomfortable to wear. They are available from size XS to XL, and have adjustable straps at the waist. As for their design, these shorts are black, and have the team logo on the left side, and a gray stripe on the right, just like the previous T-shirt, where the Kappa logo is in pink and light blue in pattern.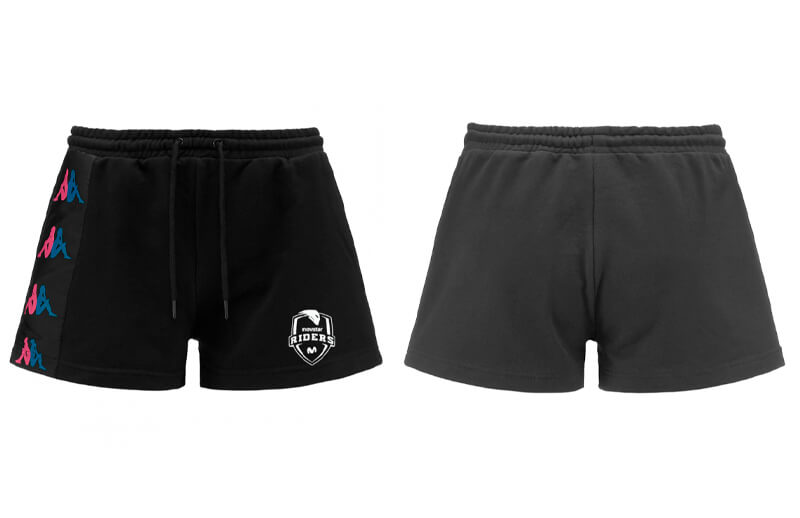 Riders x Kappa men's hoodie
Although it is a summer collection, it also features hoodies. In this case, the men's version is available in sizes up to XL, and has an adjustable hood with drawstrings and kangaroo pockets. Its design has a lot to mention; it is a black hoodie, on whose front we will find the Movistar Riders logo and name, with the Kappa logo pattern on both sleeves, in pink and light blue, and the phrase "We are MRS" on the back, below the same Kappa logo pattern.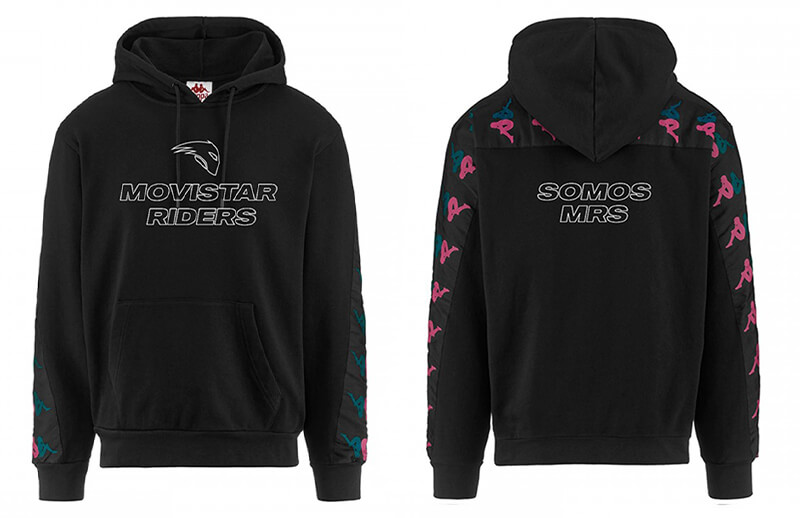 Movistar Riders x Kappa women's sweatshirt
There is also a women's sweatshirt, this one being shorter, above the navel, with a zipper at the neck and no hood. It is white in color, and features the team name on the front, in black, and a gray stripe running down the back of the sleeves, joining at the back, with Kappa logos in pattern, also in light blue and black.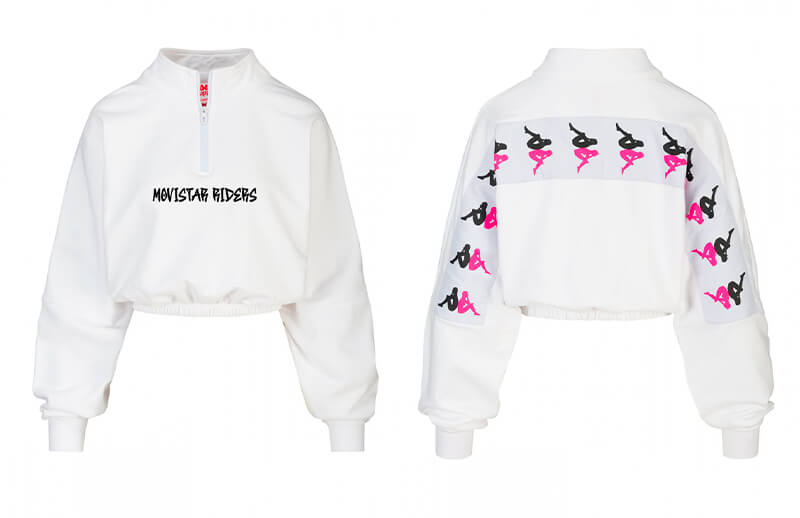 Riders x Kappa Bucket Hat
Finally, we will find a unisex fishing cap, that is, suitable for both men and women, which has a design that differs significantly from the other products. This fishing cap has a stripe that runs around its entire circumference, which goes from green to pink in gradient; on this stripe is the Kappa logo in pattern, in black. Both on the front of the cap and on the back, you will see the Movistar Riders name in white.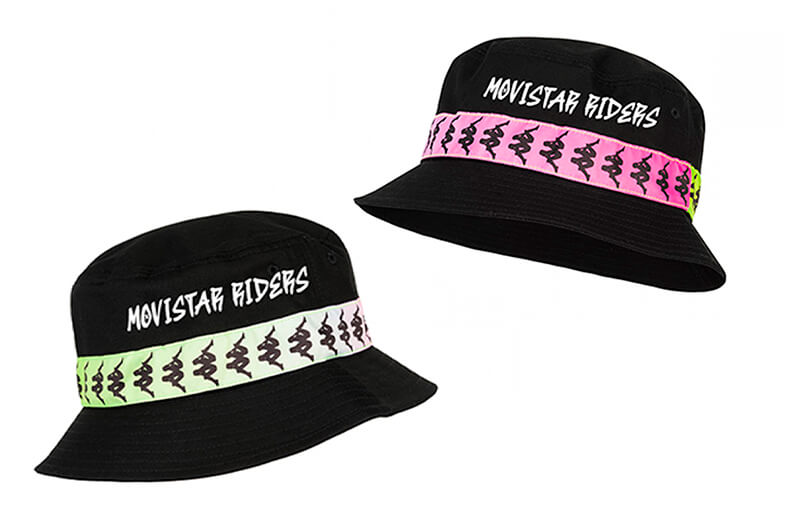 Where to get the new Movistar Riders x Kappa collection?
If you are interested in any of the garments that are part of this new limited edition summer collection of Movistar Riders and Kappa, you should know that, to get them, you will have to access directly to the Kappa web shop.
Before purchasing any product, remember to choose the right size, guided by the chart in the store, as well as make sure you have an enabled payment method and that your country of origin is eligible to receive international shipments.