Team Liquid, one of the greatest exponents in the world of e-sports in history, founded in 2000, more than two decades ago, tends to constantly partner with other brands or companies, launching products in collaborative clothing collections that captivate many of their fans.
On this occasion, Team Liquid has partnered with Marvel to launch a new apparel collection of garments that, without a doubt, you can't miss to know.
The new Team Liquid x Marvel collaboration includes a total of six very different garments, with unique details and very striking designs, so if you want to know what this new fashion collection is about, we invite you to continue reading this post, in which we will also tell you how to get it from your country of origin. We have seen previous collaborations by Team Liquid with Marvel, such as the one we saw with Spiderman.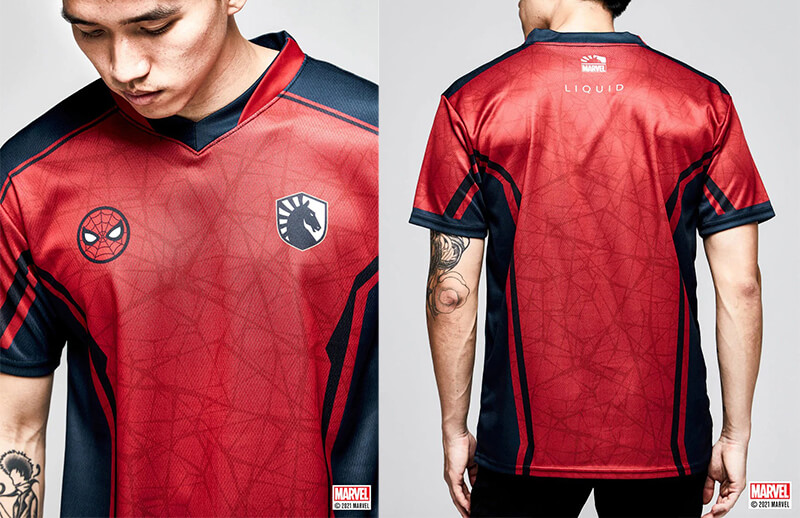 Team Liquid x Marvel 2022 Collaborative Collection
In September 2022, Team Liquid's official account announced the official arrival in Brazil of its new collection in partnership with Marvel, the famous comic book company that has dominated the comic book world for so many decades.
Its arrival in Brazil also means the arrival to the South American continent, so if you are from that area of the American continent, you may be interested in knowing what each garment is about, something that we will detail below in this post.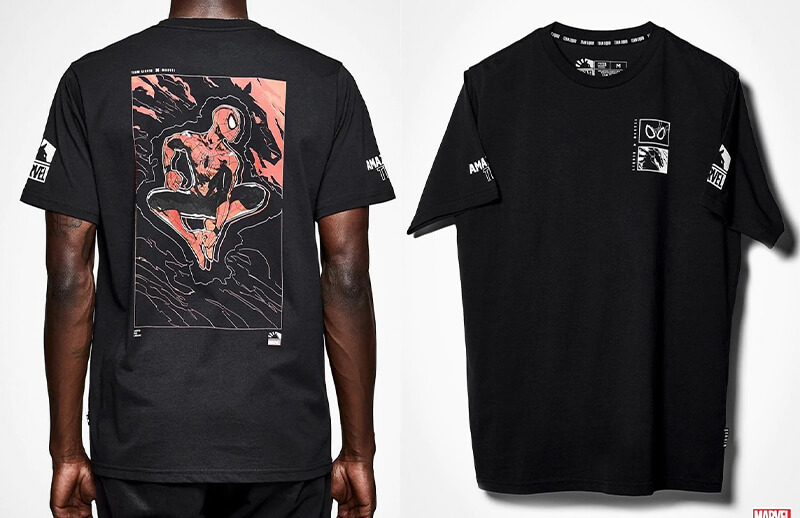 Spiderman Team Liquid x Marvel Pro T-Shirt
Fully customizable polyester pro t-shirt with a design of Spiderman, one of Marvel's main characters; red color with web graphic in a darker color, sleeves, shoulders and sides in dark blue, Team Liquid logo on the left side of the chest and Spiderman logo on the right side of the chest. Available from XS to XXL. Features team name and logo on back.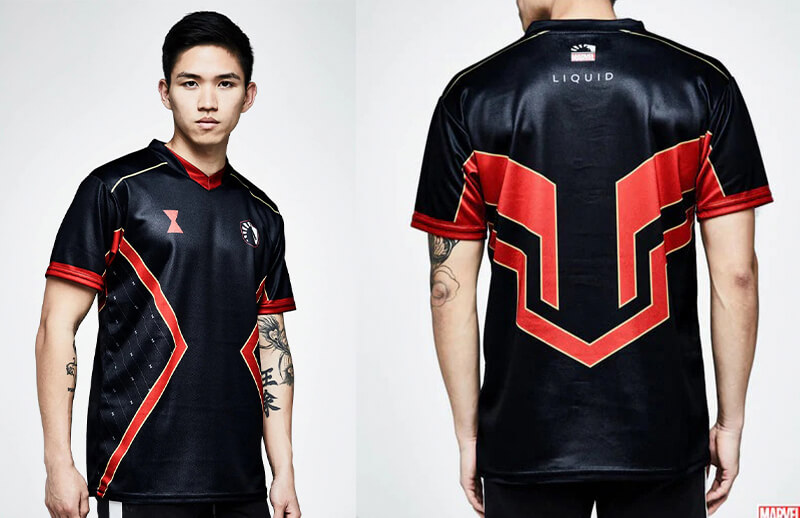 Black Widow Team Liquid x Marvel 2022 Pro T-Shirt
T-shirt with motifs of the Black Widow, another of the most important members of Marvel and the Avengers; made entirely of polyester, customizable and with a totally black color, with red borders and under sleeves and two side stripes in red, imitating the Black Widow logo, which appears on the left side of the chest, right next to the Team Liquid logo.
Captain America Liquid x Marvel Pro T-Shirt
Captain America, Marvel's widely recognized superhero, sports polyester t-shirt. Design in blue color, shoulders and sides under sleeves in dark blue color, borders in red color and horizontal stripes on the chest, also in red color. Team Liquid logo on the left side of the chest and, on the right side, the logo of the famous Captain America shield. Customizable and available in sizes up to XXL.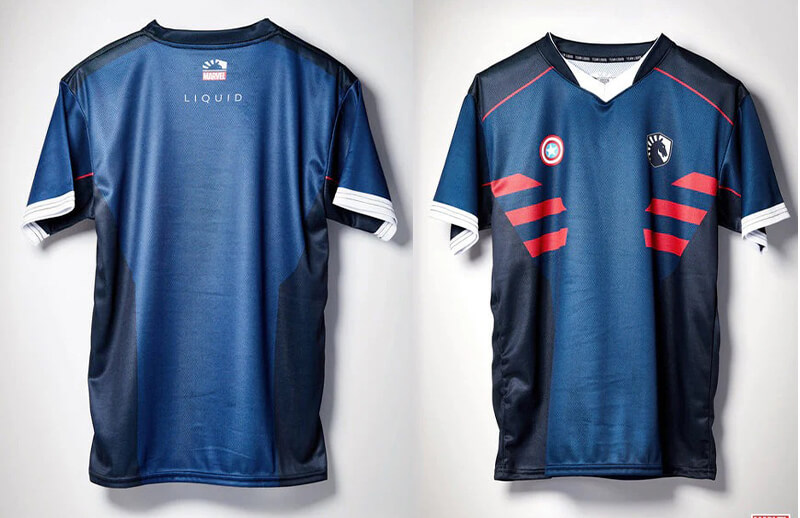 Pro Avengers Team Liquid x Marvel 2022 T-Shirt
Last polyester sports t-shirt of this clothing collection, in this case, with Avengers motifs. White design, with shoulders, sleeves and front design simulating an Avenger uniform in black with red borders. Plain white back with space to add your nametag.
Spiderman Team Liquid x Marvel T-shirt
We also find a non-sport t-shirt, made of cotton, round neck and short sleeves. Design in totally black color, with a Marvel logo on the front, in white color, as well as on the sleeves and, on the back, the main design of the garment, with an artwork of Spiderman, in the best style of the American comics of the company.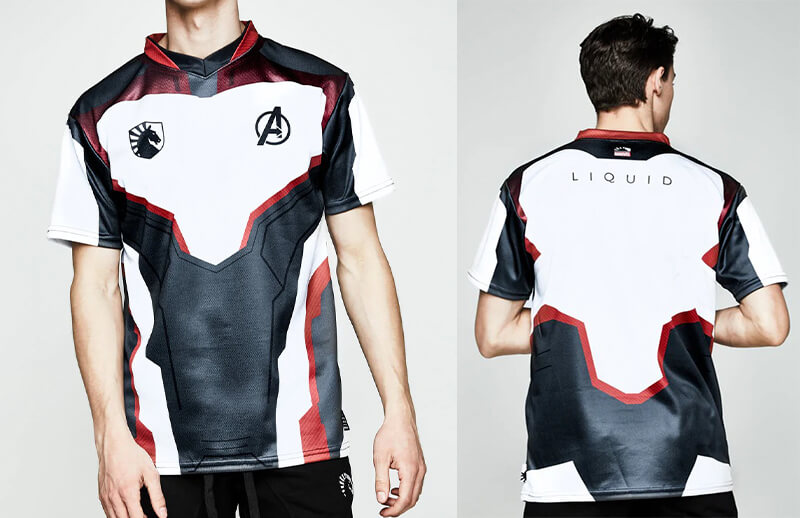 Spiderman Liquid x Marvel 2022 Hoodie
Finally, we find a cotton hooded sweatshirt with kangaroo pockets in black color only, just like the previous shirt, with Marvel logos on the left sleeve and a main front design that includes two Spiderman artworks, one in red color, just like the superhero, and another in blue color.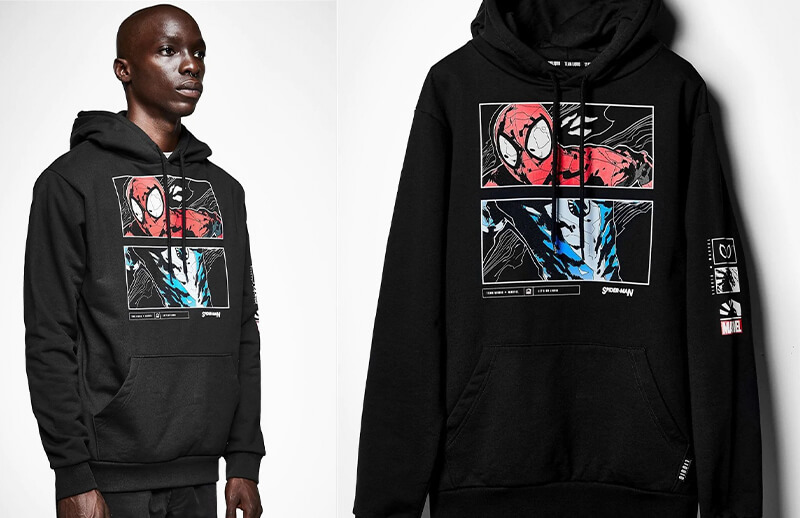 Where to buy the new Team Liquid x Marvel 2022 clothing collection?
Are you from South America and want to get your hands on the Team Liquid and Marvel fashion collection more easily? Then look no further; the Spiderman and all members of the Avengers apparel is now available at Liquid's webstore in Brazil. If you want quicker access to this clothing collection, click here.
Before buying any of these garments, do not forget to use the size guide table of the same store to take your body measurements so you can choose the right size for you and not have to make future returns that will cost you time and money. In addition to this, make sure that one of your preferred payment methods is enabled in the Team Liquid Brasil store, otherwise you will not be able to make the payment.