Team Liquid, the American-Dutch eSports organization, being one of the most important in history since its founding in 2000, has recently launched a fashion collection in collaboration with the highly recognized battle royale type video game, Fortnite.
This is nothing new; Team Liquid frequently collaborates with other brands to release collaborative collections to the market, as does Fortnite. Next, let's take an in-depth look at what this collection brings, what it's all about, the detail of each of its garments and, at the end of it all, how you can do to get it and buy any item from it from your home country. Let's get started!
2022 Team Liquid x Fortnite apparel Collaboration
On June 20 of this 2022, Team Liquid announced via Twitter that its new 2022 collaborative collection alongside Fortnite was already available for purchase, through the team's official web store. We are used to great clothing collections from this team, such as the 2022 collection by Team Liquid.
Said collection is composed of 12 items, with different designs, fabrics, shapes, sizes and so on. If you want to know what exactly brings this new collaboration, keep reading and don't miss anything.
Team Liquid x Fortnite Reboot Windbreaker
The first thing we will find in this collection is a 100% polyester windbreaker, with a central zipper closure, hood and adjustable drawstrings, available from size XXS to XXXL.
It is a windbreaker of different colors, designed with panels that have different designs; on the front of it we will see a white background, with a black bottom on the right side and dark blue on the left side. The left sleeve follows this pattern, having three panels: white, dark blue and light blue. For its part, the right sleeve has three panels: the upper one, close to the shoulder, with Fortnite objects, and two lower ones, one black and one white with the Team Liquid logo in blue.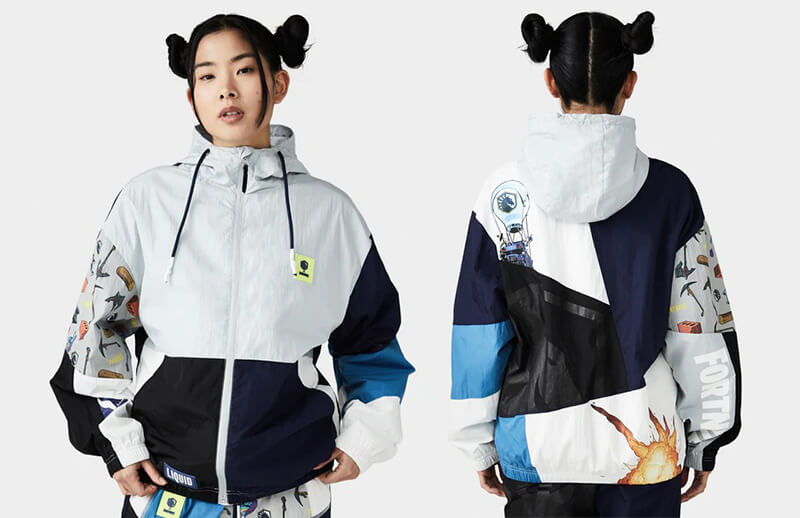 The back also features black, blue, white and Fortnite patterned panels, along with the Team Liquid logo.
Liquid x Fortnite Windbreaker Pants
Following the same design of the windbreaker, we find a track suit type pant. This pant is also made entirely of polyester, available in sizes from XXS to XXXL.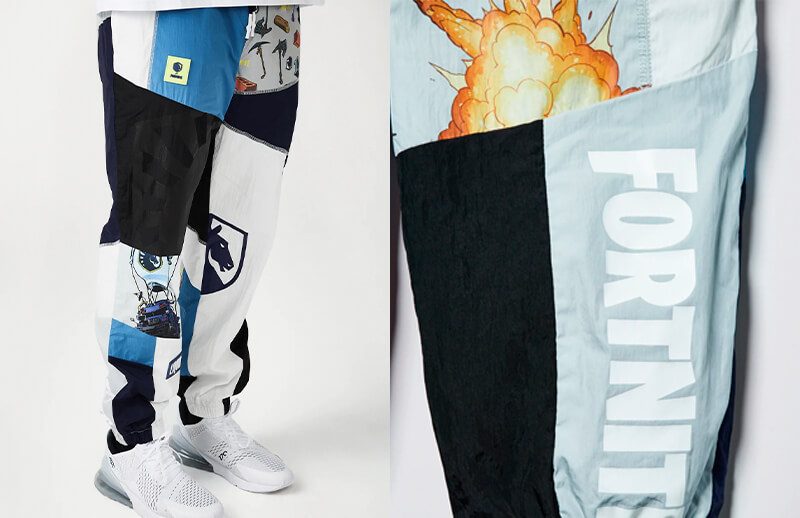 As for the design, the right side of the pants features various white, dark blue, black and other panels, as well as on the left side, where we also see panels with the Team Liquid logo and others with objects typical of the Fortnite video game. The pants feature side pockets and a back pocket, as well as a drawstring adjustable waist.
Team Liquid x Fortnite Cap
To finish with these panel designs, we find a cap with a curved visor, also made only with polyester and composed of 5 different panels. The visor is black, while the cap is completely white, except for the two upper panels: one dark blue and one light blue. On the front of the cap we find a yellow patch with the Team Liquid and Fortnite logo.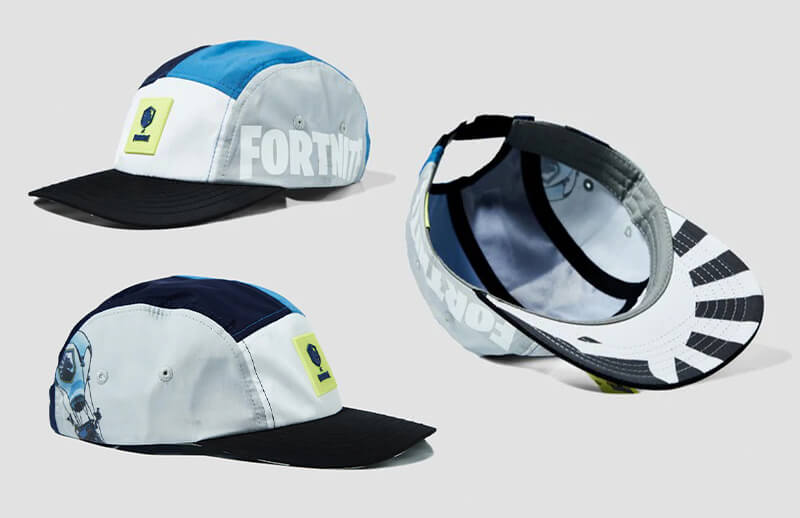 Team Liquid x Fortnite Beanie
Moving on to other types of design, we see this beanie, made with 60% cotton, 30% nylon and 10% wool, perfect for winter. It is designed with 3 colors, with the bottom being dark blue, the middle part being gray and the top part being black. On the front of the cap we see the yellow patch with the Team Liquid and Fortnite logo.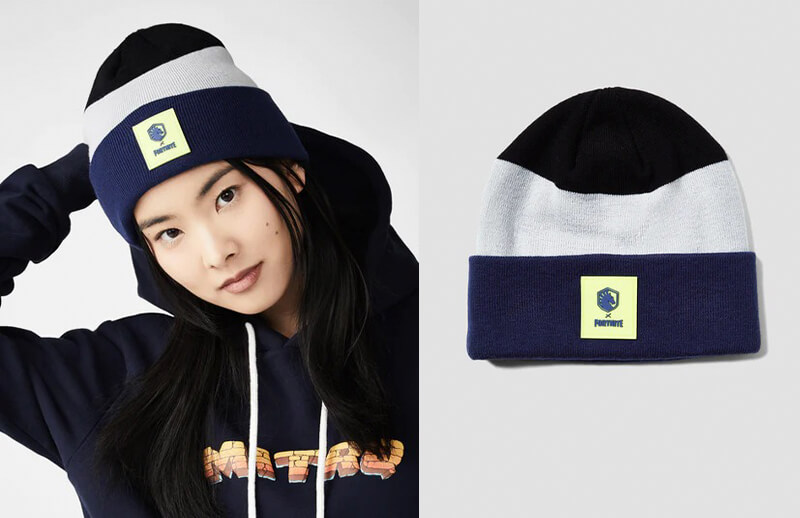 Team Liquid x Fortnite Socks
Don't have socks to wear? Don't worry, this collection brings it too. This pair of socks is made with 72% cotton, 25% polyester and 3% spandex. Design-wise, they have a gray front, with the Liquid and Fortnite logo in white, and a blue, white and black back.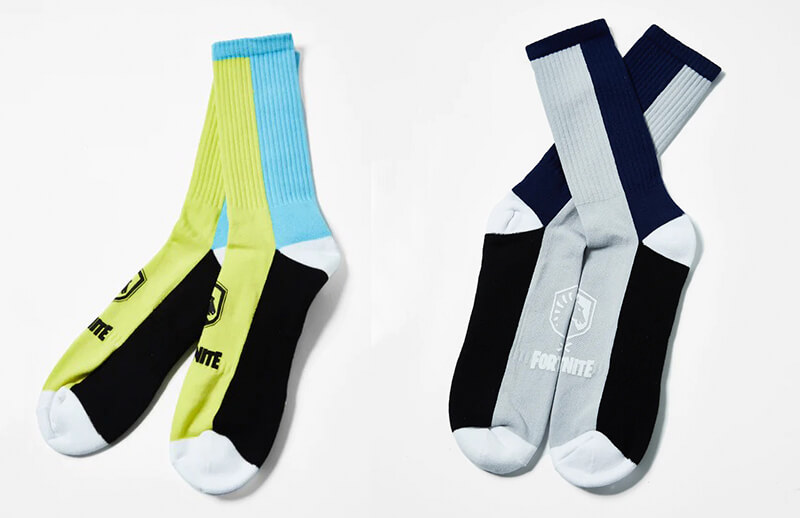 Liquid x Fortnite black T-shirt
From here we will find much simpler designs, as is the case with this black cotton t-shirt, with 3D silicone prints.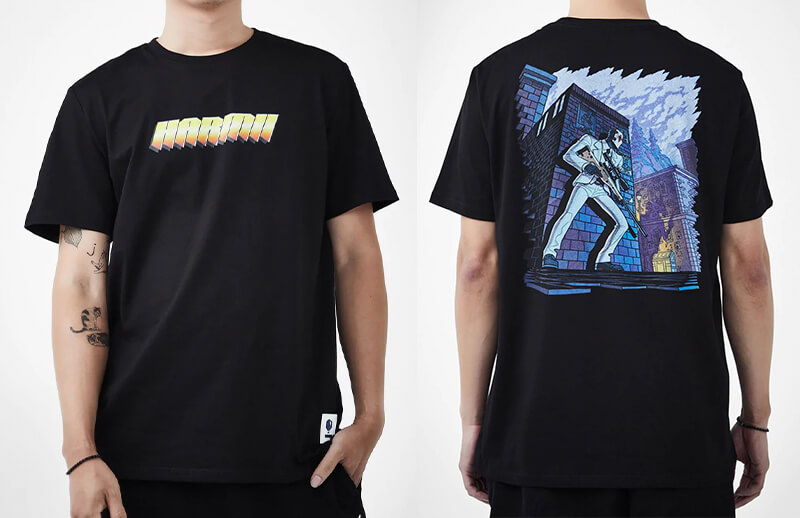 This crew neck t-shirt has the inscription HARMII in gradient yellow and orange on the front, with a label with logos at the bottom. On the back, a large rectangle that has a Fortnite artwork design.
Sweatpants by Team Liquid x Fortnite
Following on from the previous model, comes as a set of sweatpants, made in 98% cotton and 2% spandex. It is black in color, and features adjustable waist straps, side and back pockets, and the Fortnite logo (front left) and Team Liquid logo (front right), along with HARMII on the back. Comes available in sizes XXS through XXXL.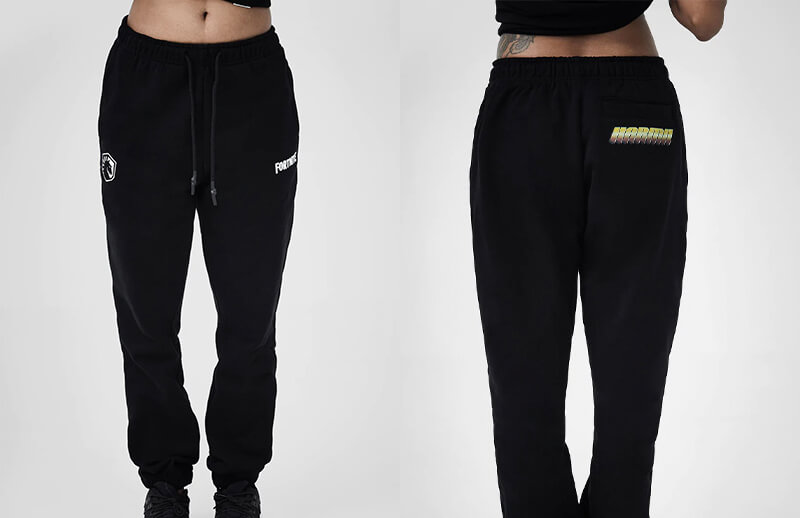 Team Liquid x Fortnite flat cap
Unlike the previous cap, here we find a flat cap, made of cotton and with a simple, but elegant design. It is made of six black panels, has on the front with the inscription HARMII and, below the visor, an artistic design of Fortnite. On the back it has an adjustable strap and a logo patch.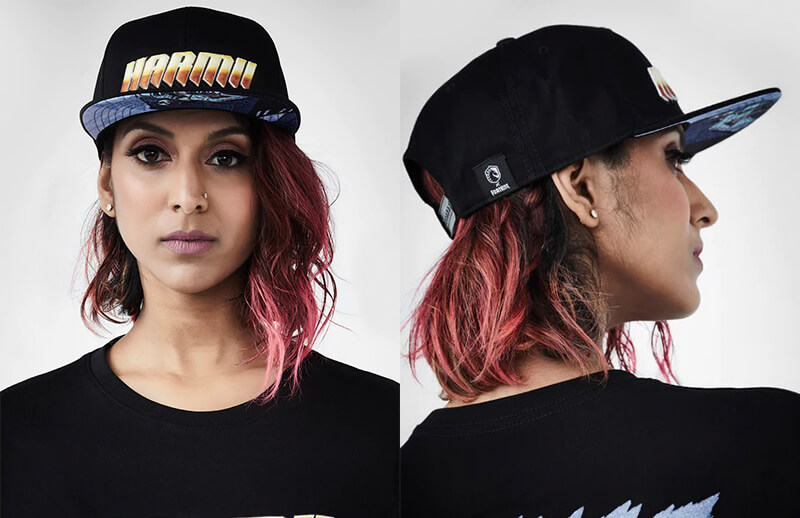 Liquid x Fortnite Hoodie
We find here, almost at the end of the collection, a sweatshirt; in this case, 100% cotton, with kangaroo pockets and adjustable hood with drawstrings. Its design is similar to that of the HARMII series, featuring the inscription MITRO, with an artwork similar to a brick wall, on the front, and an artistic Fortnite design on the back.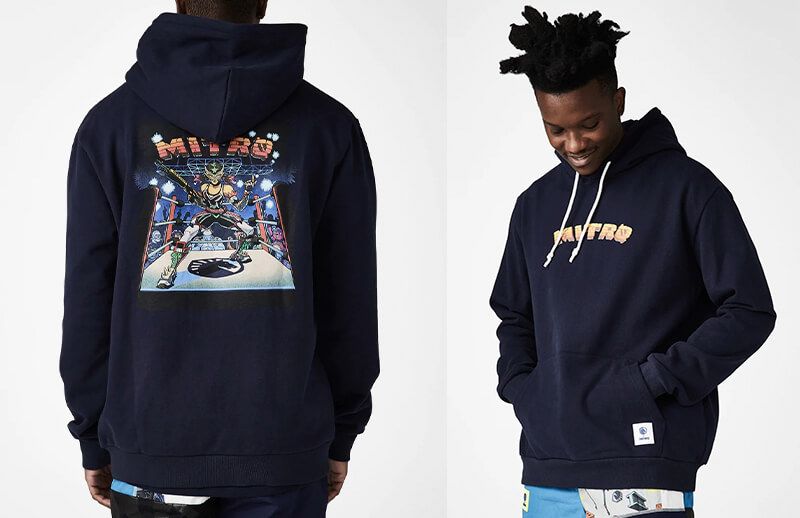 Team Liquid x Fortnite white T-shirt
Like the sweatshirt, this white t-shirt features an oversized Fortnite artwork design on the front, along with MITRO lettering. The back of the t-shirt is completely white. It is made entirely of cotton and is available in sizes XXS through XXXL.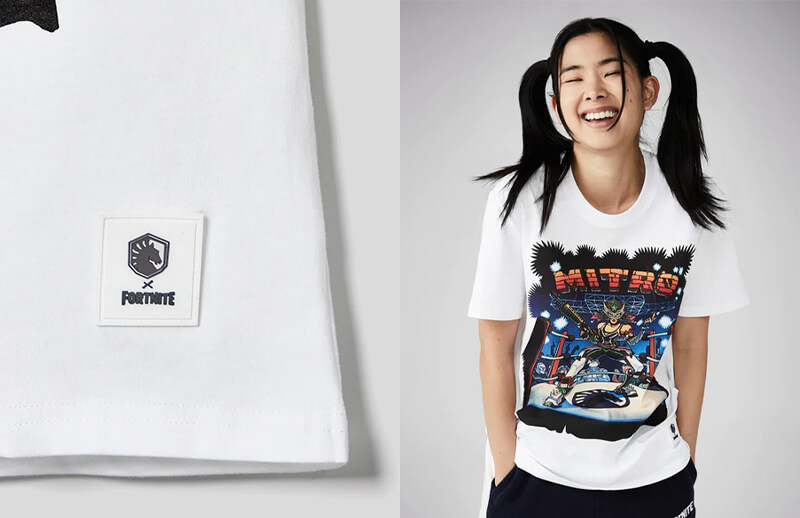 Team Liquid x Fortnite Joggers
Coming to the end, we find these cotton joggers type pants, also designed with various sewn panels. Its color is dark blue, but it features, on the front, a red panel below the knees and a white one on the sides. On the front we will see the Fortnite logo on the left, next to the Team Liquid logo, on the same leg, but on the back bottom.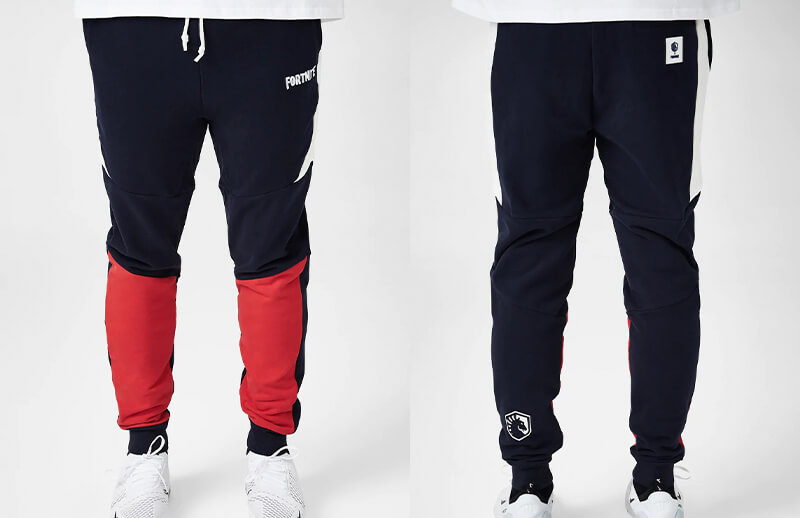 Liquid x Fortnite Mousepads
Finally, we find a series of mousepads designed with Fortnite arts, including the HARMII, MITRO and the one in the beginning panels, with objects from the video game. This comes perfect for supporting your keyboard and mouse seamlessly.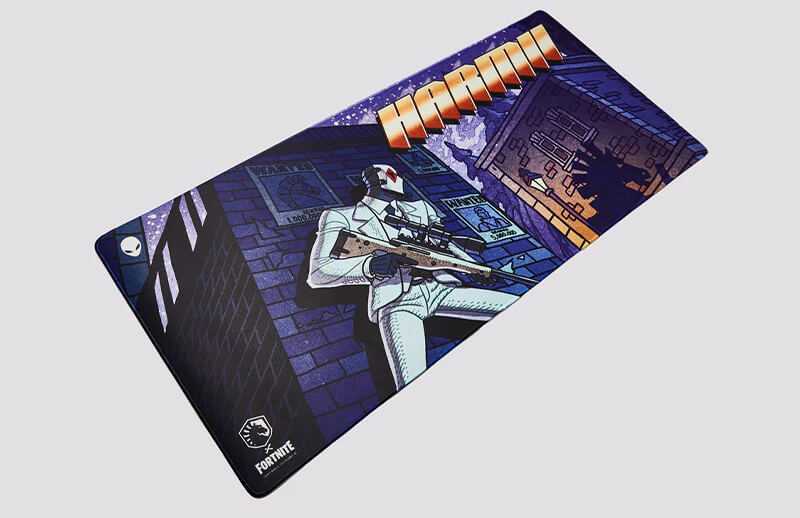 Where to get the new Team Liquid x Fortnite fashion collection?
If you liked any of the garments of this new collaborative fashion collection and want to purchase it, you should know that you can do so through Team Liquid's official shop, more specifically in their shop.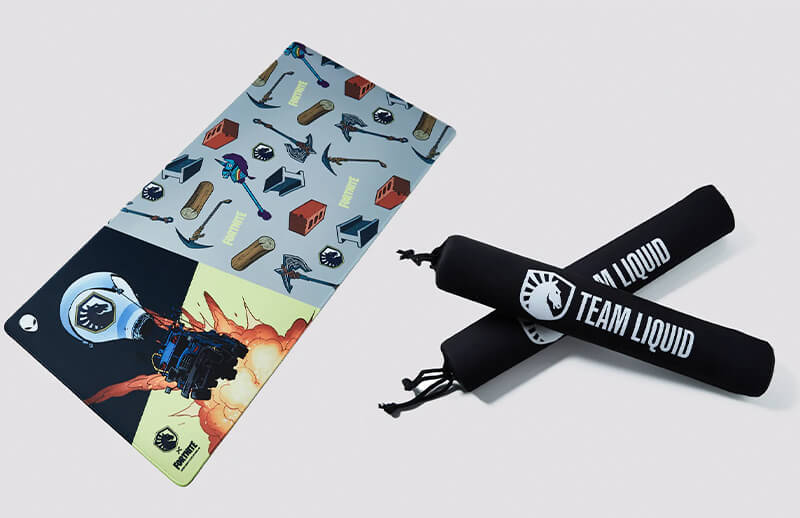 Always remember to choose the correct size of each garment before buying it, guided by the table that is always included in the fashion web stores. Also, make sure you have an enabled payment method and that your country of origin is eligible for international shipping.