REJECT is a Japanese eSports team founded in 2021, but despite its short history, it has official representation in professional competitions of Apex Legends, Identity V, PUBG Mobile, Rainbow Six Siege, Valorant, Knives Out, Fortnite and more, in addition to having streamers related to them.
The team has gained more and more recognition in Japan and Asia, so, in recent months, they have decided to also venture into the world of fashion and products for their fans. In this case, REJECT has launched a new professional eSports jersey for sale.
In this post, we are going to analyze this jersey in depth, so if you are interested in getting it, we invite you to read this post to the end, as we will also give you a guide on how to get it from your home country. The last clothing drop we enjoyed from REJECT was the one they did in collaboration with Mother3.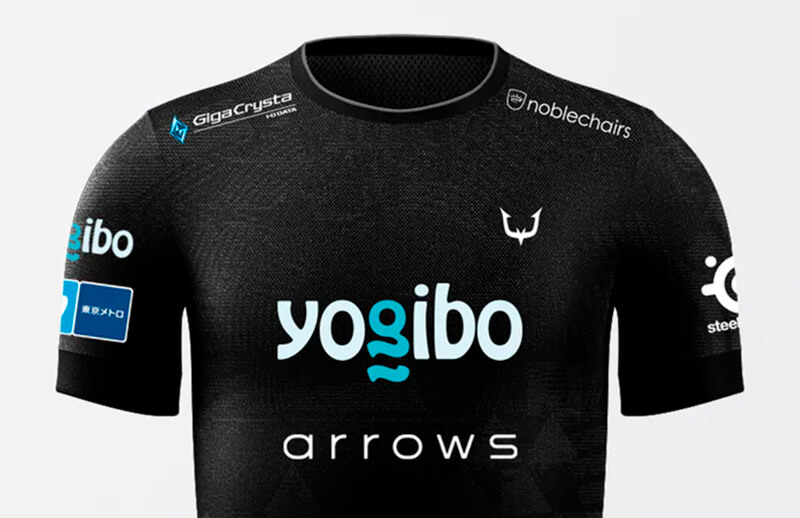 Official REJECT 2022 eSports Player Jersey
Just arrived this August 2022, REJECT announced through its official Twitter account the launch of its new professional eSports player kit, which will be used by its teams in different eSports competitions, whether Valorant, Fortnite or Rainbow Six Siege, among others. Next, let's take a detailed look at this jersey, analyzing its parts, design, fabric, available sizes and more.
This is a purely sporty jersey, focused on maximum performance when it comes to performing in a competition; it is made entirely of polyester, a fabric that is usually used in sports uniforms, because they easily absorb the sweat caused by stress and nerves.
It has short sleeves, round neck and sporty fit, that is to say, more adjusted to the body, although you can also order it in a larger size so that it is not so tight. Speaking of sizes, the player jersey is available from S to XL. Its design, although simple, does not cease to have very remarkable features; its color is completely black, but you can see, in the background, different abstract designs with geometric shapes in a lighter color, similar to gray.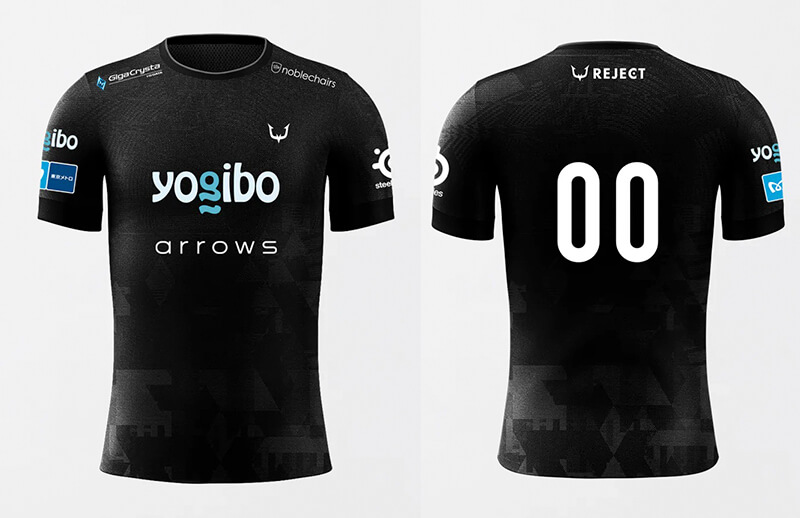 On the front of the jersey we find, first of all, the team's logo on the left side of the chest, in white. We also see the GigaCrysta and Noblechairs ads, each on a collarbone, plus the Yogibo and Arrows sponsors on the chest, one above the other. On the sleeves we also find sponsorships, both on the right and left side, including Yogibo and two more of the country.
On the back we will see the logo and name of the team, on the back of the neck, and the particularity of being able to add a number to the jersey, in the best style of sports jersey. The back also includes the design with abstract geometric shapes in gray on the black background.
Where to get the new official REJECT 2022 jersey?
If you liked this new official REJECT jersey, it's time to get it yourself; you can do this through the official webshop of the Japanese team.
Before you buy it, make sure you choose the right size so that you don't have to make returns, something that can take some time. Also, check that your preferred payment method is enabled in the store so you can use it, and verify that your country of origin is eligible to receive international shipments from Japan.