If you are a fan, or even a fanatic, of eSports, it is very possible that you have heard more than once about Renegades. It is an eSports organization of American origin, founded in 2015 and currently has professional teams competing in tournaments of Call Of Duty, CS:GO, Fortnite, Valorant, Rocket League, among others. Previously, Renegades had participation in League Of Legends.
One of the curious things about this famous organization is that its current owner is the former Swedish NBA player, Jonas Jerebko. Currently, Renegades has a great reputation in the United States and the world in general. For this reason, it is not surprising that they have partnered with Raven, one of the most famous e-sports merchandise stores.
To celebrate this partnership, they have released a new official t-shirt, as well as commemorating the new 2022 edition of the RLCS (Rocket League Championship Series). In this post, let's take a look at what this t-shirt is all about, what are its details, features and, above all, where you can get it from your home country.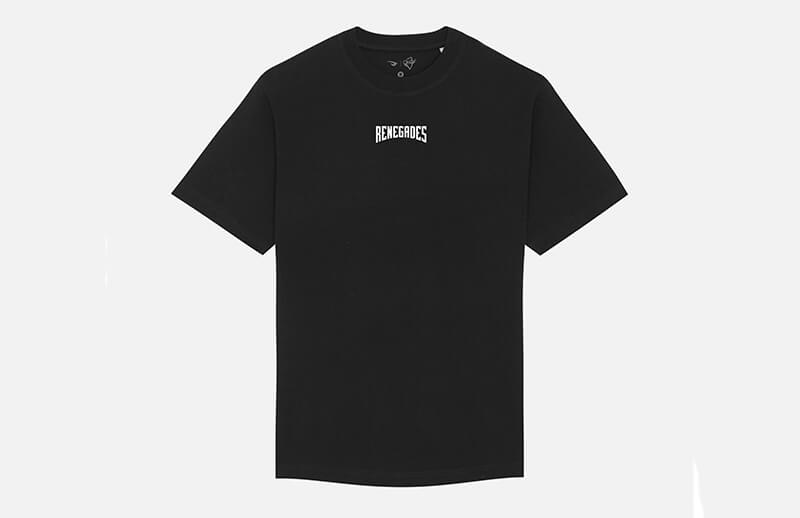 How is the new Renegades 2022 T-shirt for the RLCS?
On August 5 of this 2022, Renegades announced via their Twitter account a new partnership with Raven, one of the most well-known eSports merchandise stores in the world. To celebrate, they released a new t-shirt in honor of the RLCS (Rocket League Championship Series).
It is a limited edition T-shirt, which can be ordered until August 14, but there are only a few units available, so if you are interested, you will have to run to get it. It is made of 100% cotton, with a high quality fabric, round neck, short sleeves and regular fit, that is, it is not a baggy t-shirt, oversize type, but not tight to the body. Anyway, do not worry about the size, as it is available from S to 2XL (size guide included in the store).
As for its design, it is a completely black t-shirt, on whose front we will see only the Renegades name in white below the collar, in a very minimalist size. Both the sleeves and the sides of the T-shirt are clean, so there is no design.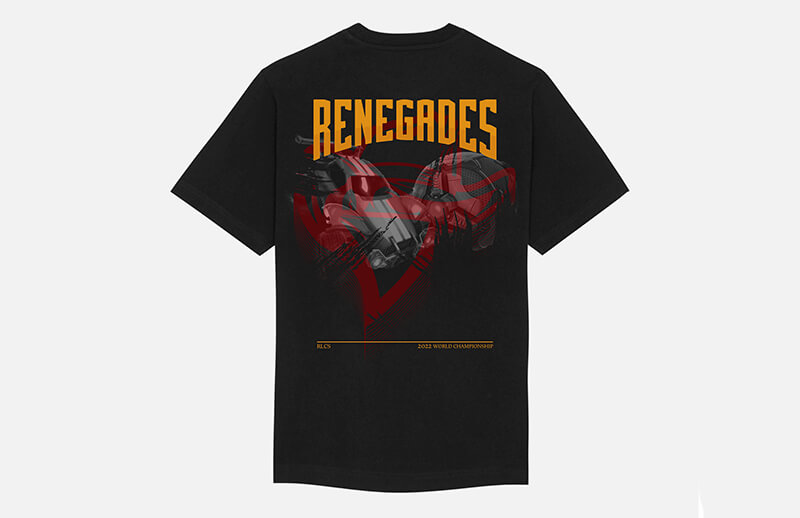 The important part is on the back; here we will find, from top to bottom, the Renegades name, with the same design as on the front, only in yellow. In the background, a black and white drawing that includes a car and a Rocket League ball and, above it, an abstract design in red. Below it all, a thin horizontal line, the initials RLCS and 2022 WORLD CHAMPIONSHIP, all in the same yellow color as before.
Where to get the new official Renegades jersey for the 2022 RLCS?
If you liked the new Renegades Rocket League Championship Series 2022 t-shirt, you should know that you will be able to get it, due to the organization's new partnership, through the Raven web store, one of the most widely used in the world of eSports.
Before you buy it, make sure you are choosing the right size, guided by the help table on the website, so you don't have to make returns. Also check that your preferred payment method is available and that your country of origin is eligible for international shipping from Raven's store.