Team Heretics, in case you don't know it yet, is a famous eSports team of Spanish origin, founded by Jorge Orejudo (Goorgo, known as Goorgo on YouTube) in Madrid in 2016. This team quickly rose to fame, partnering with a variety of renowned youtubers and streamers, such as TheGrefg, and even well-known personalities in Spain, such as footballer Sergio Reguilón.
Heretics is dedicated to a wide variety of eSports, including Fortnite, Valorant, League Of Legends, CS:GO, Rainbow Six Siege, Call Of Duty, among others. In addition to having a large participation in the e-sports scene, Team Heretics also participates in the fashion world, launching collections or garments that catch the attention of their fans.
Recently, this team launched a series of two commemorative t-shirts for the following year 2023, and we will be in charge of telling you what it is about and how you can get it from your home country, so, if you are interested in knowing, stay until the end and do not miss anything.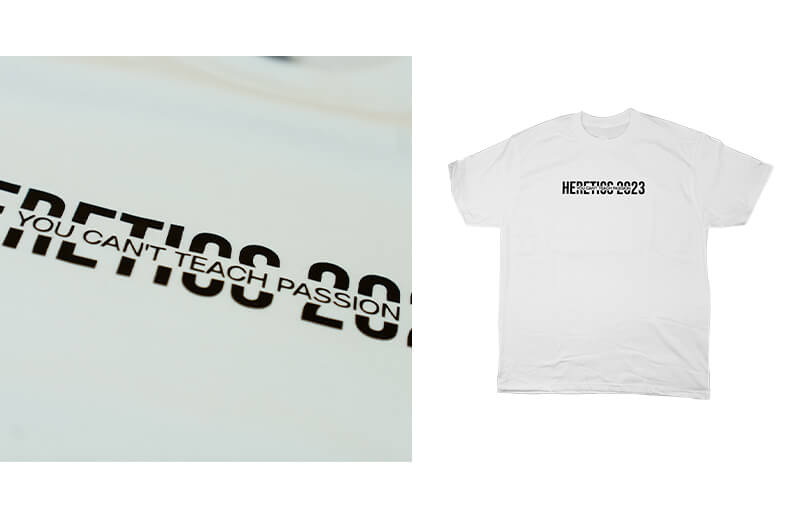 Team Heretics 2023 Commemorative T-Shirt overview
This past July 27, 2022, Team Heretics announced through its official Twitter account that its new set of two commemorative jerseys for 2023 was already available for purchase through the official team store, although we'll tell you later on how to get it easily.
Next, let's take a look at what this pair of jerseys is all about and what their features are. Earlier this year we had the pleasure of seeing Team Heretics' latest collaboration with Adidas on an apparel collection.
Special Edition T-shirt 2023 by Team Heretics
The Team Heretics "You Can't Teach Passion" 2023 commemorative t-shirt is extremely simple, being a short-sleeved t-shirt with round neck, made of cotton and with a very simple design; it comes available in two models, in white and black, in sizes ranging from S to XXL.
The first model, the white one, has the phrase HERETICS 2023 in black in the center of the chest, and, above this print, the phrase YOU CAN'T TEACH PASSION, also in black, but on a white rectangle, to differentiate it from the first phrase. Both the sleeves and the back are completely plain, without any design.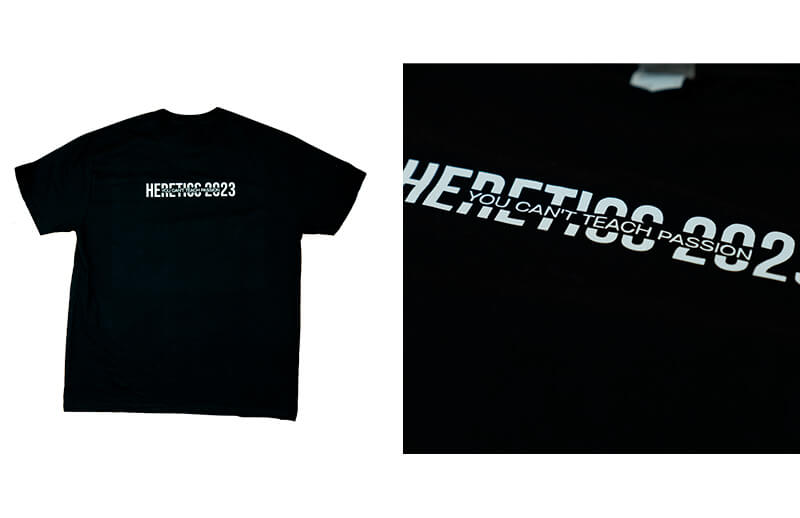 Unlike this model, the black one also has the HERETICS 2023 print, only in white; like the previous one, we see the phrase YOU CAN'T TEACH PASSION above the previous print, also in white, on a black rectangle to differentiate it. Undoubtedly, it is a very simple t-shirt, but it can captivate more than one, precisely because of its simplicity. If you want to know how to get it, keep reading this article until the end.
Where to get the new Team Heretics 2023 commemorative t-shirt?
If you liked this series of t-shirts and you want to get it yourself, what you should do is head over to the Team Heretics web store; there you will find all the team's products, including these two commemorative t-shirts as well.
Before purchasing any jersey, remember to pay attention to the size you are choosing, so you don't have to make returns; you can do this with the size guide in the store. Also, remember to check that your preferred payment method is suitable for use in the Heretics store and, finally, that they ship internationally to your country of origin.