Since its foundation Cloud9 has been an esports team that has consolidated its presence in tournaments of games such as League of Legends, Overwatch, Tom Clancy's Rainbow Six: Siege, Counter Strike: Global Offensive, among others. C9 is currently participating in the play-ins to qualify for Worlds 2021. If Cloud9 manages to overcome their rivals in these matches, they will be in group A along with the teams DWG KIA, Rogue and FunPlus Phoenix.
We can only wait and see how things turn out for Cloud9 in these matches. However, parallel to this situation, the team has prepared for their fans the launch of their latest collection in which they joined forces with the renowned brand PUMA. In this way C9 has made available to their fans and the general public an interesting variety of items that they hope will be to the liking of those who seek to dress well and feel comfortable.
PUMA x Cloud9 LCS Worlds 2021 clothing collection items
Within the PUMA x Cloud9 collection we can find the following items:
Cloud9 x PUMA Worlds 2021 "E7" official Jersey
The first item in this apparel collection is the C9 E7 jersey. This model presents in its design the blue and white colors, which are characteristic of C9. There are also golden details and trimmings. In addition, this jersey features a set of national flags alluding to the players and coaches members of Cloud9, arranged in the lower half of the design.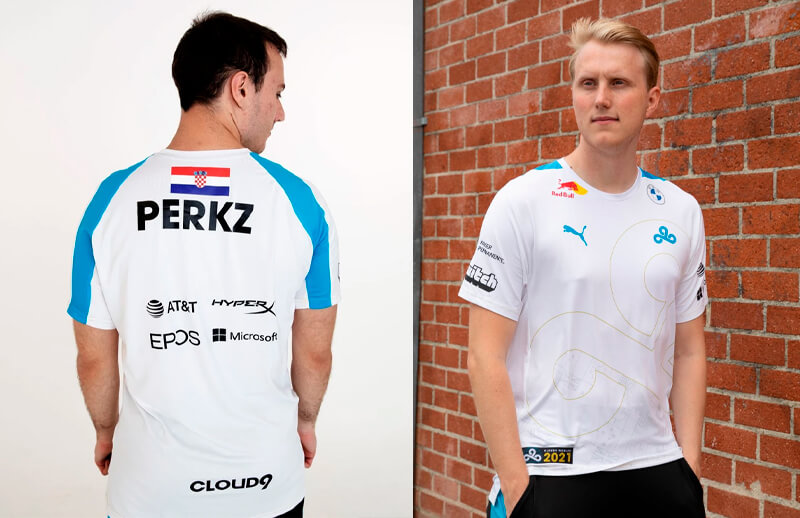 Other details that stand out in this jersey are a commemorative patch located at the bottom, accompanied by special C9 and PUMA logos with texture and located at the top of the chest. There is no doubt that with this jersey you will feel like a member of the C9 team, enjoying the comfort and lightness provided by the material with which it was made.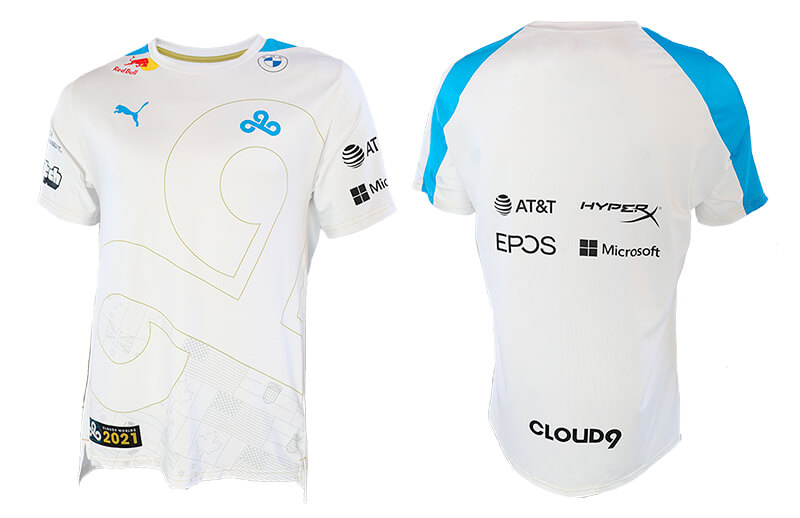 PUMA x C9 2021 LoL Worlds T-Shirts
Nothing like a good T-shirt to get a relaxed and comfortable look but that brings a good style to our outfit. All this can be found in these PUMA x Cloud9 T-shirts, which come as part of the Worlds 2021 limited edition clothing collection by C9. On the front of this model you can see the team's logo in gold with texture.  However, it is on the back of this T-shirt where you will find its most striking aspect: a gold-toned collage with the national flags that allude to the players and coaches that make up the Cloud9 team. Accompanying these images is a mosaic of clouds alluding to the brand that are the result of a handmade interpretation that concentrates the golden elements and the flag of the T-shirt design.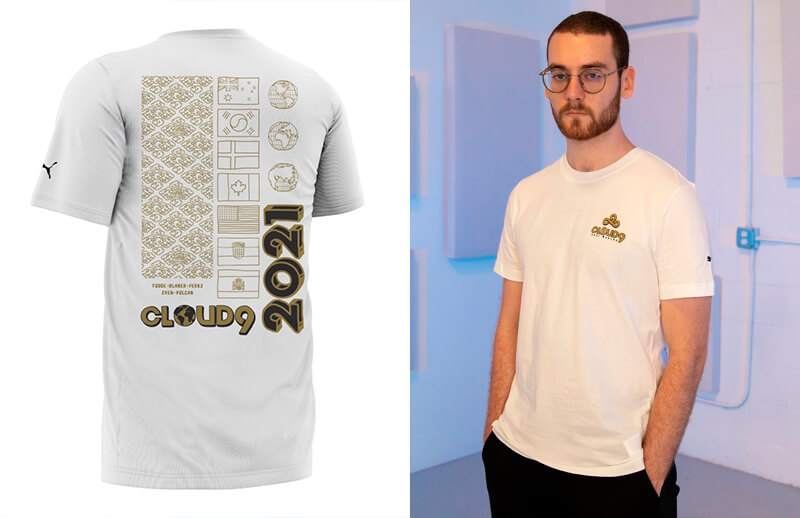 In addition to this T-shirt, there is another model in black color, but it differs by presenting a different design on the back. It is worth mentioning that both T-shirts are available in different sizes, which makes this brand accessible to all types of people who are interested in acquiring any of the items offered by this brand.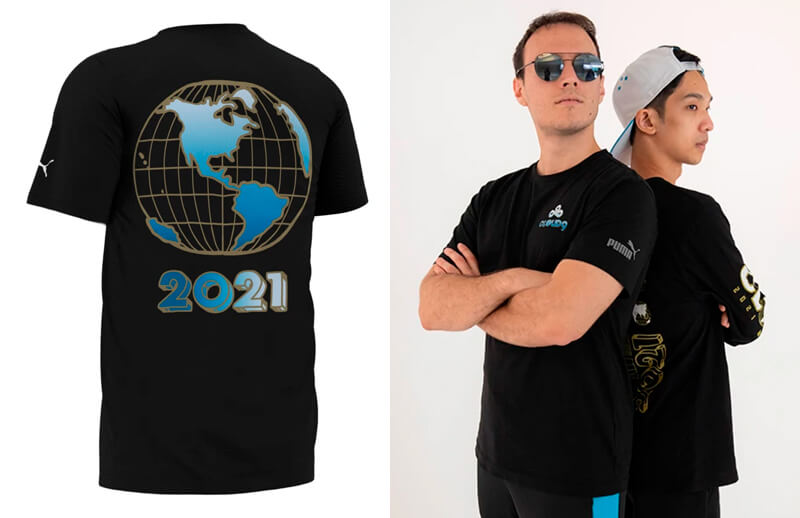 Cloud9 x PUMA LoL 2021 Worlds black Joggers
This jogger is another of those PUMA x Cloud9 apparel collection items of great versatility, as you can use it to train, go for a walk with friends to the park, or simply get together at home to play a game of video games. In its design you can appreciate the representative elements of the team such as the logo, as well as the logo alluding to the Worlds competition in its 2021 edition. This jogger is available in different sizes, so that all kinds of people can use it. Another detail that stands out in this jogger is the fact that it is adjustable at the ankle, which gives the design a modern and flattering style to the silhouette of the person who wears it.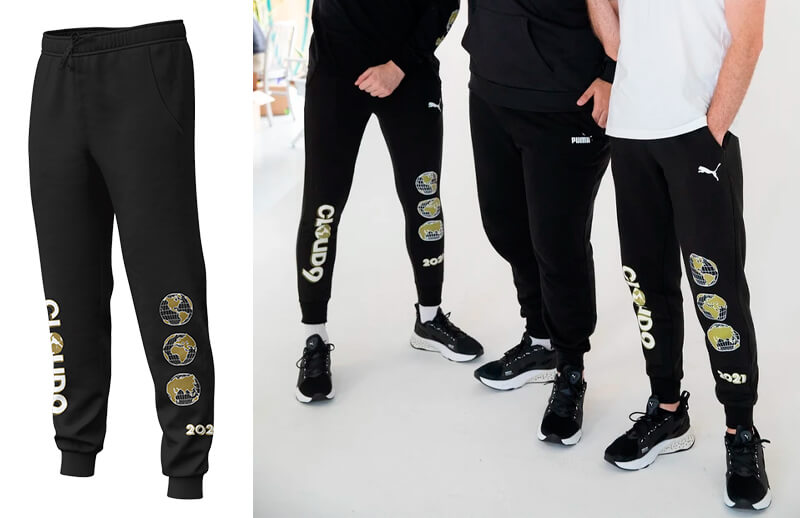 C9 x PUMA 2021 LoL Worlds long sleeve black T-shirt
As the last item in the PUMA x Cloud9 clothing collection we have this long sleeve T-shirt, which has been designed to provide comfort and warmth to the wearer. Just like the T-shirt, this model has a collage on the back with the flags that allude to the C9 players and coaches, as well as a cloud design with the team's logo incorporated. This makes the piece an item that any fan of this esports team would like to have.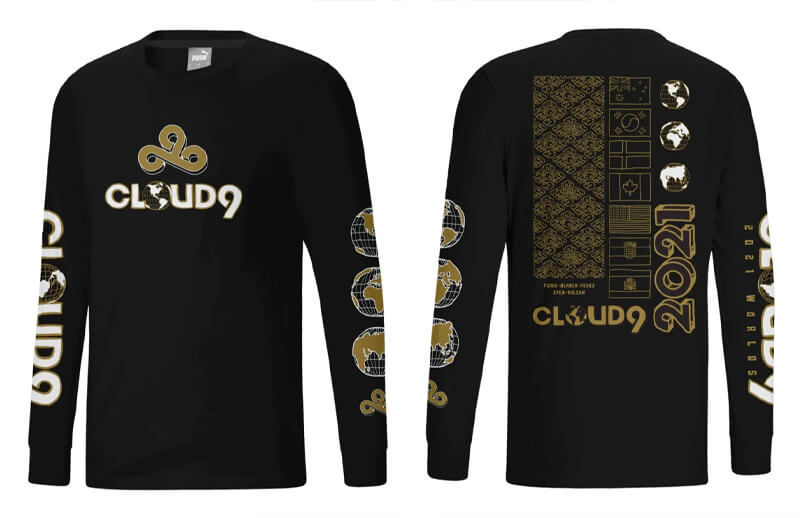 If you wish to purchase any of these products you can do so by checking the Cloud9 official store.