Being one of the first competitive video game franchises, Complexity Gaming today is one of the most famous teams in all of North America, since its creation in 2003 they have managed to achieve victory in hundreds of tournaments of various titles, some of these are Counter Strike, FIFA, Valorant, Fortnite, Apex Legends and Call of Duty: Warzone. One of their biggest recent news has been the acquisition of DiazBiffle, LuckyChamu, and Repullze as content creators and tournament competitors for the title. However, not all the news is about the improvement in the team's competitive scene, but they have also given news about their new clothing collection made in conjunction with Champion called "Domain", which is currently available in their stores.
What Complexity Gaming and Champion bring us with the Domain collection?
This clothing collection made between these two great brands is based on a set consisting of a hoodie and a pair of sports pants. In this set we will find details characteristic of both Complexity Gaming and Champion, so it is quite attractive the combination of two different concepts in streetwear pieces.
Complexity x Champion Domain collection Hoodie
The first part of the collection is the Domain hoodie, this amazing garment is a navy blue color, so it can be combined with a variety of pants in other colors if desired. Its design is quite minimalist, wearing only on the front on one side of the chest the insignia of both Champion and Complexity, similarly, on the sleeves shows a pattern of the logos of the brands until reaching the cuffs.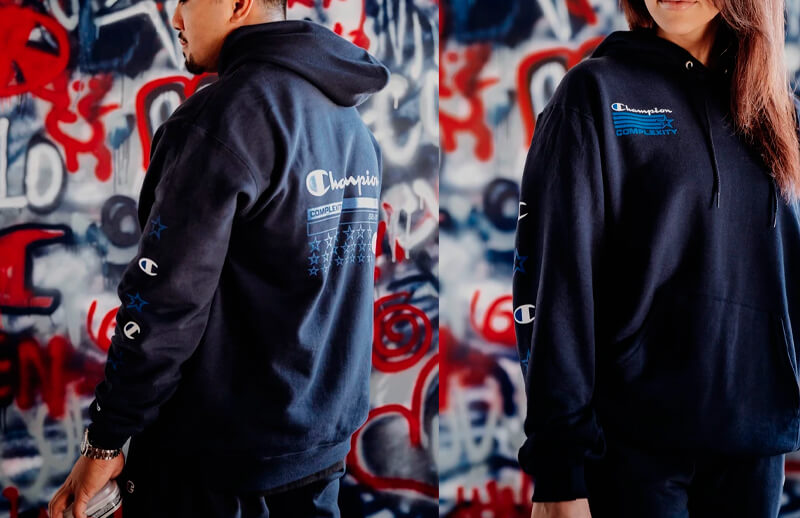 In terms of materials, the hoodie is made of a combination of equal parts cotton and polyester, which means that it is a very comfortable and practical piece against unfortunate events such as humidity. Its front pockets feature loops to ensure its durability, the double-needle stitching also offers an extremely sturdy overall structure.
Complexity x Champion Domain Collection Sweatpants
The second part of the fashion collection consists of the sweatpants, being a set, it has the same color as the previously analyzed hoodie . The design of the garment is quite simple, being a navy blue piece that carries on the sides a pattern of the logos of both collaborating franchises. With regard to its materials, it has 50% cotton and 50% polyester, thus being a perfect piece for day-to-day wear, as its characteristics allow for a wide variety of daily activities without any discomfort. In order to have a good fit to the body, an elastic waistband was used, which also has a drawstring, side pockets and a double-needle stitching to improve its structure.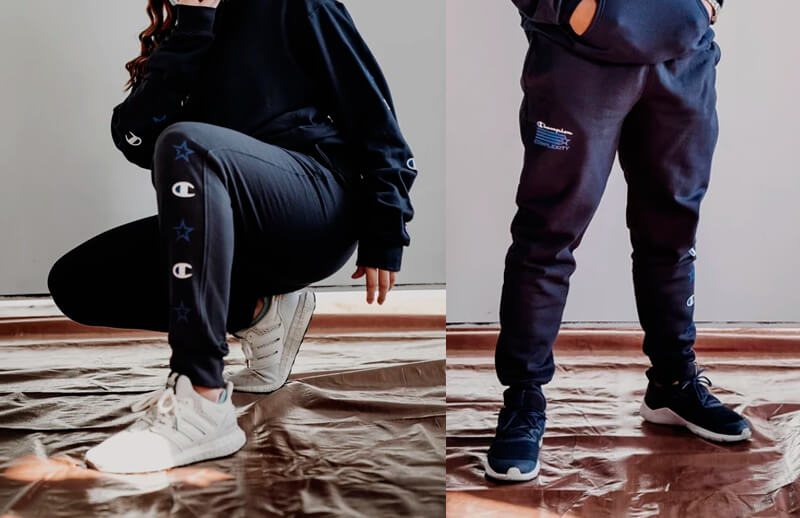 In an era where e-sports franchises seek to create clothing collections for their fans, these organizations must develop new concepts that appeal to fans, which is why collaborations are a valuable resource in terms of creating clothing, the Domain apparel collection by Complexity Gaming and Champion is a clear example of this, an award-winning esports franchise that joined an iconic clothing brand to bring their fans a pair of streetwear pieces that can be used at any time while still supporting their favorite team.
Complexity Gaming has teamed up with iconic clothing brand Champion to bring its fans a clothing collection called "Domain", if you want to buy any of their products you can do it from Complexity's official shop.