Heroic is a Norwegian eSports organization originating from Norway that was founded in 2016 by the former members of Team X in Denmark, although they later moved to their current Scandinavian country after the acquisition in 2021 by Omaken Sports, a Norwegian company. Their main e-sport is CS:GO, of which they actively participate in numerous official esports competitions.
Like many other e-sports teams, Heroic takes advantage of the arrival of various competitions to launch for sale the official jersey that they will wear throughout the matches of the competitions. In this case, they have launched an official jersey for the Rio Major 2022. See also the Heroic x We Are Nations clothing collection.
This jersey has been on sale for a few days now, so if you want to know it in depth, we invite you to join us throughout this post until the end, as we will also tell you how to get it from your country of origin, whatever it may be.
Heroic 2022 IEM Rio Major player Jersey overview
In honor of the new CS:GO 2022 competition held in Rio, Heroic has launched for sale the professional jersey that they will use throughout this competition.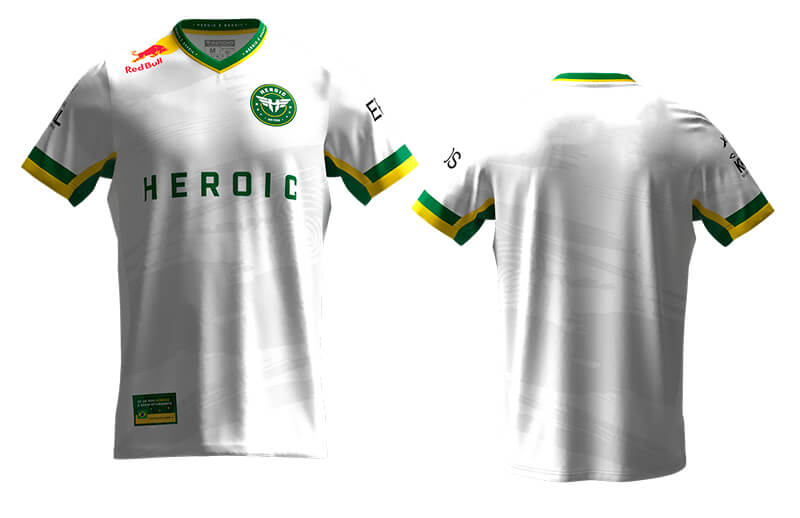 It is a sports shirt made entirely of polyester, a fabric widely used in garments of this type, as it is lightweight, inexpensive, and with an enormous capacity to absorb the moisture produced by sweat due to the tension and nerves of the competition. It has a V-neck, short sleeves and is available in sizes from XS to L.
Its design is quite simple; its color is completely white, with the V-neck in green and yellow, colors also present on the edges of the sleeves and the lower part of the armpits. This color is due to the flag of Brazil, where this new CS:GO competition takes place.
We see these same colors also on the Heroic logo, adapted to these colors, located on the left side of the chest, and on the team name, located in the center of the chest.
Where can you buy the new Heroic 2022 professional player jersey?
If you liked the new Heroic player kit for the Rio Major 2022, you should know that you will only be able to buy it through the We Are Nations store; in this store you will find many fashion collections of e-sports teams, so if you want to go directly to the purchase section of this particular player jersey, you should click on this link.
Remember to check more than once the size you are going to choose, so that you don't have any inconveniences later on and so that you don't have to make costly returns in terms of time and money.
Once you have everything ready, you must choose the payment method that suits you best, as long as it is available in the store, include your billing and shipping information and wait for the order to arrive at your door.