Team Spirit is an important eSports organization of Russian origin, but currently based in Serbia; it is one of the most important organizations in the world of eSports, with many years of experience and participation in the biggest competitions of the most popular video games worldwide, including Dota 2 and CS:GO, which is its main sport, for example.
They have a huge fan base throughout the European continent and much of the world, mainly in the United States, and it is for this reason that Team Spirit focuses on launching fashion collections focused on their fans that manage to sell quickly through their store. In this case, they have launched an official collection, composed of their professional jersey and a compression sleeve, used by many eSports players. Do you like Team Spirit? Check out their latest Pro Jersey and Clothing drop.
Want to know more about this Team Spirit 22-23 pro collection? Then stay with us until the end of the post, because, in addition to telling you what it includes, we are going to help you get it from your country of origin, whatever it may be.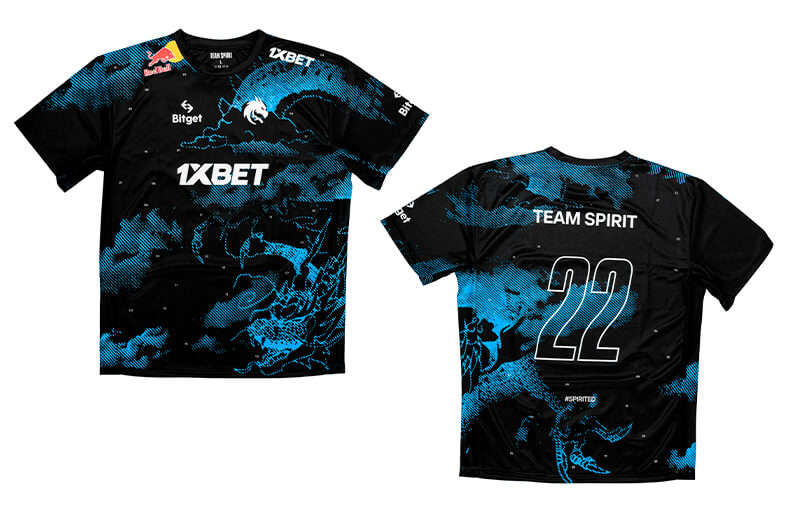 New official Team Spirit 2022-23 Player Jerseys overview
On November 18, Team Spirit announced through its social networks that the team's new professional apparel collection was now available for purchase through its online store. The collection consists of a pro jersey and a sleeve, both with similar designs and unique features.
Below, we are going to take a closer look at these two garments, so that you know what their main features, colors, sizes, models, fabrics and more are.
Team Spirit 22-23 Professional Jersey
The first thing we find is a polyester sports shirt, an absorbent fabric that easily removes moisture caused by the sweat of competition and nerves. It has a round neck and short sleeves and is available in sizes from S to XXL.
Its design is black, with a blue sublimated pattern on both the front and back. On the front you will see the Team Spirit logo in white, on the left side of the chest, and different sponsor logos on the sides, chest and shoulders, including 1XBet, Bitget, RedBull and more. On the back, meanwhile, we find the number 22 with transparent padding and white borders, along with the Team Spirit name at the top.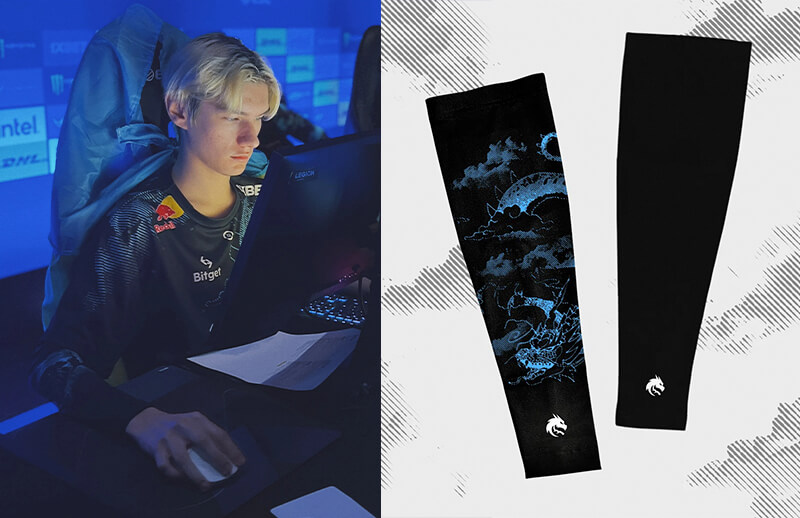 Team Spirit 22-23 compression Sleeves
We will also see a set of sleeves, in black, with the same design as the player kit, with the drawings in blue, with the Team Spirit logo in white on the edges. It comes in sizes S to XL and is made, like the jersey, entirely in polyester.
Where to buy the new official Team Spirit apparel for 2023 season?
Did you like the new Team Spirit 22-23 collection? Then you are more than invited to visit their official online store, where you can find a large number of different collections, with multiple models of clothing and official merchandising of the eSports team.
Before buying any garment, remember to check the sizes of each one, helping you with the guide table found in the store, to avoid having to make future returns that will cost you valuable time and money.
Finally, make sure you have one of the payment methods accepted by the Team Spirit store, as well as verify that they ship internationally to your territory.