Paper Rex is a renowned Asian eSports team founded in Indonesia, which actively participates in various forms of different eSports, including the most famous and popular ones, such as CS:GO or Valorant, for example. This team also stands out worldwide for its web store, and not only for its performance in competitive tournaments, in which they constantly launch some unique fashion collections, composed of various garments and official merchandising of the team.
On this occasion, Paper Rex has launched a new collection, called W Gaming, composed of only two garments, but which have an immense unique quality. Are you a fan of this team? Check out the Paper Rex Fall-Winter 2022 Apparel Collection.
If you are interested in learning more about this new apparel collection of the Indonesian eSports team, stay with us until the end of the post and do not miss anything, as we will tell you everything it includes, its features and also how to find it and get it from any country where you are.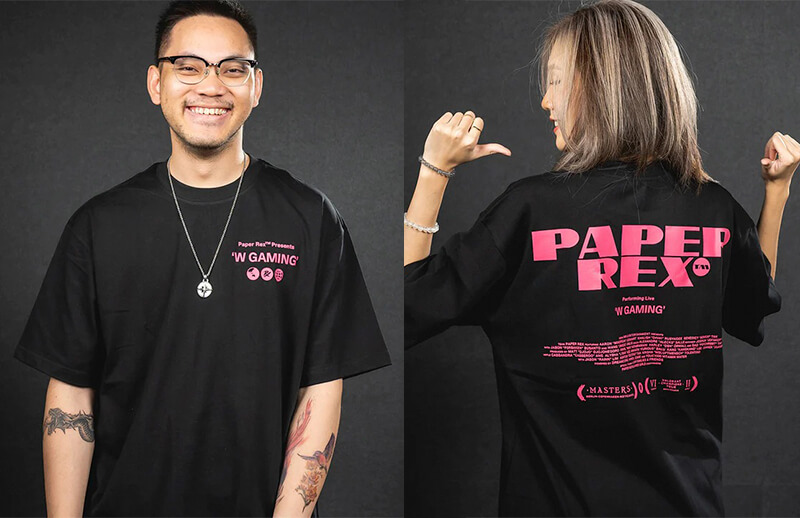 Paper Rex 2022 W Gaming fashion Collection overview
Paper Rex launched its new W Gaming 2022 collection on November 11, in which they also announced through their networks that fans and followers of the team could already find this release through the Indonesian team's online store.
This collection is composed of two jerseys with an identical design: one with short sleeves and one with long sleeves. Below, we are going to detail these two shirts in detail, so keep reading to make sure you don't miss anything.
Paper Rex 2022 oversized short sleeve T-shirt
The first t-shirt model we found is the short sleeve and round neck, made entirely of cotton and with availability of sizes from S to 2XL.
Its design is quite simple, but striking at the same time; it is completely black, and has only an inscription on the front, where we will find "W GAMING" and other phrases and graphics, all in pink. On the back, we see a large design with the phrase PAPER REX and multiple other words and phrases, all also in pink.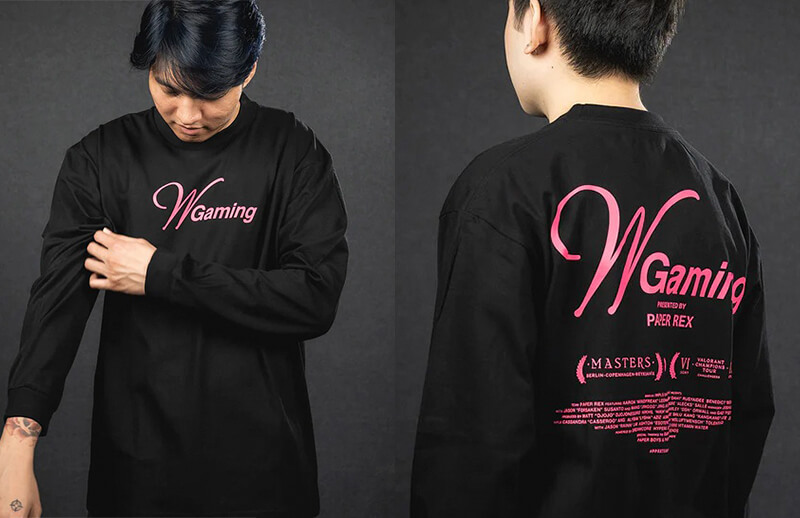 Paper Rex 2022 W GAMING long sleeve T-shirt
The second t-shirt model is long sleeve, also with round neck, made of cotton and with sizes up to 2XL. Its fit is regular, unlike the previous model, which was oversize.
Its design is also in black, it has the inscription W Gaming in luxurious lettering, in pink, and on the back it has the same phrase, along with the name of the team and many more graphics, all also in pink
Where can I buy the new Paper Rex W GAMING apparel collection?
If you are interested in buying any of the two garments that are part of Paper Rex's new 2022 collection, you should know that the only way to do it is through the Indonesian team's online store. Inside their store you will find a wide variety of fashion collections and different garments, so you will have to look specifically for this W Gaming collection. To get to the store faster you can click on this link.
Once inside the store, look for the T-shirt model you like, choose the correct size and make the payment with any of the means enabled by the Paper Rex store, in addition to adding the contact, shipping and billing information.