SpaceStation Gaming, also known as SSG, is an American-based eSports organization founded in Utah in 2017, owned by influencer Shaun McBride, commonly known as Shonduras. This organization has several teams in various eSports modalities, including Rocket League, Rainbow Six Siege, Halo Infinite, Apex Legends, Clash of Clans and iRacing. It is a fairly relevant organization in the world of eSports, winning the Rainbow Six Siege world championship in 2020 and with a large fan base around the world.
Due to its large following, SSG also delves into the world of fashion, launching collections and clothing items that catch the attention of friends and strangers alike, even partnering with other brands or companies, as is, in this case, the video game Halo. The last T-shirt we saw from SSG was the RLCS SSG Worlds T-shirt.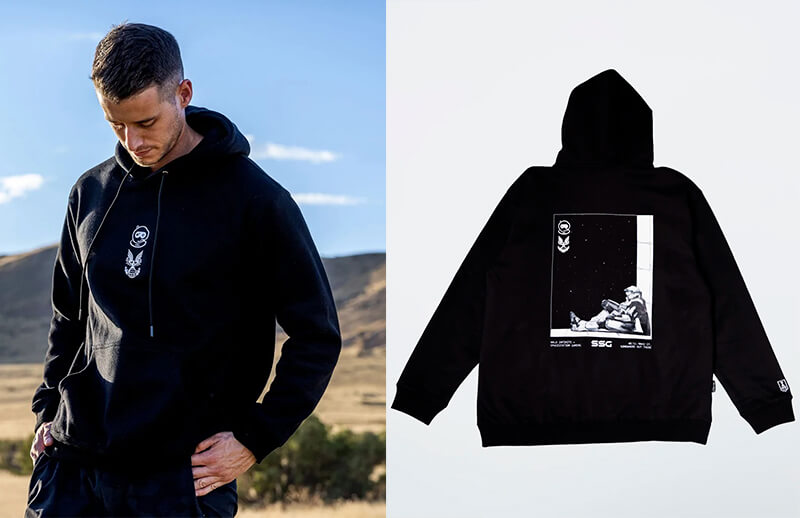 Recently they have partnered with the brand and have launched a new fashion collection composed of several garments, which, if you want to know, you should read this post to the end. We invite you to stay with us and don't miss anything, as we will also help you to get it from your country. Let's get started!
New Spacestation Gaming x Halo 2022 apparel collection overview
Last October 10, SpaceStation Gaming announced via Twitter the official launch of its new limited edition 2022 collaborative collection with Halo, the famous old video game that is still present in the eSports scene today.
The collection is composed of two hoodies, two t-shirts and a cap, all with distinct designs and very distinctive colors, which you'll see below.
SSG Master Chief hoodie and Halo Hoodie
Adjustable hoodie made of cotton and polyester, available in sizes up to 4XL, starting at XS. It is black in color and features kangaroo pockets. Its design features the SSG logo and an alternate Halo logo on the chest, in small size, in white.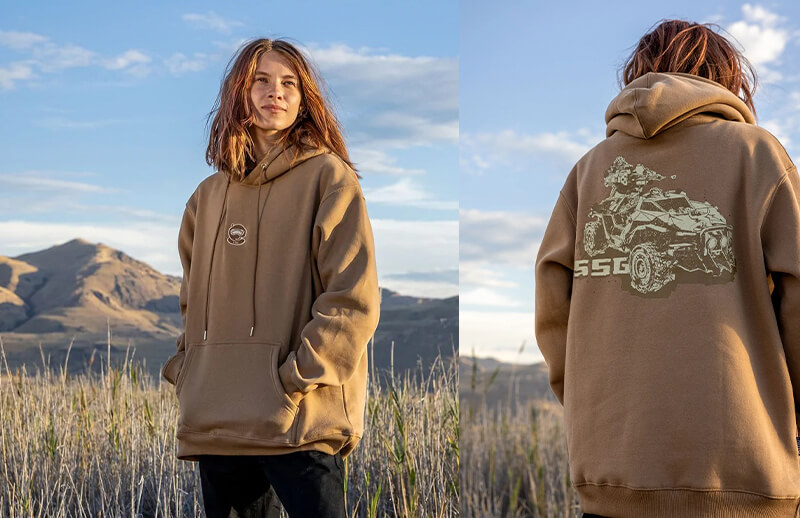 On the back is the larger design, with a Halo artwork in a vertical rectangle occupying almost the entire back in white, with the inscription "Halo Infinite x SpaceStation Gaming", the initials SSG and another inscription "We'll make it, somewhere out there", also in white.
SSG x Halo 2022 Warthog Hoodie
The second hoodie in the collection is also in cotton and polyester, with an adjustable hood and kangaroo pockets. It is "mushroom" in color, and has a rather minimalist design, with the SSG logo in the same color, somewhat darker, embroidered on the chest.
On the back, another embroidered design, in a similar color, in which you can see a Halo soldier on a battle chariot, along with the initials SSG.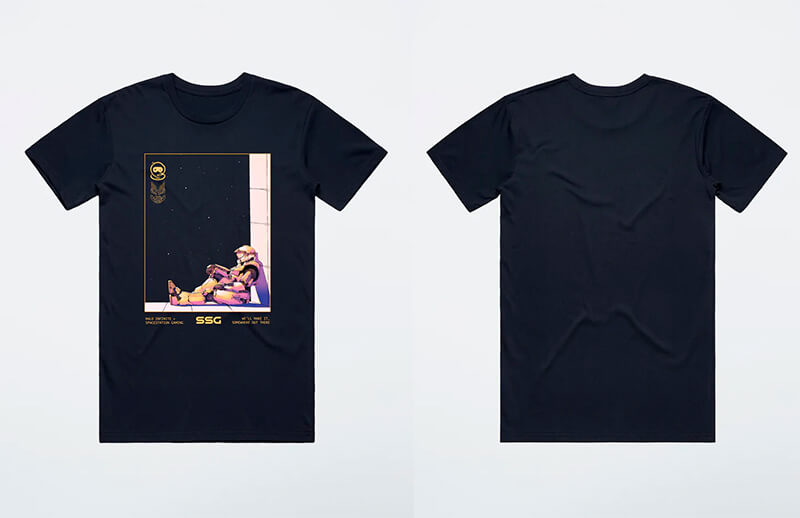 SSG x Halo Master Chief T-shirt
Past the sweatshirts, we find an all-cotton T-shirt, with round neck and short sleeves, available for purchase from size XS to 3XL.
It is dark navy blue, almost bordering on black, with the same design that the first hoodie has on the back, only on the front of it, with white, yellow and pink colors, also including the initials of SSG and the inscriptions previously seen.
SSG x Halo 2022 Warthog T-shirt
The other t-shirt in the collection, also made of cotton, features short sleeves, round neck and availability from XS to 3XL.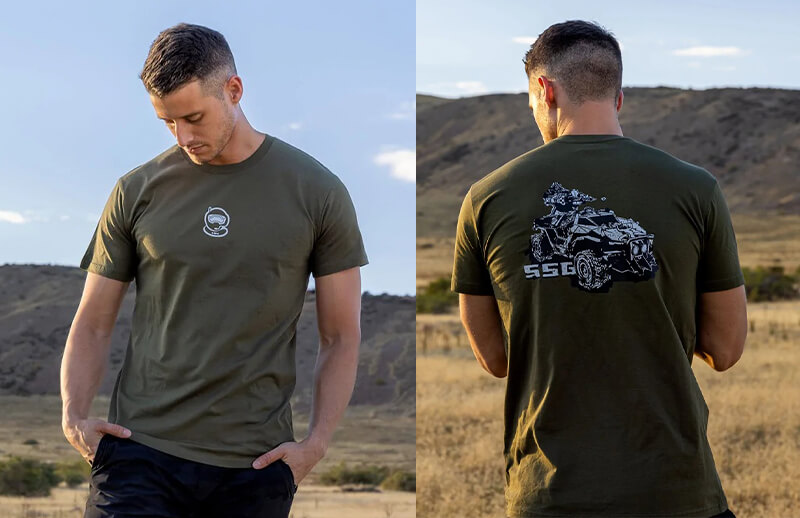 Its design is simple, but nice, in militant green, with the SSG logo on the chest, in white, and the same design of the Halo soldier on the car on the back, also in white.
SSG and Halo 2022 Cap
To finish off, we find an OSFA flat cap, with a size that can be adjusted from 6 5/8″ to 7 5/8″, made in all black color, with the SSG logo embroidered on the front and sides, also in black color.
Where to get the new 2022 fashion collection from SSG and Halo?
If you liked any of the garments of this new collection, we invite you to discover more SpaceStation Gaming collections in their official store, where you will also find this collaboration with Halo. If you want to go more quickly to the collection in question, click on this link and get there in just seconds.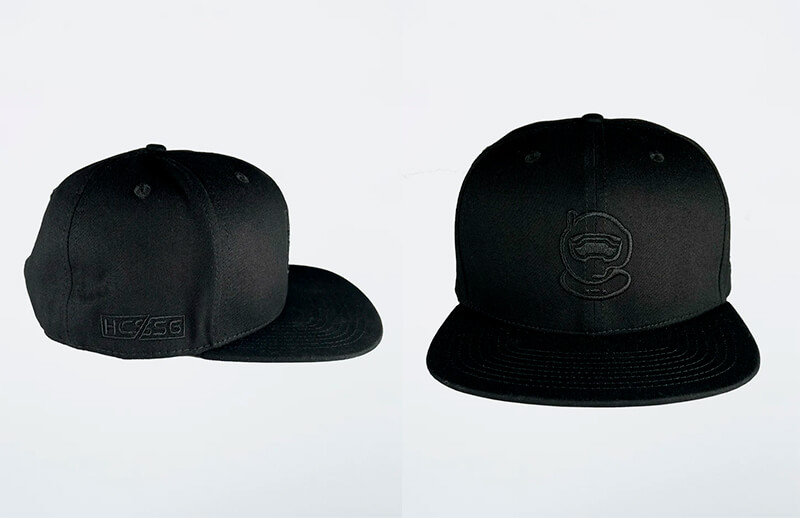 Remember to check your measurements and compare them with those shown in each size of the guide table on SSG's own website, to avoid having to make returns that will not only cost you money, but also time.
Finally, do not forget to check that you have any of the means of payment enabled in the store of the team, since, otherwise, you will not be able to make the purchase of these garments and, in addition, to see if they make international shipments to your country of origin, whatever it is.