Team Heretics, often referred to only as Heretics, is a Spanish eSports organization based in Madrid that was founded in 2016 by Goorgo, a famous youtuber; over time, more members joined the project, including Sergio Reguilón, for example, the famous Spanish footballer.
Heretics has a large fan base all over the world, not only in Spain, so it is not surprising that they have their own online store, through which they sell their official merchandising, which attracts the attention of their fans.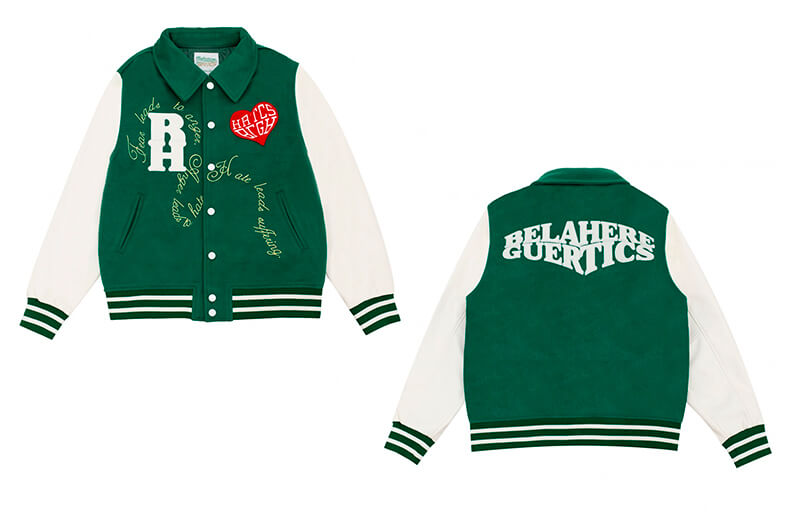 On this new occasion, Heretics has partnered with Belaguer, a movement that has managed to represent an urban lifestyle from Valencia, and that has a great recognition throughout Spain. These two brands have teamed up and launched a new winter 2022 fashion collection, composed of multiple garments that you can't miss. We really liked what the team presented earlier: the Team Heretics x Mixwell special ed. T-shirt.
If you are interested in knowing more about it, keep reading this post until the end, as we will explain in detail everything that the collection contains and, also, how to find it and buy any of its garments from your home country.
Team Heretics x Belaguer: New winter collaborative apparel collection
On November 20, just a few days ago, Heretics announced on their social networks that their new winter apparel collection with Belaguer was already available for purchase through the Spanish team's online store.
In this apparel collection you can find jackets, sweatshirts, t-shirts and socks, so, if you are interested in getting to know them, don't go away from here.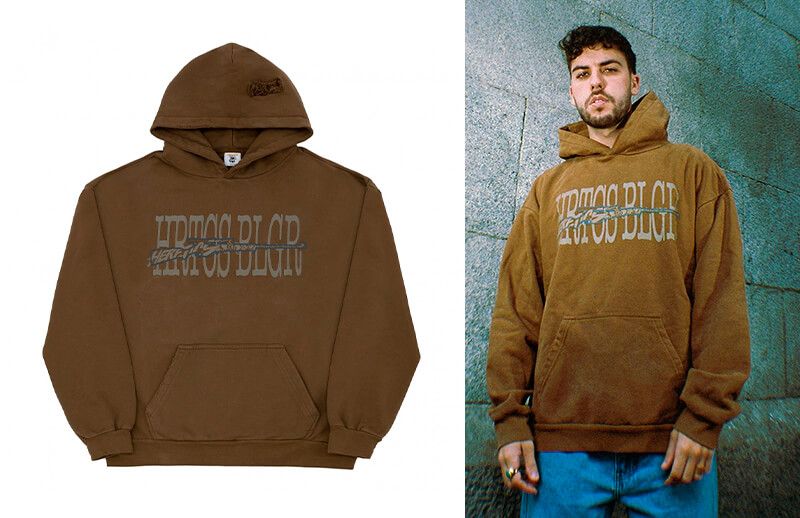 Team Heretics x Belaguer Winter Varsity Jacket
The first thing we find in this new winter 2022 fashion collection is a varsity jacket, made of 80% wool and 20% viscose, with sizes from XS to M. Its design is like that of any jacket of this type, simulating American coats, with a polo collar. It is forest green, with white sleeves and green and white striped cuffs. On the front we see different drawings and logos in various colors. On the back, the inscription of Belaguer and Heretics.
Team Heretics x Belaguer Winter 2022 brown Hoodie
Brown cotton sweatshirt with hood and kangaroo pockets, with tight cuffs and an extremely simple design, which includes the initials HRTCS and BLGR, along with a rifle, all in dark gray. Available in sizes XS to XL.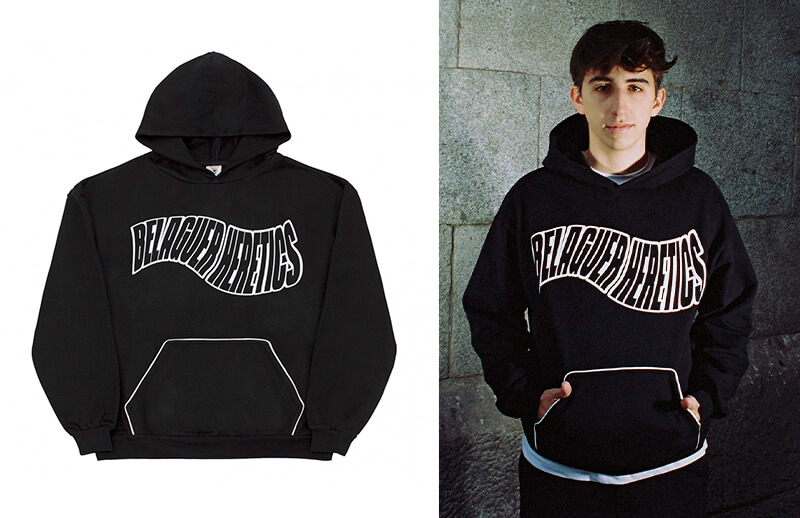 Team Heretics x Belaguer Winter Black Sweatshirt
Second cotton sweatshirt of the clothing collection, in this case, in black, also with hood and kangaroo pockets, available up to size XL. Its black color is contrasted by the Belaguer and Heretics inscription on its chest, in white.
Team Heretics x Belaguer Winter Black T-Shirt
Black T-shirt with short sleeves and round neck made of cotton, with sizes up to XXL and design that includes a short shot of eyes in red color, in the old terror style, next to the name Heretics and Belaguer, both also in red.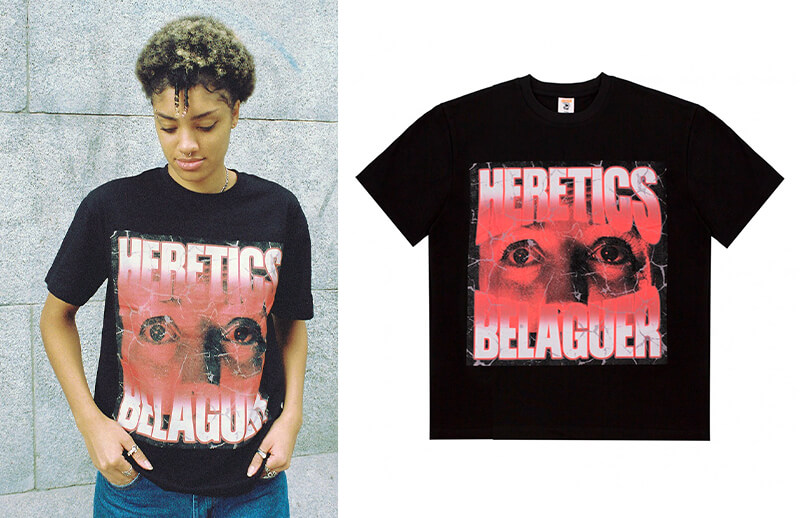 Team Heretics x Belaguer Winter 2022 white T-Shirt
White cotton t-shirt, with round neck and short sleeves; it includes the Heretics and Belaguer logo in gray and red on the chest, and on the back it has a large gray drawing next to the phrase WE HAVE COME TO PLAY in red.
Team Heretics x Belaguer Winter Socks
Finally, we find a pair of white socks made of cotton, both with the BLGR logo in black and, on it, the name Heretics, also in black.
Where can I find the new winter 2022 collection from Heretics and Belaguer?
If you liked the garments that are part of this new collaborative clothing collection of Heretics and Belaguer, you may be interested to know how you can buy them from your country. To do this, all you have to do is access the Team Heretics online store; there you will see a huge variety of clothing and fashion collections, so, to go directly to this winter collection, you must click on this link.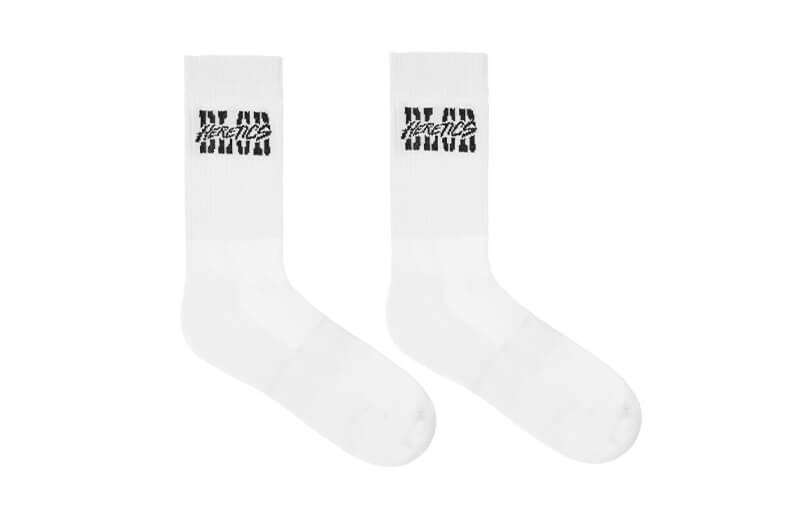 When you are already inside the purchase section of any of the garments of this collection, we recommend that you check carefully the size of each one, as it will be important that you compare their measurements with those of your body to avoid making mistakes and then having to make returns that will cost you time and money.